The dangers for women and girls pursuing an education in Afghanistan were made horrifically clear in a 30 September suicide attack on a school in western Kabul: At least 38 people were killed and another 82 wounded as they took mock university entrance exams – most of the casualties were young women and girls.
Despite the risks and the restrictions, some Afghans are doing whatever they can to try and address the soaring needs within their communities, including education.
In her northern Kabul neighbourhood, Fatema Noori told The New Humanitarian how suffering has intensified as a growing humanitarian crisis has gripped sanctions-hit Afghanistan, with both government assistance and international aid drying up.
Noori said she watched teenage girls while away their days after being barred from returning to school by the Taliban. She watched government workers like her husband return home with a fraction of their wages due to Western sanctions and aid cutbacks. She watched women far more educated than her unable to go to work – sitting at home all day because the Taliban no longer allowed them to do their government jobs. She watched the worst off – people barely reached by 20 years of international aid and assistance when the Taliban were out of power – grow hungrier and hungrier.
In August 2022, a year after the Taliban takeover, unable to watch any more and do nothing, Noori and her eldest son Shekib decided to turn the basement of their house into an education and vocational centre for women and teenage girls.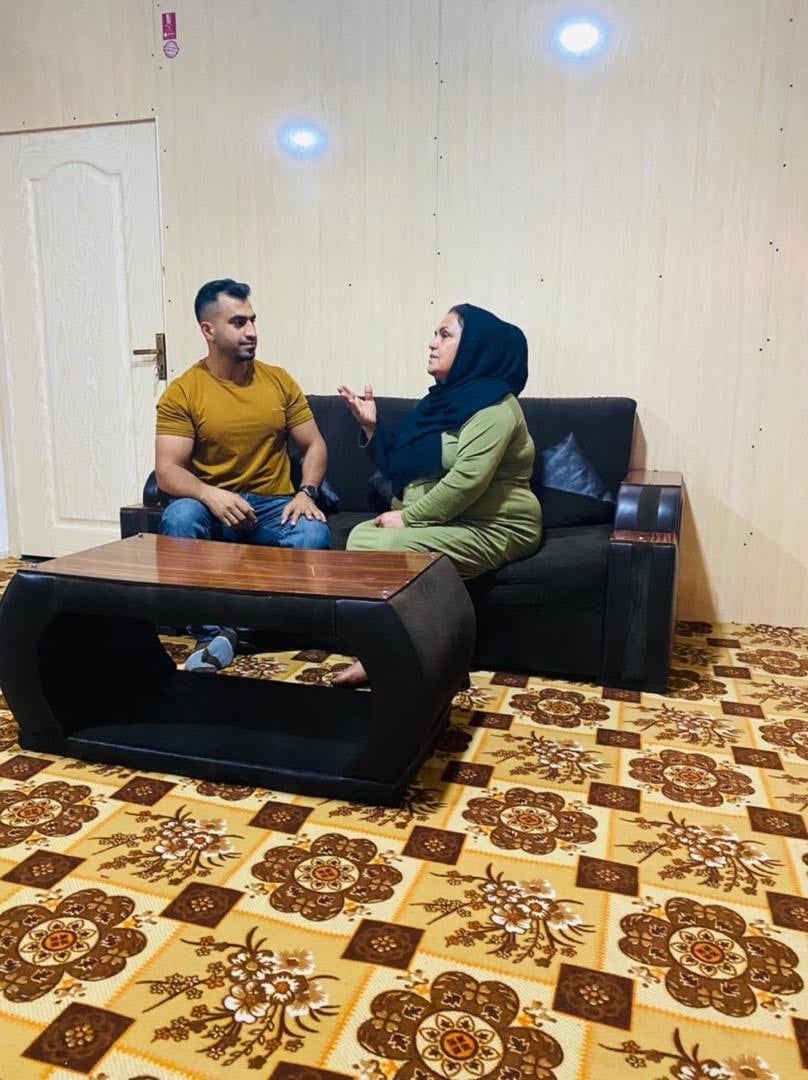 "I saw so much bitterness in my own life," 50-year-old Noori told The New Humanitarian, speaking in her basement, where renovation work is continuing. "That's why I knew I had to turn my house over to those who continue to suffer in this city."  
Before the Taliban took power in August 2021, 75 percent of the government budget came from foreign donors. The loss of those funds, along with billions of dollars in frozen assets, has been catastrophic. Inflation has spiked, sending the price of daily goods soaring. Today, Afghanistan has one of the highest levels of food insecurity in the world, with 6 million people – almost one in six Afghans – facing emergency levels of hunger and half the population lacking enough food. 
Hunger is far from the only challenge, particularly for women and girls. Cut off from many jobs and schools in many provinces, women and girls in Afghanistan are also confronting a mental health crisis, not to mention risks to life.
Attacks on education centres are all too common. While no one claimed responsibility for Friday's atrocity, similar school attacks in recent years by a local affiliate of so-called Islamic State have killed dozens of young students.
Drawing from experience 
Afghans like Noori and her son feel an obligation to help other Afghans. "Until you've experienced dark, impoverished days, you won't know how to help people," she said.
For 14 years, Noori worked as a seamstress in neighbouring Iran, a country that has long faced accusations of mistreatment and abuse of Afghan refugees. The job took its toll on her body. Both of her knees have had replacement surgery, making it difficult for her to perform basic tasks. 
Despite her own struggles, Noori managed to educate her children and used an inheritance to buy a house in the Sar-e Kotal area of Kabul, where she now lives with her husband and younger children.
"If I can be a caretaker, a provider, for our suffering people in my own house, why wouldn't I do it?" she asked.
But turning a family home into a haven for women and girls hasn't been straightforward.
The family has spent $2,850 of their own money – in addition to donations from relatives and Afghan friends abroad – on renovations. They have hired carpenters and painters to create dividers for different classrooms where female instructors will teach literacy, Islamic Studies, sewing, and maths to girls and young women.
"Whatever [money] I've had, I've already spent on renovating this space," Noori said of the basement, where the concrete floor was recently poured.
They have relied on the kindness of local shopkeepers to get as many discounts as possible, but they are running out of funds.
"I approach the shopkeepers myself," Noori said. "I turn to them as a mother and an elderly woman and say, 'Do you want to be part of a good deed? Do you want to help your struggling people?'"
"I want 1,000 students to come through these doors in a year's time. I want to make this basement into the Harvard of Sar-e Kotal."
It's not just finances that promised to be tricky, though. Once construction was completed in late September, it fell on Shekib to alert local authorities and Taliban officials of their plans.
Meeting with representatives of the Taliban's much-feared General Directorate of Intelligence, Shekib assured them that they would comply with the Islamic Emirate's guidelines of maintaining a female-only space in the classes at all times.
However, the speed and positivity of all of the officials' responses, including the Taliban, took Shekib by surprise. "They all said the same thing, 'good luck, thank you for your work', and I was off," he said.
Approval granted, Shekib is now setting his sights on even bigger goals.
"We can feed people – we've been doing that over the last year – but I want to do more," he said. "I want 1,000 students to come through these doors in a year's time. I want to make this basement into the Harvard of Sar-e Kotal."
Reduced conflict opens new paths
Some 24.4 million Afghans – more than 60 percent of the population – are dependent on international aid and emergency relief.
But Matiullah Wesa, founder and president of the educational organisation Pen Path, believes it is Afghans who are best placed to assist other Afghans at this time.
Wesa first began advocating for bringing education to children in long-marginalised parts of the country in 2016.
Although the last year has created new challenges, he said it has also brought new opportunities for Afghans trying to aid their fellow citizens.
"The current government has no money, and international NGOs are only focusing on humanitarian aid," he said. "So now, more than ever, it is our duty to try and provide for our fellow Afghans."
"In the past, I'd have to try and find a way to raise the issue of girls' schools. But now it's the first thing everyone wants to talk about wherever I go."
The end of the 20-year war between the Taliban and the former Western-backed Islamic Republic has made it possible for Wesa's organisation to reach areas that had been no-go zones for 20 years due to the threat of IEDs, crossfire, night raids, and aerial strikes from both sides of the conflict.
While Pen Path already works in 90 districts across 23 provinces, the last year has given Wesa the chance to work for the first time in the Maroof district of Kandahar province, where his family hails from.
"The people there know me and my family, so I can more easily prove to them that I am an Afghan, a Kandahari, and a Muslim – someone who has never had any outside agenda," he explained.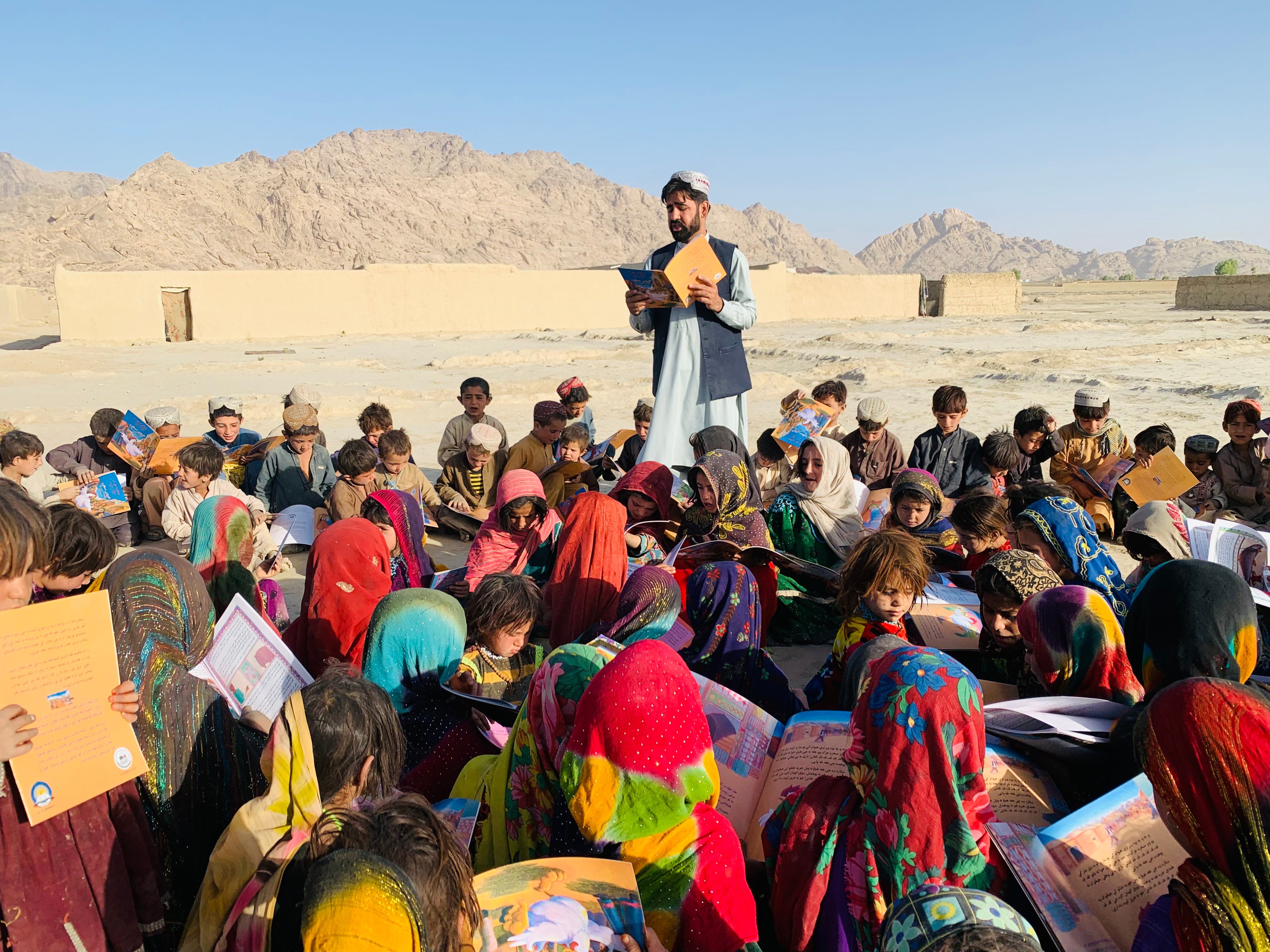 Other avenues to progress have opened up in bizarre ways too.
For example, in September, teenage girls in Paktia were turned away after local elders and school officials decided to reopen five high schools in the southeastern province. Wesa said he was distraught by the news, but explained how all the media attention made it such a high-profile issue that local leaders were suddenly more willing to listen and cooperate.
"In the past, I'd have to try and find a way to raise the issue of girls' schools," Wesa said. "But now it's the first thing everyone wants to talk about wherever I go."
Not a new problem
Even before the Taliban returned to power, 3.5 million Afghan children were unable to attend school. In 2017, a Human Rights Watch report found that 2.9 million Afghan girls were out of school and only 37 percent of adolescent girls were literate. In 2020, the Ministry of Education said at least 7,000 schools lacked physical buildings despite a $298 million World Bank pledge of educational assistance to the then government.
Despite decades of international aid, large swathes of the country, especially in the south, saw little development due to conflict and the corruption that plagued the former Islamic Republic throughout its 20 years in power, according to Wesa.
He pointed to the southern province of Zabul as an example: By 2017, 162 of the 226 general educational facilities in the province were closed due to security threats and cultural barriers.
Between 2016 and 2021, Wesa's organisation started 12 private home schools in the southern provinces of Ghazni, Kandahar, Helmand, Zabul, and Uruzgan. Over the last year, that number has more than tripled to 39.
Foreign aid organisations have poured millions into educational efforts, but Wesa said it actually costs very little money to bring such services into underserved areas as long as you have direct access to people on the ground.
Earlier this year, Wesa began a campaign of building mobile schools on small trucks that provide both televised educational classes and mobile libraries. These can each reach between 1,000 and 1,200 boys and girls every day.
"To build a school, you need a physical structure, teaching supplies, and on-site teachers," Wesa said. "All of that costs thousands and thousands of dollars, but we were able to make the mobile libraries for $3,000 [each]."
Like the Nooris, Wesa said he can convince Taliban officials to allow him to continue his work because he has never taken money from a foreign NGO or embassy, and because he and his team go personally to each district, where they appeal to local elders directly.
"They can go to the [rural] districts and to people's houses to make sure that they are helping those who are never addressed by foreign aid efforts."
"All of my funding comes from Afghans," he said. "I have one donor, a young man who has a $5,000 salary and gives 10 percent of it to us every month. Then there are local business people who donate supplies, and average citizens who give a few hundred afghanis each." 
Wesa said he is grateful for even the smallest donations, which all add to a pot that has allowed him to employ 142 teachers – each making between 3,000 ($34) and 6,000 ($68) afghanis a month.
Alarming reports of up to 22 million people in the country being at risk of starvation have also moved some Afghans living abroad to act.
Abdul Hamid initially started the Everyday Kandahar Instagram page in 2016 to show the beauty and history of a province often reduced in journalistic shorthand to just the "birthplace of the Taliban".
As the situation in Afghanistan has deteriorated over the past year, Hamid has appealed to the page's more than 19,000 followers to help Afghans in need – they now assist 2,500 families with food, water, medical supplies, educational materials, and cash. 
Like Wesa, Hamid has been approached by several well-known international NGOs to partner with them on assistance efforts, but he prefers to rely on his team of 10 Afghans, half of whom are in-country.
"We don't want to sacrifice the quality of our work or risk our credibility," Hamid said, speaking from his home in Canada. He said his team's knowledge of on-the-ground realities is the key: "They can go to the [rural] districts and to people's houses to make sure that they are helping those who are never addressed by foreign aid efforts." 
Hamid said his team's focus on the south, a region they know well, also contributes to their success. "Since the team is from the area, they can more easily provide real-time updates of how the assistance is helping people directly," he explained.
And needs are growing. Requests for assistance have tripled in the last 12 months. "Nowadays," Hamid said, "even teachers are asking for help."
Edited by Abby Seiff.