One week after a fire broke out in a Cox's Bazar refugee camp earlier this month, Bangladesh government investigators ruled it a "planned act of sabotage" — just the latest among scores of such arson incidents in recent years. 
The sprawling Kutupalong-Balukhali refugee camps house more than 630,000 Rohingya refugees in crowded, tightly packed, and highly flammable homes. That means some fires may be inevitable, but the worsened security situation over the past two years has turned arson into a weapon that warring gangs wield to seize territory and attack their opponents — with scant concern for those caught in the midst of the violence.
For Shahab*, the recent fire has made this year's Ramadan a devastating one. A devout Muslim who has memorised the entire Qur'an, he spent days renovating his four-room bamboo home in preparation for the holiday, only to see it burn to the ground on the afternoon of 5 March. 
As he ran home from his madrasa, Shahab recounted seeing fire in four distinct locations. 
"The fact that the fire was started in various locations contributed to how quickly the flame spread," Shahab told The New Humanitarian. "A few people attempted to put out the fire, but miscreants prevented them by threatening them. If not, many people may have protected their possessions and put out the fire as soon as possible."
Read more: For us Rohingya, fire is just the latest danger. Stop ignoring us
Some 2,800 homes in his camp, Camp 11, were damaged or destroyed in the three-hour fire, along with more than 155 facilities such as health clinics, schools, and community centres. While no one was killed, some 16,000 Rohingya refugees were initially displaced, with 5,000 remaining displaced weeks later, according to the latest situation report. The fire interrupted a vaccination campaign as well as a program aimed at detecting outbreaks of cholera and dengue; it destroyed latrines and water networks; and it added to the anguish of thousands of Rohingya who fled Myanmar and now live in the camps.
In all, more than 300 fires have been reported in the Cox's Bazar camps during the past five years, according to records kept by several local aid organisations and shared with The New Humanitarian. An investigation by Bangladesh's Ministry of Defense this year found that of 222 fires that broke out in the camps in 2021 and 2022, only 99 were unintentional. Sixty were classified as sabotage, and the cause of 63 remains unknown. There have been two fires so far this year.
Considered a stateless minority, Rohingya in Myanmar have no citizenship rights and most remain in a deeply precarious situation. More than 1 million live in Bangladesh, most having arrived in 2017 fleeing a wave of Myanmar military violence that the UN termed "a textbook example of ethnic cleansing." An estimated 10,000 people were killed in the attacks and countless more raped and injured, with hundreds of villages burned. Discussions of repatriation have stalled over the years, especially after the military junta took control in a February 2021 coup.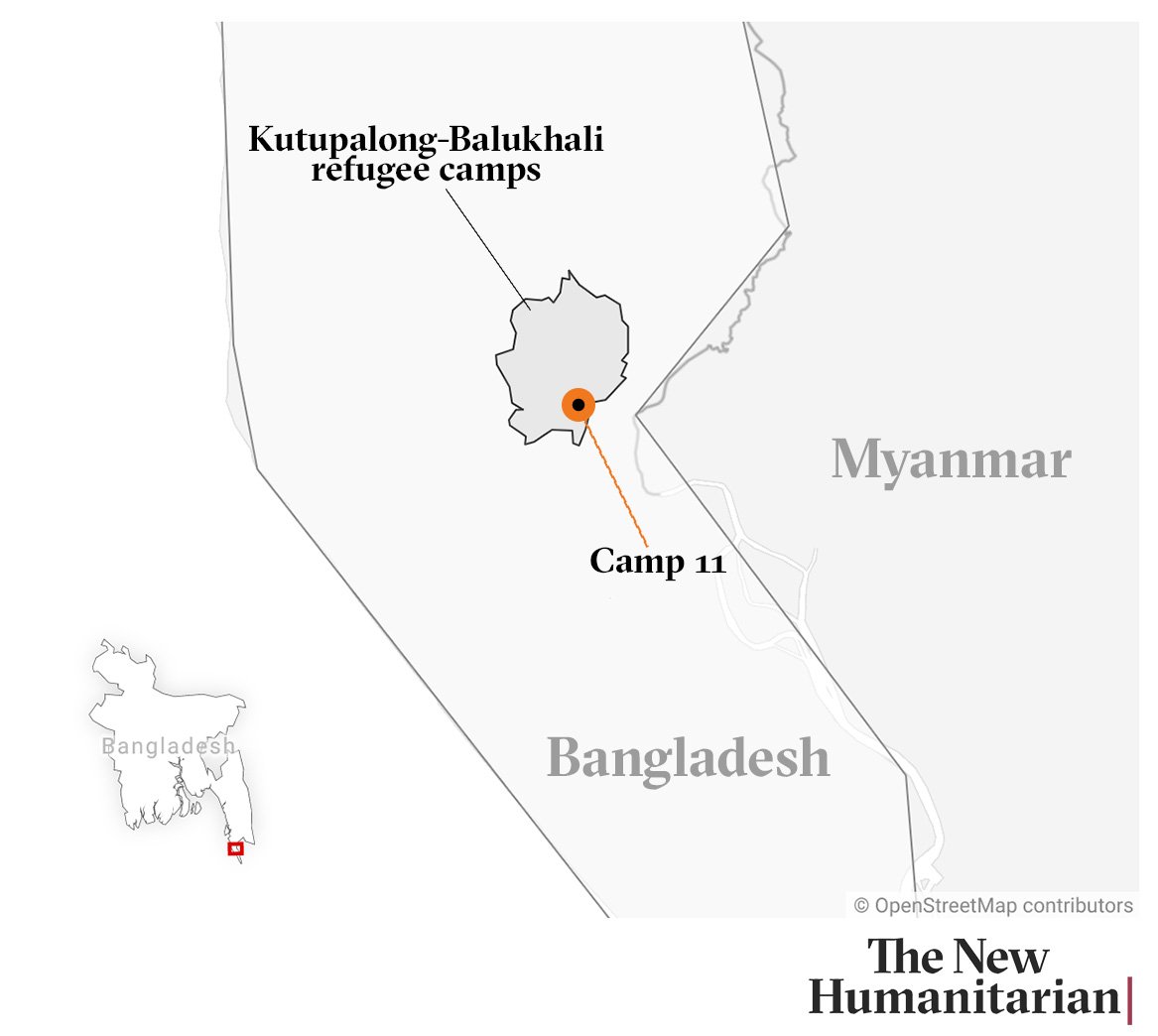 Gangs and militias leave refugees vulnerable 
An investigation led by the Office of the Refugee Relief and Repatriation Commissioner, which runs the camps, and carried out by representatives of the district government, police, and fire services, found that the 5 March fire was started by an unnamed criminal gang with the goal of acquiring control of camp territory. 
Mohammed Mizanur Rahman, Bangladesh's refugee relief and repatriation commissioner, said his office received video footage that suggests the fire was purposefully started. He insisted that "strict punishment" would be taken against anyone found to be involved in starting the fires.
While the camps are run by the government, organised crime has gained a significant foothold in recent years, with militant groups competing to control lucrative territory for moving drugs and weapons. Violence, including human trafficking, kidnappings, arson, and murder, have become increasingly common. 
Those who have reported acts of terrorism or spoken to the police have faced threats and targeted killings by members of the Arakan Rohingya Salvation Army (ARSA) and other militant groups. More than 40 people were killed in targeted attacks by militants in 2022, though the real figure is doubtless higher. While the Bangladesh government is responsible for camp security, they have struggled to keep the attacks at bay. In March alone, there have been at least nine incidents of clashes and gun battles, resulting in 10 deaths and three bullet wounds. 
"They had been fighting with their opponent for about two weeks prior to the fire in an attempt to take control of their former strongholds."
While the report failed to name the groups involved, residents said the fire came after two weeks of fighting as ARSA members sought to wrest control of Camp 11 back from the Rohingya Solidarity Organisation (RSO).
"After the gun battles at the no man's land at Tumbru border in Bandarban between ARSA and RSO, ARSA lost control over a few camps, notably camps 9, 10, and 11," said Shahab. "They had been fighting with their opponent for about two weeks prior to the fire in an attempt to take control of their former strongholds."
A resident of Camp 11, who asked to remain anonymous over security concerns, told government investigators that several young men had blocked residents from putting out the blaze. The account echoed that of Shahab and others who also testified during the government inquiry. 
"A young man with a gun and a black mask stopped me when I ran to put out the fire… [He said] 'Why are you here yet? Don't you want to survive?'", the witness, who did not want to give their name over security concerns, later said in an interview with The New Humanitarian. "If they hadn't been here, I might have been able to rescue some of my possessions." 
Nurul*, a resident of Block C of Camp 11, said that fighting between gangs had worsened just before the fire broke out. 
"Someone from ARSA threatened the residents of Camp 11 with severe consequences just ten days ago," he told The New Humanitarian. "We complained to the police, who told us to be more watchful and conduct night patrols."
The report on the government investigation stated that 10 criminal groups, including ARSA and RSO, are present in Rohingya camps. It also noted that groups have been fighting for power, which frequently led to crimes like murders. 
ARSA and RSO are both anti-junta Rohingya armed insurgent groups. Established in 1982 as an active political organisation, RSO is the oldest armed Rohingya group with lengthy experience fighting the Myanmar military. Having gone into hibernation, it re-emerged in Bangladesh following the February 2021 coup. ARSA, meanwhile, first surfaced in 2016. It gained prominence after attacking police outposts in 2017; violence that sparked the brutal military crackdown. In a statement issued to BenarNews in February, RSO defended its role in fighting over camp territory saying it was trying to "suppress" ARSA's criminal activity. 
No way home
The Rohingya living in the camps face scant possibility for safe repatriation. Junta officials visited the camp in mid-March to interview possible returnees as part of a widely criticised and deeply opaque pilot repatriation project. Officials spent a week verifying the identity of some 500 Rohingya, and said they would begin repatriating an estimated 1000 Rohingya to 15 newly established villages in Rakhine state starting mid-April.
Advocates and refugees have meanwhile urged safer conditions. This includes not just better policing to curb the activities of the militant groups, but improved infrastructure to reduce the likelihood of fire. The average population density in the camps is 40,000 people per square kilometre, and the shelters are made of highly flammable materials — bamboo and tarpaulins — that speak to their temporary conditions. 
John Quinley, director at rights organisation Fortify Rights, noted that the government would not allow the refugees to build more permanent shelters and urged improvements to camp structures.
"The government of Bangladesh should allow mid-term solutions for the Rohingya. Repatriation is not possible now and would be akin to refoulement."
Forced to remain in the camps and now ducking gang warfare, refugees say they feel more endangered than ever. Htway Lwin, a Rohingya community leader and human rights defender who lives in the camps, said the violence has silenced many of his neighbours.
"Many fire victims are afraid to speak out due to the threat of ARSA. Nevertheless, some brave individuals have come forward and reported the truth to the local news media."  
*Names have been changed over security concerns of residents and their families.
With reporting support from Anamur Rahman.
Edited by Abby Seiff.