For the 1.6 million people who live in the Chittagong Hill Tracts area of southeastern Bangladesh, a warming planet means nearly half of them lack regular access to water during the summer. That means less school, as girls spend more time collecting water; less income, as fewer crops grow; and higher expenses, as bottled water becomes a shopping list staple. 
Across the globe, a changing climate is changing lives. From unprecedented flooding to record heat to worsening hurricanes, drought, and more, global warming is causing extreme weather events and forcing countless millions to adapt.
Often, resource mismanagement heightens the problems. This is certainly the case in the Chittagong Hill Tracts, where deforestation has worsened water scarcity in all three districts: Khagrachari, Rangamati, and Bandarban.
So what's the fix? Greater government assistance would be a start, Nilamoy Chakma, a local official in Rangamati told The New Humanitarian. "We have been demanding the government's support for a long time, but we are still not getting any benefit," Chakma said.
Visual journalist Zakir Hossain Chowdhury travelled to Rangamati and Bandarban in June to find out more about the deteriorating situation, learning how people now have to scramble to collect water to survive. Here's what life looks like for the region's residents.
Fire, farming, logging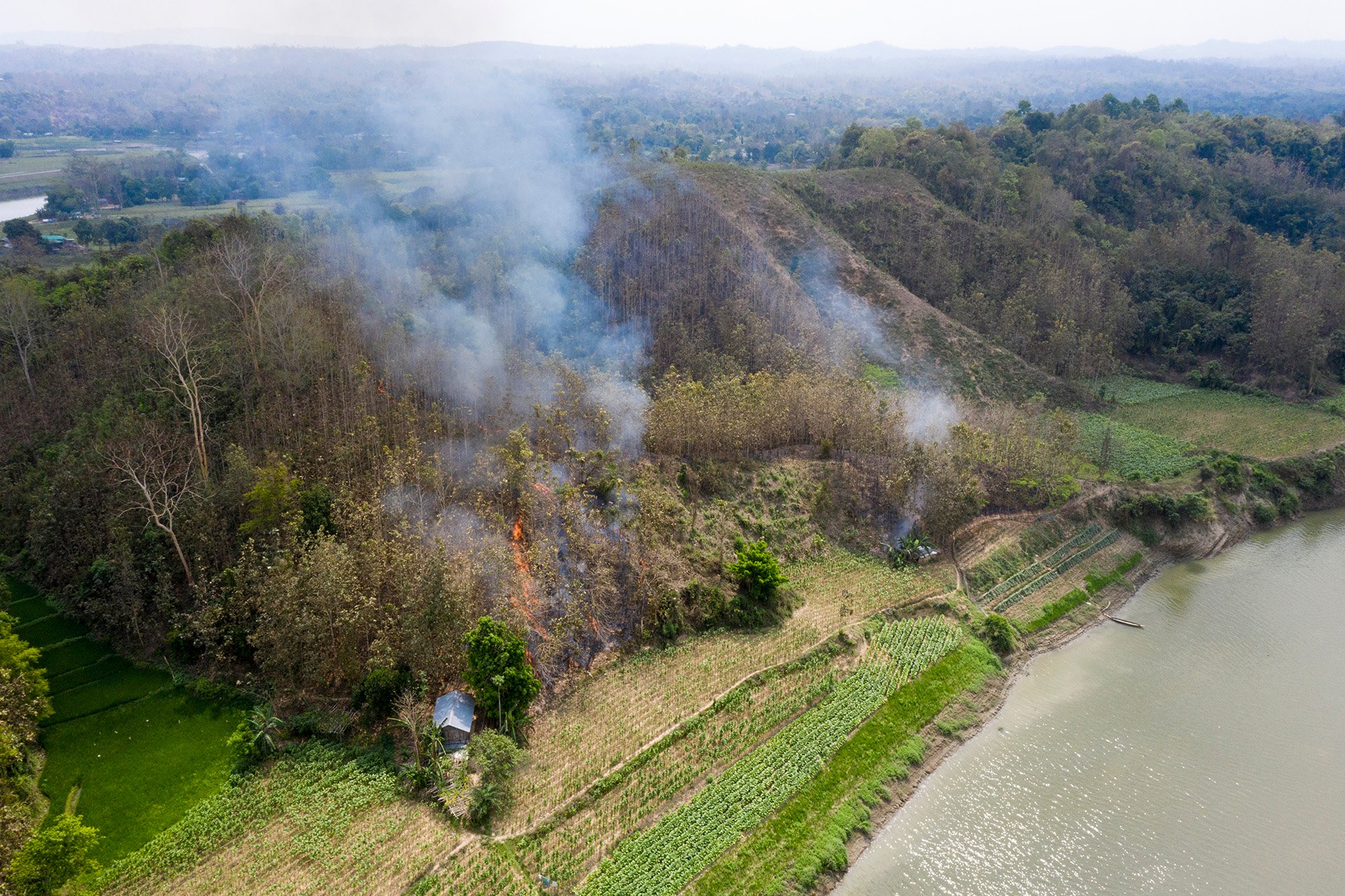 A slash-and-burn fire set intentionally in a forest in Borkol, Rangamati
Over just the past 20 years, the average air temperature in Bandarban district has risen by 0.5 to 1 degree Celsius, according to the Bangladesh Meteorological Department. This in turn has led to an increase in soil temperature — meaning water evaporates faster. Global warming has seen once-regular rainfall patterns turn erratic, further impacting the availability of water. 
All of this has been worsened by ongoing deforestation due to commercial farming – which often involves using deliberate fires to clear large swathes of woodland and vegetation – and illegal logging.
"Indiscriminate deforestation [is]... now causing environmental disasters and reducing water resources," said Fazle Elahi, executive director of the environmental group Global Village. "The springs in the Chittagong Hill Tracts are already destroyed."
A burden on women and children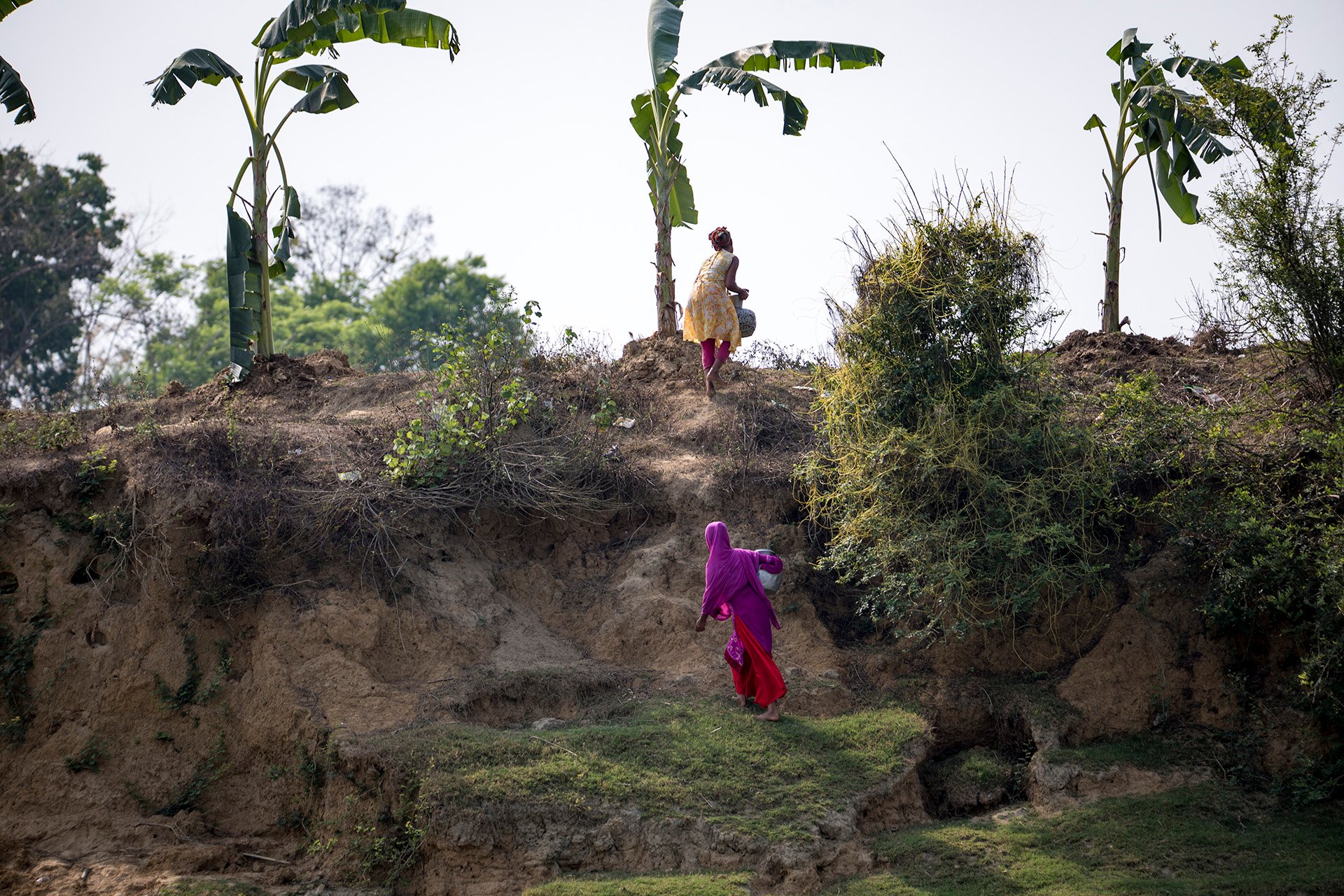 Cousins Shirin Akter, 13, and Munia Akter, 10, collect water for their families at a river half a kilometre from their home. 
"Water is a problem here," said Shirin's mother Rokeya Begum. "Young children bring water from far away, to cook and eat with and to bathe."
With men having to spend most of the day working in the fields, the task of finding water nearly always falls on women and children, explained Munia's father, Joshim Uddin.
"Women and children are forced to fetch water from far and wide. I bring some water before going to work in the morning, but that does not complete the day's work," he said. "Since winter, the water problem in the village has increased. Water is available from a nearby spring at other times, but it is not available during the dry season."
Biplab Chakma, executive director of the NGO Ashika Development Associates, said those collecting water often travel up to two kilometres each way. 
"Women suffer [a greater risk] from insecurity," she added. "Since there are no roads in those areas, women have to go through paths or forests to fetch water.''
Struggling to survive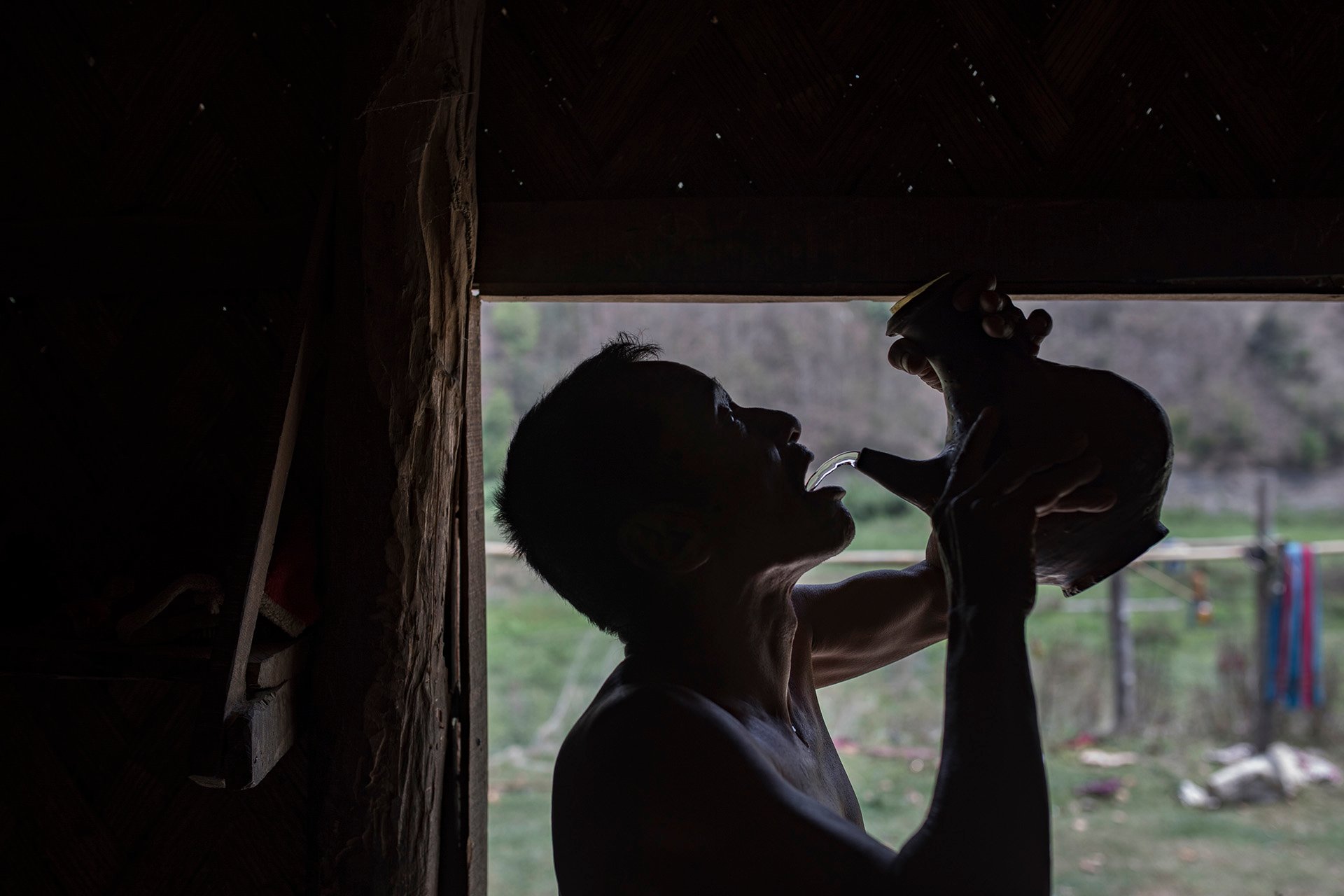 Aungshaching Murma, 52, drinks water after working his farmland in Borkol, Rangamati. 
"In the dry season, the spring dries up and becomes like a road," said Murma. "We have to walk two kilometres to collect water from the neighbouring village… Because of the shortage… we are not able to grow crops properly."
Even when water is found, it is often contaminated with sewage, which has led to a spike in waterborne illnesses — at least 11 people died from diarrhoea in June in Bandarban, and more than 50 became seriously ill.
A long journey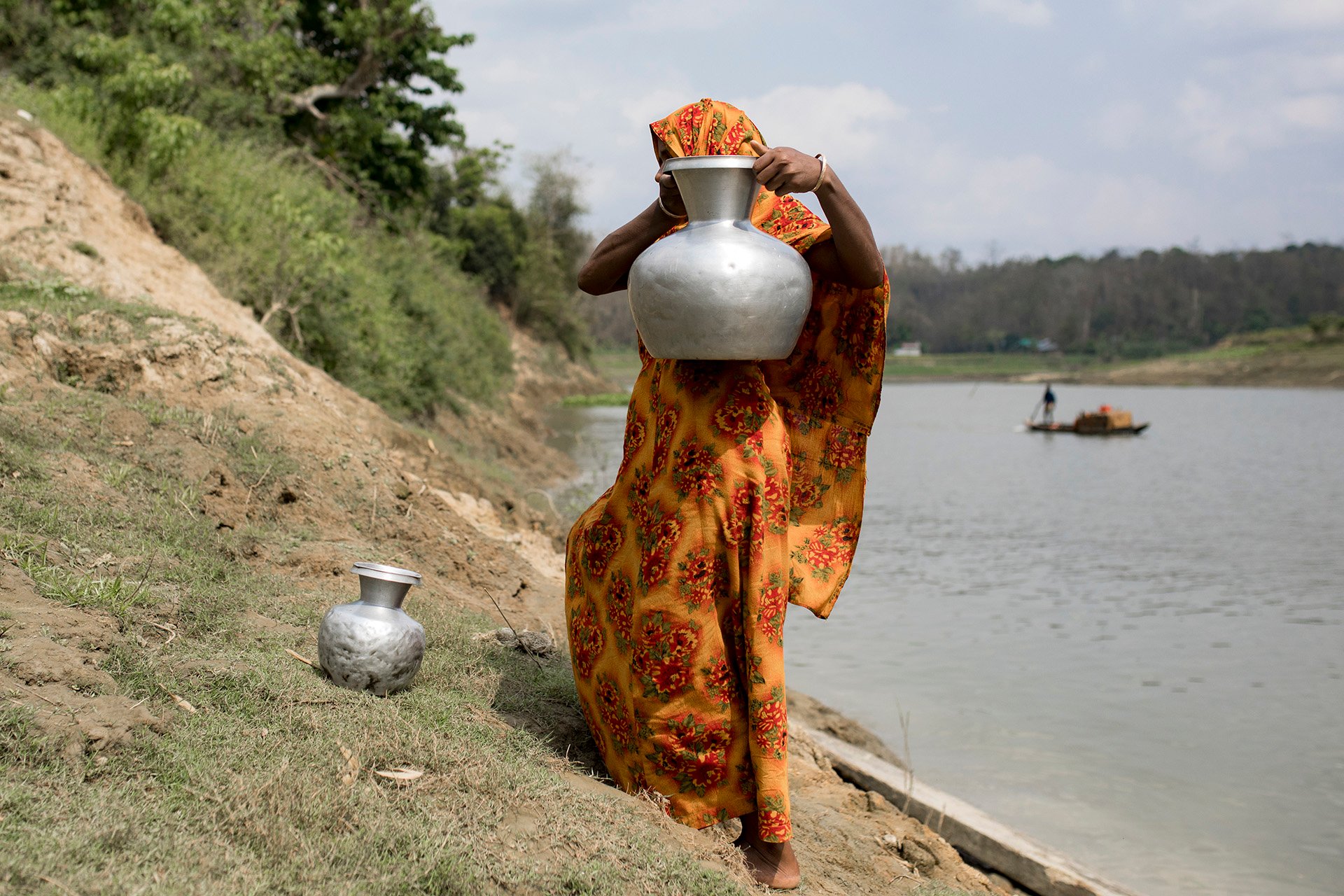 Asya Begum, 25, collects water for daily needs from the Arabunia area of Rangamati. Five to six times each day, Begum walks at least 15 minutes to collect water for her family of 12. 
''It is very difficult to carry water from low to high," she said. "I gasp [for breath].''
Globally, around 700 million people may be displaced by 2030 due to intense water scarcity, according to UNICEF. 
Paying the price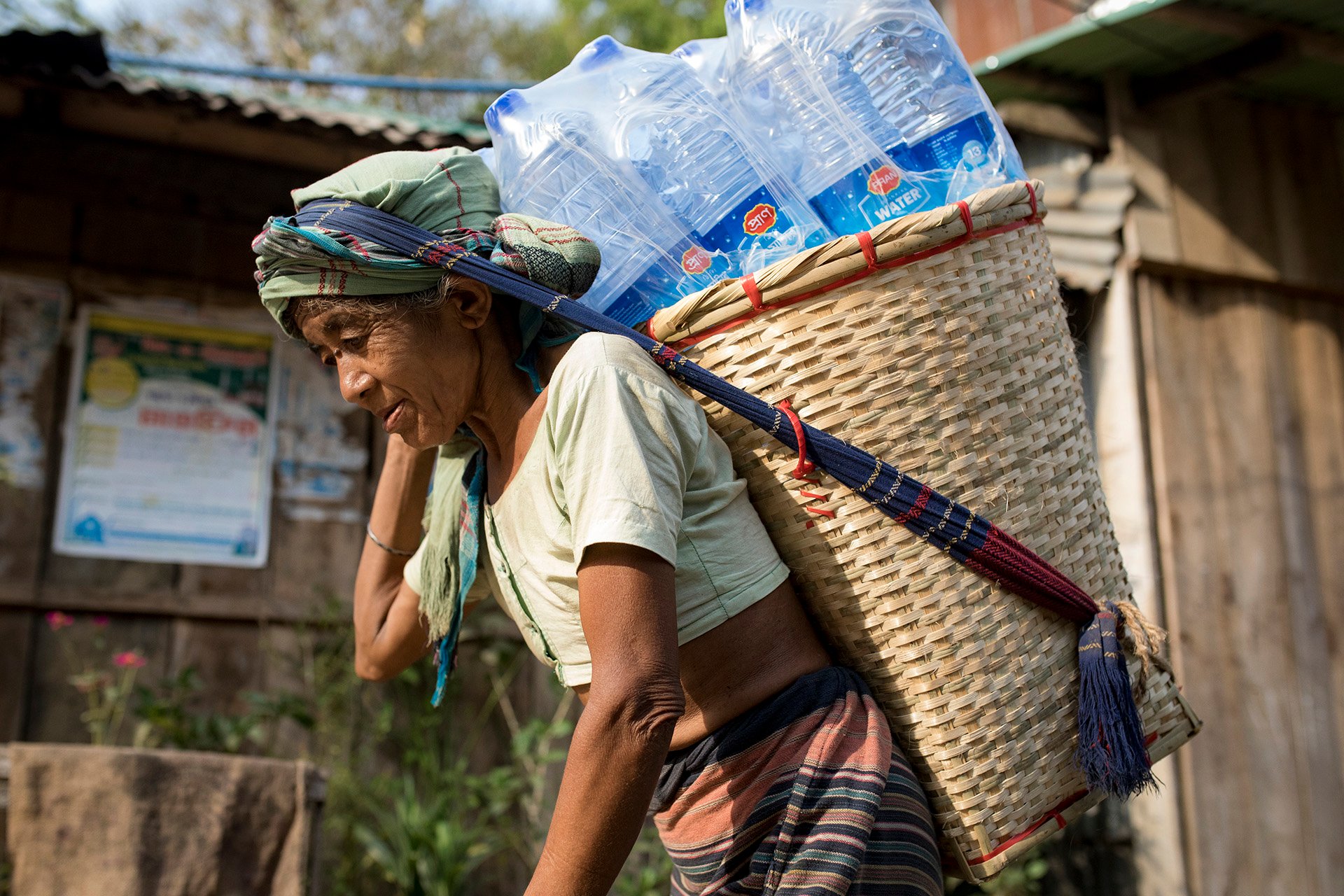 An old woman carries water bottles from the town of Rangamati to sell in her rural shop. During the summer months, those living in the Chittagong Hill Tracts increasingly have to buy bottled water, if they can afford it.
"The water shortage in our [district] is very sad," said Chakma, the local official in Rangamati. "We are not able to solve it permanently. We have arranged for water supply from small streams through gravity flow through plastic pipes, which is very inadequate."
Edited by Abby Seiff.