At a glance: Biometrics and children
A large new trial will fingerprint children aged 1 to 5 to track vaccinations and link them to their medical records via biometric information.
Some 20 million children are estimated to miss key vaccinations.
Most aid schemes don't use biometrics on young children.
Algorithms developed in Japan will be tested in the trial, to be carried out in Bangladesh and Tanzania.
Project backers say there are extensive provisions for data protection, ethical oversight, and consent.
Critics point to a widening debate on data protection, technology ethics, and the risks and benefits of biometric IDs in development and humanitarian aid.
A trial project is being launched with the underlying betting that biometric identification is the best way to help boost vaccination rates, linking children with their medical records.
Thousands of children between the ages of one and five are due to be fingerprinted in Bangladesh and Tanzania in the largest biometric scheme of its kind ever attempted, the Geneva-based vaccine agency, Gavi, announced recently.
Although the scheme includes data protection safeguards – and its sponsors are cautious not to promise immediate benefits – it is emerging during a widening debate on data protection, technology ethics, and the risks and benefits of biometric ID in development and humanitarian aid.
Gavi, a global vaccine provider, is teaming up with Japanese and British partners in the venture. It is the first time such a trial has been done on this scale, according to Gavi spokesperson James Fulker.
Being able to track a child's attendance at vaccination centres, and replace "very unreliable" paper-based records, can help target the 20 million children who are estimated to miss key vaccinations, most in poor or remote communities, Fulker said.
Up to 20,000 children will have their fingerprints taken and linked to their records in existing health projects. That collection effort will be managed by Simprints, a UK-based not-for-profit enterprise specialising in biometric technology in international development, according to Christine Kim, the company's head of strategic partnerships.
Vaccination cards can easily go missing or damaged (one study found 59 percent get lost), harming the chances a child receives a full set of immunisations. Computerised records unique to each child and updated at every clinic visit, would help boost vaccination rates and save lives, say proponents, including Gavi and the Bill & Melinda Gates Foundation.
Simprints' technology is already fine-tuned to work with fingerprints taken from people in poor and rural communities, where fingertips are more likely to be worn, scarred, or burned than in richer countries, Kim explained in a telephone interview.
Japanese company NEC Technologies is the third partner in the $3 million project due to begin later this year and to conclude in 2020, Fulker said. NEC will provide image processing and matching algorithms that complement Simprints' scanning hardware and apps, Kim said.
Ethics and legal safeguards
Kim said Simprints would apply data protection standards equivalent to the EU's General Data Protection Regulation (GDPR), even if national legislation did not demand it. Families could opt out without any penalties, and informed consent would apply to any data gathering. She added that the fieldwork would be approved by national governments, and oversight would also come from institutional review boards at universities in the two countries.
Fulker said Gavi had also commissioned a third-party review to verify Simprints' data protection and security methods.
For critics of biometrics use in humanitarian settings, however, any such plan raises red flags.
Sara Davis, who researches the use of data in public health, noted that the ethics of research and development and legal safeguards must be addressed.
Davis, a fellow at the Global Health Centre of the Graduate Institute in Geneva, said she would be surprised if the concept of toddler fingerprinting would be acceptable – or even attempted – in wealthy countries where vaccine hesitancy is on the rise.
Data protection analysts have long been arguing that gathering digital ID and biometric data carries particular risks for vulnerable groups who face conflict or oppression: their data could be shared or leaked to hostile parties who could use it to target them.
In a recent commentary on biometrics and aid, Linda Raftree told The New Humanitarian that "the greatest burden and risk lies with the most vulnerable, whereas the benefits accrue to [aid] agencies."
And during a panel discussion on "Digital Do No Harm" held last year in Berlin, humanitarian professionals and data experts discussed a range of threats and unintended consequences of new technologies, noting that they are as yet hard to predict.
"There's a sense of mass experimentation on this stuff," Davis said. The development sector has a "fascination for silver bullets", in the form of embracing technology solutions to development problems, she added.
But Kim of Simprints said that testing the technology "in Manhattan" and then "parachuting" it into another context would be more unethical than to conduct research and development in the intended communities.
She acknowledged that the collection of biometrics can present a risk in conflicts, where it could potentially be misused for "ulterior or illicit" purposes. Simprints doesn't presently work in "humanitarian conflict zones" because of the additional risks in such settings, she added.
Simprints, formed in 2014, has received funding from the Gates Foundation, the UK, and other donors to develop biometric technology suitable for developing countries (the Gates Foundation has invested in other projects working on child biometrics.) It works in 12 countries with a range of partner NGOs and institutions.
Biometrics gets a better reception, Davis said, from citizens who "believe the state is fundamentally benevolent". Davis is co-author of a report entitled: "Everyone Said No: Key Populations and Biometrics in Kenya". It recounts how a government HIV study in Kenya abandoned using biometrics in response to participants' concerns. It had intended to track groups at risk of contracting HIV (sex workers and men who have sex with men, for example). But mistrust and fear of arrest stymied the project.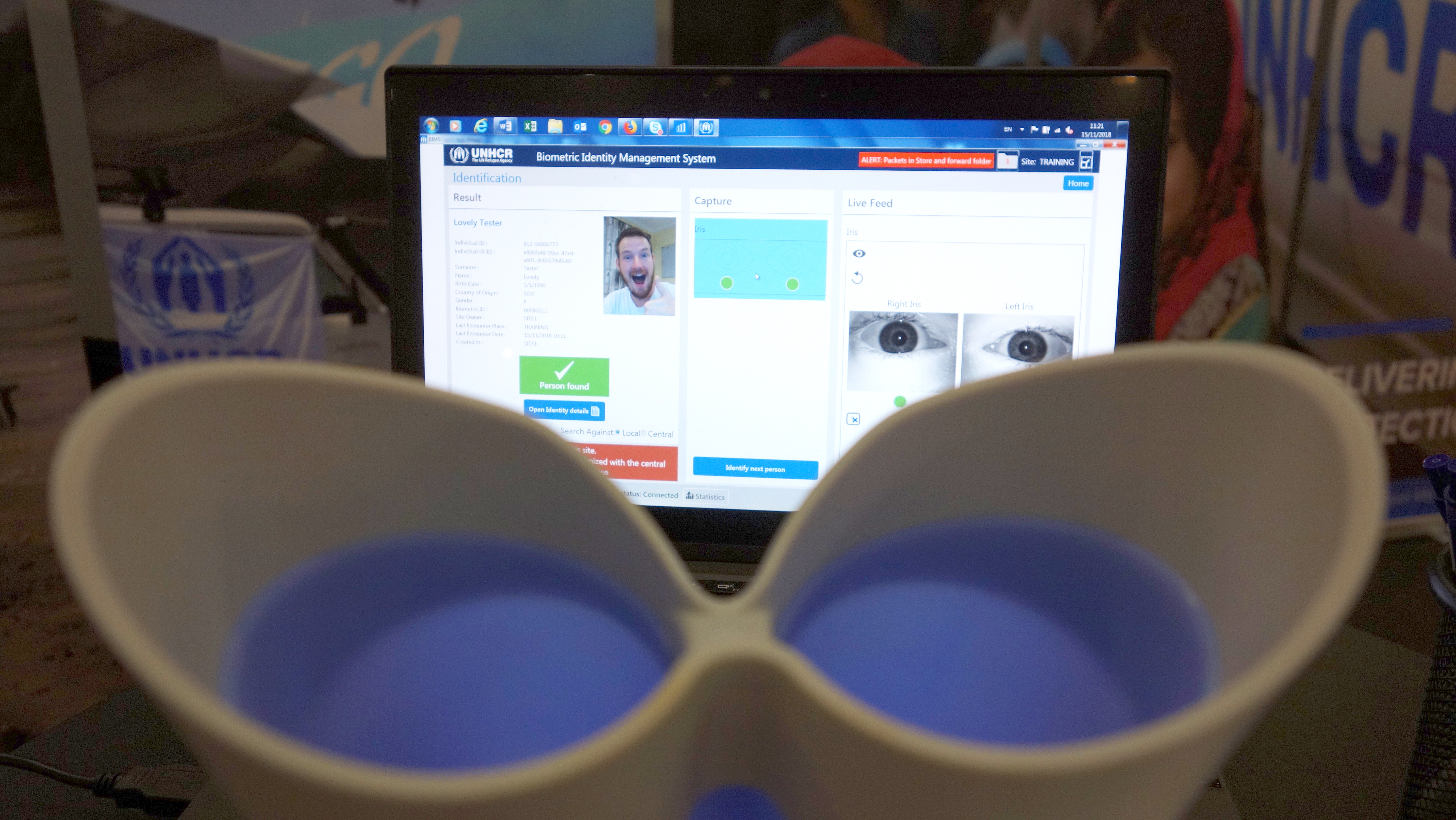 Babies and biometrics
Despite such concerns, the newest Gavi project is not unique. It follows other field trials of under-five biometrics to help reach development goals and contribute to public health and civil registration in countries including Benin, Cambodia, India, Kenya, Mali, Mexico, Somalia (see below), and South Africa.
Advocates say child and infant biometrics could also be useful in countering child trafficking, baby swaps in hospitals, and identity theft later in life.
In addition, infant and child biometrics has been trialled to combat aid fraud in conflict situations.
"There is a lot of excitement" about child and infant biometrics, Anil Jain, a professor of computer science with Michigan State University's Biometric Research Group, said in a telephone interview.
Biometric identification over the age of one is technically "not a problem", Jain said, noting that "the challenge is 0 to 12 months".
Read more: Child biometrics research in Somalia
Anil Jain, a professor of computer science with Michigan State University's Biometric Research Group, took part in a research project with the UN World Food Programme in 2017. The WFP sought a proof of concept to stop fraud, specifically in instances when different families were presenting the same children as their own, with the goal of getting more supplementary food rations, he said. Jain said he understood the goal was to stop "the same child being shared with multiple families".
WFP later reported that the research showed it was "feasible" to use biometrics to identify children under five. In response to emailed questions, a WFP spokesperson explained that the research entailed taking the thumbprints of 150 children in three locations in Somalia over seven months. "We don't have a minimum age for biometric registration", the spokesperson, who asked to remain anonymous because of a lack of authority to speak on technology issues, added.
The WFP spokesperson said the children's parents or guardians gave consent, and the exercise "was guided by the principles in the WFP Guide to Personal Data Protection and Privacy".
Jain said the project timeframe was too short to offer full confidence in what the results might be over a longer period. He said his team had not been able to visit the project sites due to security concerns.
Asked about the legal and regulatory framework for this research, WFP responded via email: "As a matter of practice, WFP informs the government when it collects data in a particular location. In the specific case of Somalia, WFP was already collecting biometric data in locations across the country, and has pre-existing legal agreements in place."
The Gavi programme is notable in part because most public biometric schemes, and registration systems for humanitarian aid, only enrol children from the age of five, if at all. The EU, for example, is considering dropping the age at which fingerprints are required for visa applications from 12 to six. Below the age of six, its 2018 study found, there are likely to be both technical and human rights challenges.
Scanning and recognition of baby fingerprints is more difficult than for one-year-olds and may require different hardware and software. Although several key vaccinations ought to take place before a baby's first birthday, some in the first weeks of life, the Gavi project won't attempt to fingerprint children under the age of one.
But others are working on the problem.
Jain said he chaired a session at a recent conference on ID technologies in June in South Africa, and vendors and researchers in infant biometrics pitched their wares. The presentations covered techniques and tools for capturing imagery of fingers, eyes, faces, ears, and feet.
In a telephone interview, Jain cautioned that "everyone claims to have 99 percent accuracy" (a figure which, for example, NEC uses).
But after years of field research he found multiple factors can skew the results: for example, can the system process children at a fast enough pace in a busy clinic setting, are the machines tolerant of harsh conditions, will they work offline or on battery power?
And, there's another obvious issue: the "longitudinal" passage of time – i.e. babies grow quickly. Many research projects have yet to prove that a child whose biometric information was captured in infancy is still recognised by the system after a year or two, Jain noted.
As a 2018 research paper – looking at the ball of the foot instead of fingers – put it: "Physical traits of infants are tiny, delicate, and grow rapidly."
The stakes to get it right are high: a false negative could deny a child a life-saving jab, and a false positive could confuse the needs of two different children.
(TOP PHOTO: A montage of infant faces and fingerprints from a biometric research project conducted in India. From a conference paper presented by Joshua Engelsma, Michigan State University, June 2019.)
bp/js/pd