Security along the Colombia-Venezuela border has decayed dramatically in recent years, especially since diplomatic relations were severed in 2019, leading to a rise in conflict and displacement as armed groups vie for the rampant illicit trade in people and goods.
However, talks set to begin later this month between the Colombian government and the National Liberation Army (ELN) – the largest guerrilla group operating in the region – offer residents on both sides of the frontier hope for an end to a decades-long cycle of violence.
In late September, the land border was reopened after seven years of closure, reducing the dangers for Venezuelan migrants who had been traversing illicit routes, and potentially improving humanitarian access to poverty-stricken and conflict-prone areas on both sides.
On 1 November, newly elected Colombian President Gustavo Petro met his Venezuelan counterpart Nicolas Maduro in Caracas, marking the first direct conversations in six years. 
The meeting was the latest step in thawing relations between the two countries and – along with the upcoming ELN negotiations – part of a complex plan to bring what newly elected Petro is calling "total peace" to Colombia.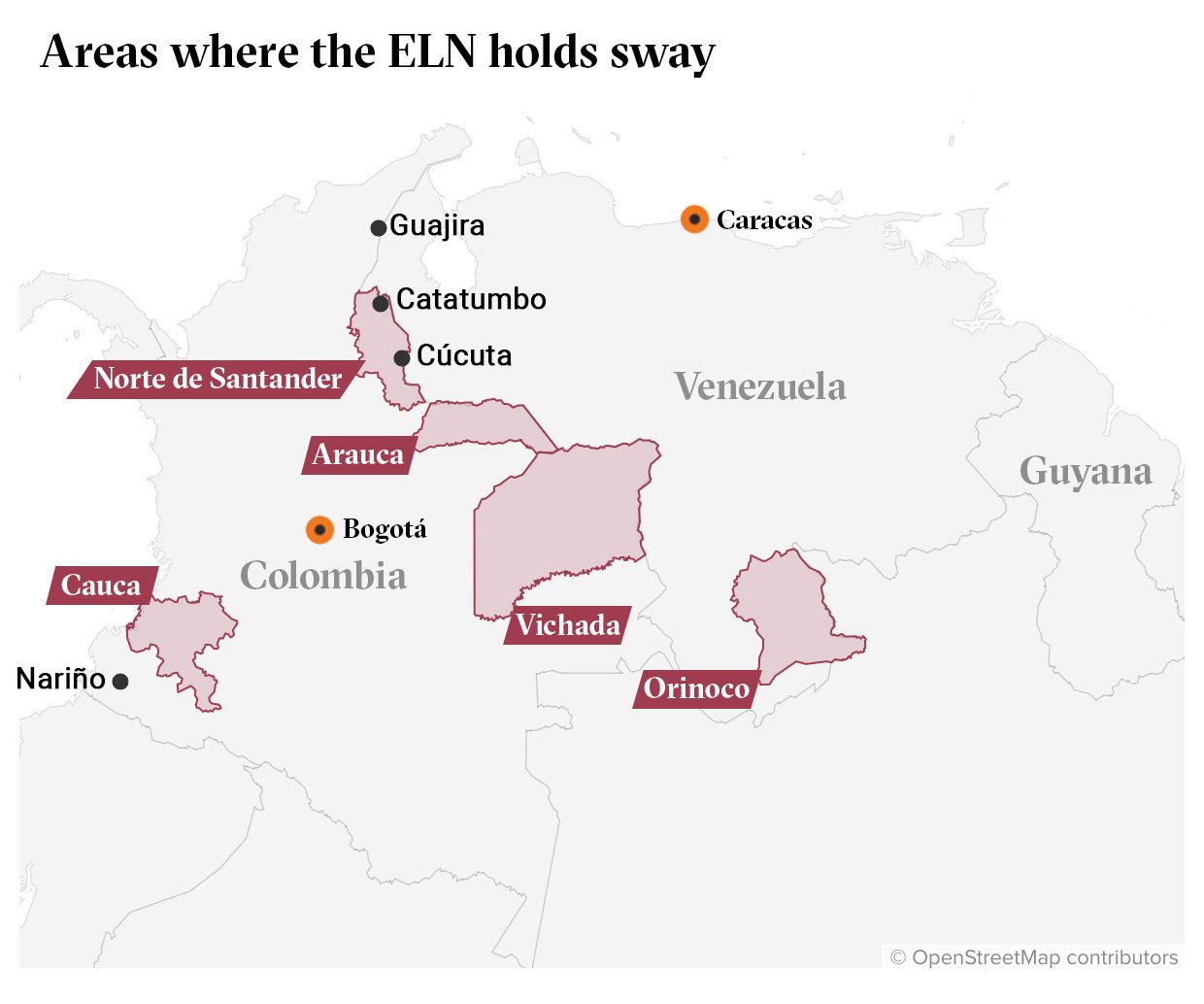 But experts and aid workers told The New Humanitarian that the challenges of pacifying a restive region where rival armed groups continue to battle over lucrative smuggling corridors – used to move drugs, people, gold, and other illicit goods – are immense.
Forced recruitment, including of minors; narcotics and gold smuggling; human trafficking; extortion of migrants fleeing economic collapse in Venezuela; and displacement due to conflict have all risen in the years following the closure of the land border.
"The ELN has consolidated control over the border," Bram Ebus, consultant and researcher at International Crisis Group, told The New Humanitarian. "Rebuilding state capacities in these areas in both countries is crucial to resolving the ongoing security crisis."
This year began with an explosion of violence along the border, in Colombia's eastern department of Arauca. Just before midnight on 20 January, two cars pulled up in front of a building complex in Saravena that hosts the offices of more than a dozen organisations that advocate for Indigenous communities and women's and human rights. After shots rang out, one of the cars sped away. A security officer on duty went to investigate the car left behind. As he approached, the car exploded, destroying the outer walls of the office building and a smaller building nearby. The guard was killed instantly, and windows in the downtown area were shattered by shockwaves as far as six blocks away. 
"The ELN has consolidated control over the border." 
The attack, which left dozens wounded, was just the beginning of a new wave of violence near Arauca, where two leftist rebel groups have gone to war on both sides of the border. A splinter group of the Revolutionary Armed Forces of Colombia (FARC) called the 10th Front and the ELN have been fighting for territory throughout the year. The "Eastern Command" of ex-FARC forces, a coalition which includes 10th Front, took responsibility for the attack, claiming the building was the "urban centre of operations" for the ELN. 
Arauca is illustrative of the broader situation along much of the 2,000-kilometre frontier, where conflict has risen dramatically in recent years as armed groups battle one another – as well as state forces – for control of the smuggling corridors and territory for extortion.
As of August, there were 293 homicides and 47 kidnappings this year in the Arauca border region alone, government data shows. Four instances of mass displacement were also registered in the border departments of Norte de Santander, Vichada, and Guajira, with more than 32,000 people displaced or forcibly confined.
Arauca itself has seen an average of 38 people displaced per day since January, the country's ombudsman's office told The New Humanitarian by phone. In 2021, nearly 74,000 people were displaced by conflict or threats, more than double the amount in 2020. Data for displacements due to armed conflict on the Venezuelan side of the border is not publicly available.
Cross-border ELN ties run deep
A key plank in Petro's plan are the negotiations set to begin this month in Cuba between the ELN and his government. The talks will be moderated by Venezuela, which has served as a go-between in previous talks, with Spain and Chile as observers. Both main parties have also invited officials from the UN as well as representatives from the Catholic Church.
Carlos Velandia, a former ELN commander and author who informally advises the Petro administration, estimates that up to 70% of the guerrilla group's forces operate in the border areas, and effectively control vast swathes of territory on both sides. 
"For decades, there has been a tacit agreement between ELN forces and Venezuelan security forces," Velandia told The New Humanitarian, explaining that as long as the ELN is allowed to operate freely and maintain a criminal empire in Venezuela, it has no motive to seriously engage in negotiations with Colombia.
But that relationship, forged out of convenience and mutual distrust of the Colombian government, has long created problems for Maduro, so some observers are wondering if the recent thaw between Caracas and Bogóta means this informal deal may have outlived its usefulness from his perspective. Others, though, remain sceptical over Venezuela's role in the upcoming negotiations.
The ELN has expanded its territory considerably within Venezuela since Colombia's 2016 peace deal with the Revolutionary Armed Forces of Colombia (FARC), controlling much of the neglected jungle regions in the south of the country. It also maintains a strong presence in Venezuela's Orinoco region, where it runs illegal gold mining operations, and has – according to InSight Crime, a watchdog that studies criminality in the region – established a drug smuggling corridor through Venezuela as far as Guyana.
In accusations corroborated by UN Human Rights Council investigations, Human Rights Watch alleges that the Venezuelan government has been conducting joint operations with ELN forces against the 10th Front, stating that Venezuelan security forces have "been complicit in their human rights abuses", which include forced recruitments of both residents and migrants, child recruitment, killings, and extortion of local communities.
In a statement on 24 October, HRW called on the Colombian government to "prioritise obtaining concrete human rights commitments from Venezuelan authorities; supporting access of humanitarian assistance; reestablishing the rule of law; ending Venezuelan security forces' complicity with the National Liberation Army (ELN); and addressing violence, abuse, and human trafficking at the border." 
Humanitarian access
More than seven million Venezuelans have fled the humanitarian crisis in their country since 2015, amid economic collapse and political persecution, with nearly 2.5 million migrating to Colombia. Transiting across the border has involved a plethora of dangers from armed groups in the region such as extortion, violence, and sexual assault.
Despite promises from the Colombian government, the process of building infrastructure and civil society in the largely stateless border regions following the 2016 peace deal with the FARC was painfully slow, allowing other armed groups to flourish in the security vacuum.
Aid officials hope the peace talks with the ELN will lead to greater investment and an improvement in the general security situation so their organisations can operate more freely and reach more people in need – both migrants and permanent residents who suffer from a lack of basic healthcare, food insecurity, or are displaced by conflict. 
Felipe Cortés, director of advocacy and communications for Save the Children Colombia, told The New Humanitarian that conflict between armed groups often makes access for humanitarian groups difficult to impossible.
"This year, in various regions, from Arauca to Catatumbo, to Cauca to Nariño, we have had to deal with movement restrictions imposed by armed groups, threats to both humanitarian workers and victims of displacements, as well as being prohibited from accessing communities in need, particularly in areas where there is little to no state presence," he said.
"We have had to deal with movement restrictions imposed by armed groups, threats to both humanitarian workers and victims of displacements."
In some border regions, the conflict dynamics can make humanitarian access even more challenging. Cortés pointed to Arauca and Catatumbo, where running battles between armed groups have drawn chaotic responses from Colombian and Venezuelan security forces on both sides of the border in which no one is communicating with one another, putting civilians at serious risk.
"Something as simple as shipping medical supplies to our counterpart, Save the Children Venezuela, is a near impossible task," Cortés said, in part because of a lack of direct communication between military forces from both countries, but also because there is no one entity managing humanitarian shipments between the two countries.
Despite the border being officially open, very few goods are actually crossing yet – a result of a lack of protocols and because there is little-to-no communication between migration officials on both sides, as well as because of extortion and corruption by security forces themselves.
Petro has expressed frustration that the border opening has yet to achieve an end to the trochas, the informal smuggling paths that are prolific along the entire frontier.
"We opened the bridge," he said a month after the border opening, referring to official crossing points in Cúcuta, Colombia. "And the economy continues to move through the trochas, because uniformed officials from both here and there are charging a commission [on goods that pass]."
All roads lead to Caracas
Petro's August election win was partly based on his promise to bring "total peace" to Colombia – an ambitious expansion of the historic deal with the FARC. Billed as bringing to an end more than half a century of civil war, that accord was largely seen as unfulfilled – frustrated even – under the previous administration of deal critic Iván Duque.
Petro is now offering to negotiate with all armed criminal groups in Colombia: rebel groups like the ELN; criminal structures such as the "Clan del Golfo", which has its origins in the paramilitary forces that fought on the government's side during the civil war and is a bitter enemy of the ELN; as well as with new narco-trafficking groups that care more about drug-trafficking profits than politics.
Many have signalled a willingness to sit down for talks, but the process involves enormous risks on both sides – politically and logistically – and comes with a host of security challenges.
Petro has further promised to invest in long-neglected conflict zones, fulfilling the government's promises as part of the 2016 peace accord to build civil society and infrastructure.
But a crucial component towards bringing peace in Colombia remains in Venezuela's hands.
"Colombia cannot achieve real peace with armed groups that operate in both countries without cooperation from Venezuela."
Socorro Ramírez, a political science professor at Universidad Nacional in Bogotá who specialises in the region, stressed that the normalisation of relations with Venezuela is essential in order to foster better communication and cooperation along the border.
"Colombia cannot achieve real peace with armed groups that operate in both countries without cooperation from Venezuela," she told The New Humanitarian.
Luis Eduardo Celis, a field investigator at the Peace and Reconciliation Foundation (PARES), which studies criminality and conflict in Colombia, agreed.
"It doesn't matter if you like the Venezuelan government, if you think they are a good government," he told The New Humanitarian. "The only way to resolve this problem is by both governments working together, There is simply no other path. As it stands, the situation endangers migrants and residents alike."
Edited by Paula Dupraz-Dobias and Lauren Wolfe.