"Corona!" one man hollered, laughing and pointing at the white mask tied around my face as I weaved through the traffic on a motorbike taxi last week in Arusha, a small city in northern Tanzania.
"Vipi corona (How's the corona)?" another man yelled from his car window, throwing a thumbs up and flashing a wide smile. 
Jackson, the motorbike taxi or boda boda driver, shook his head. "They are laughing. But in reality everyone is scared. But no one knows what they should do about it," he told The New Humanitarian. "We're just hoping it doesn't make it here."
About an hour later, on Monday, 16 March, the Tanzanian health ministry confirmed the country's first case of COVID-19 at the government-run Mt. Meru Hospital in the centre of Arusha, a city of 463,000 people at the base of Mount Meru, not far from Kilimanjaro.
Discussions overheard on the streets, bars, and restaurants became sprinkled with the word "coronavirus". Friends running into each other skipped over usual greetings, replacing them with: "Umesikia? Corona imefika (Have you heard? Corona has arrived)."
Within an hour of the announcement, more and more Tanzanians were crowding the pharmacies and purchasing protective masks, hand sanitiser, and plastic gloves. Bottles of hand sanitiser doubled in price and then quickly sold out.
COVID-19, which the World Health Organisation has declared a global pandemic, had not only arrived in Tanzania, but had landed in Arusha, its tourist capital. 
Ummy Mwalimu, Tanzania's minister of health, held a press conference and urged Tanzanians to keep calm. But panic, for many, had already set in.
'Prepare for the worst'
Frank Massawe, known locally by his nickname "Dikteta", is a boda boda driver in Arusha – a cosmopolitan city and diplomatic hub. He began taking precautions when the first COVID-19 case was reported in Nairobi, about a five-hour bus ride from Arusha, on 13 March. Kenya now has 25 confirmed coronavirus cases.
"I knew that if it was already in Kenya it was only a matter of time before it got here," Massawe told TNH as he pulled his blue surgical mask down to his chin so he could speak more easily. "I began buying masks, disposable gloves, and speaking to people on the streets to understand the best ways I could be protecting myself."
Massawe has watched in dismay as the death toll has continued to rise by hundreds each day in Italy, with COVID-19 killing thousands across Europe and North America.
First declared in the Chinese city of Wuhan in December, the virus has up until recently spared African countries. But in the last few weeks it has spread rapidly across the continent. More than 2,000 COVID-19 cases have now been confirmed in Africa in more than 40 countries, with South Africa being the worst hit in the sub-Saharan region. 
More than 425,000 people around the world are now known to have been infected (the real number is thought to be much higher), and almost 20,000 people have died.
Tedros Adhanom Ghebreyesus, director-general of the WHO, urged African countries last week to "wake up" and "prepare for the worst" during a news conference in Geneva, warning of undetected and unreported cases across the continent.
17 March
'This isn't like malaria'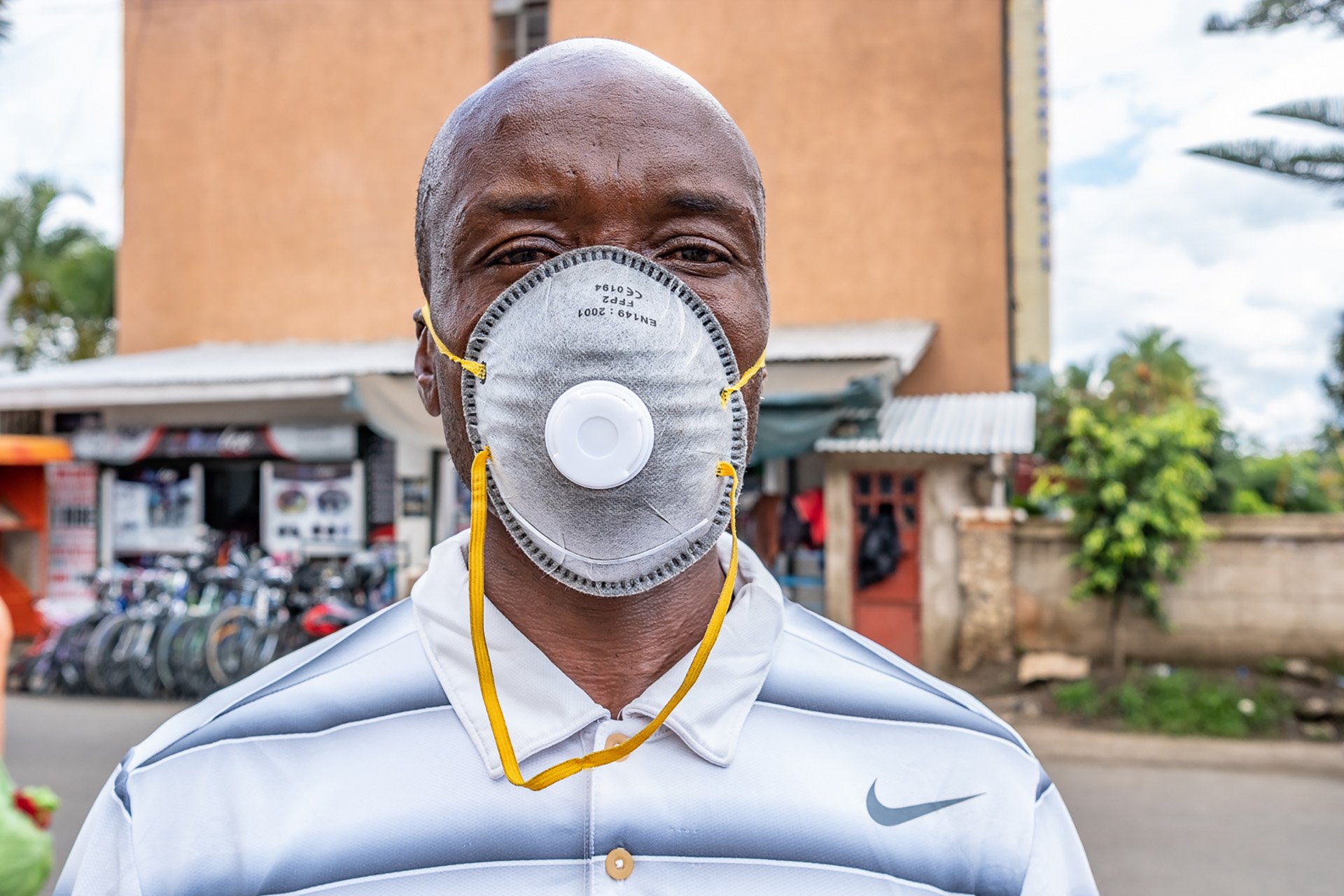 On Tuesday, the day after the announcement of the first COVID-19 case – a 46-year-old Tanzanian national who had arrived in Arusha from Belgium – hand sanitiser continued to be out of stock in most shops and pharmacies in the city. Men appeared on the streets hawking protective masks, while some people could be seen wearing full-on gas masks.
Abduli Hissa, a bajaji (or tuk tuk) driver in Arusha, now sells face masks on the side. He buys the masks in bulk, paying $43 for 20, and then sells each one for $4, a tidy profit.
In their words: A business opportunity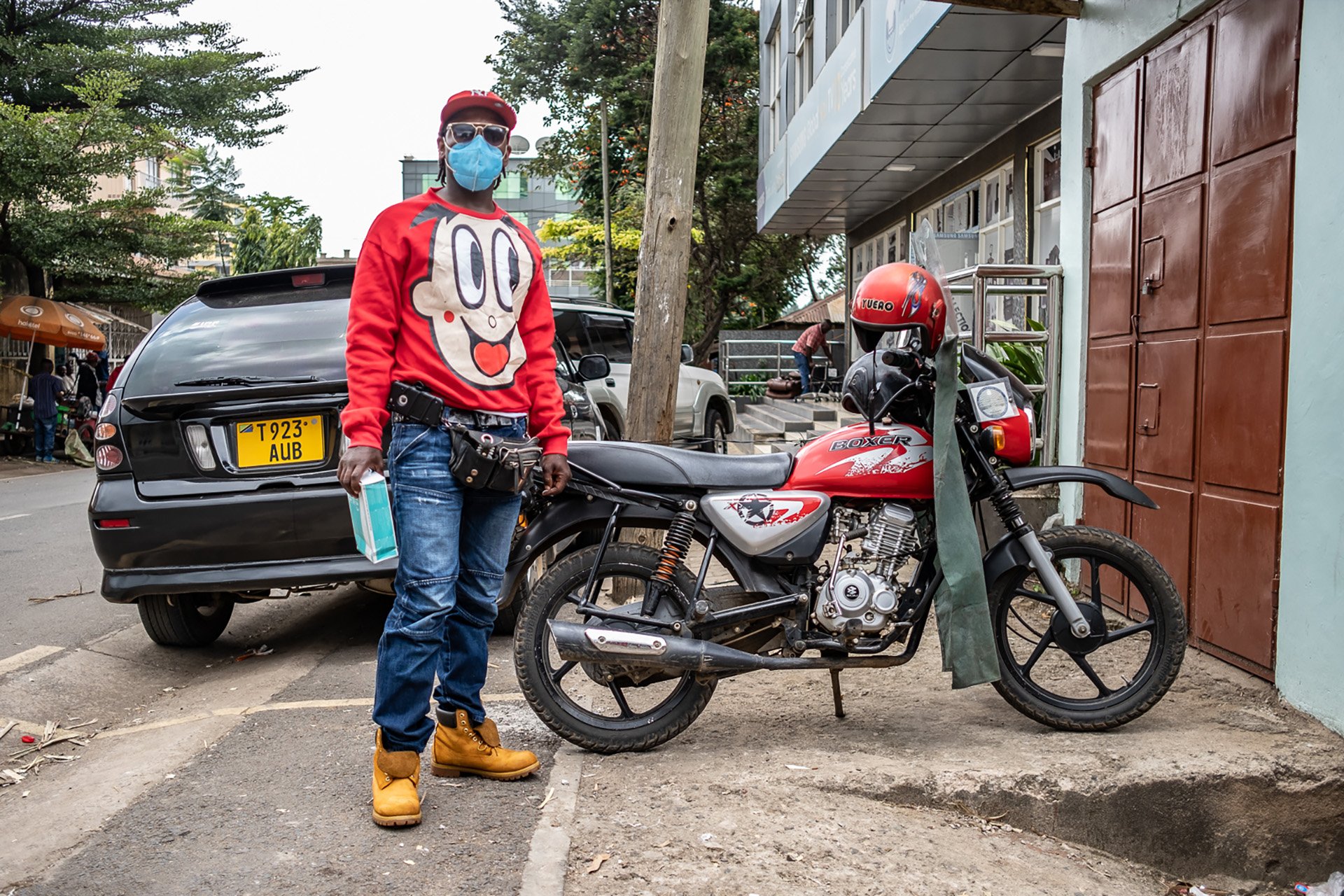 Soon after Tanzania's first COVID-19 case was officially announced, Frank Massawe's phone began ringing constantly with customers asking the 32-year-old to deliver protective masks and hand sanitisers to their homes.
"I received so many calls that I couldn't handle all of them. I had to just stop picking them up," he said. Massawe went to find hand sanitiser, but most shops and pharmacies were already sold out. He finally found a supermarket that still had some stock, but prices had doubled.
"There were so many people lining up to buy them," Massawe told TNH. "They had to allow people into the store in rotating groups of 20."
Tanzanian Prime Minister Kassim Majaliwa announced the closure of all schools (extending this to universities the following day) and banned all public gatherings, excluding prayer activities. Arusha's Regional Commissioner Mrisho Gambo warned that anyone hiking the prices of hand sanitiser would face consequences.
Despite the bans and warnings, the bars in Arusha were still packed over the weekend, and the price of hand sanitiser was still stratospheric, with 500 millilitre bottles being sold for around $22 – an unaffordable price for many residents of the city.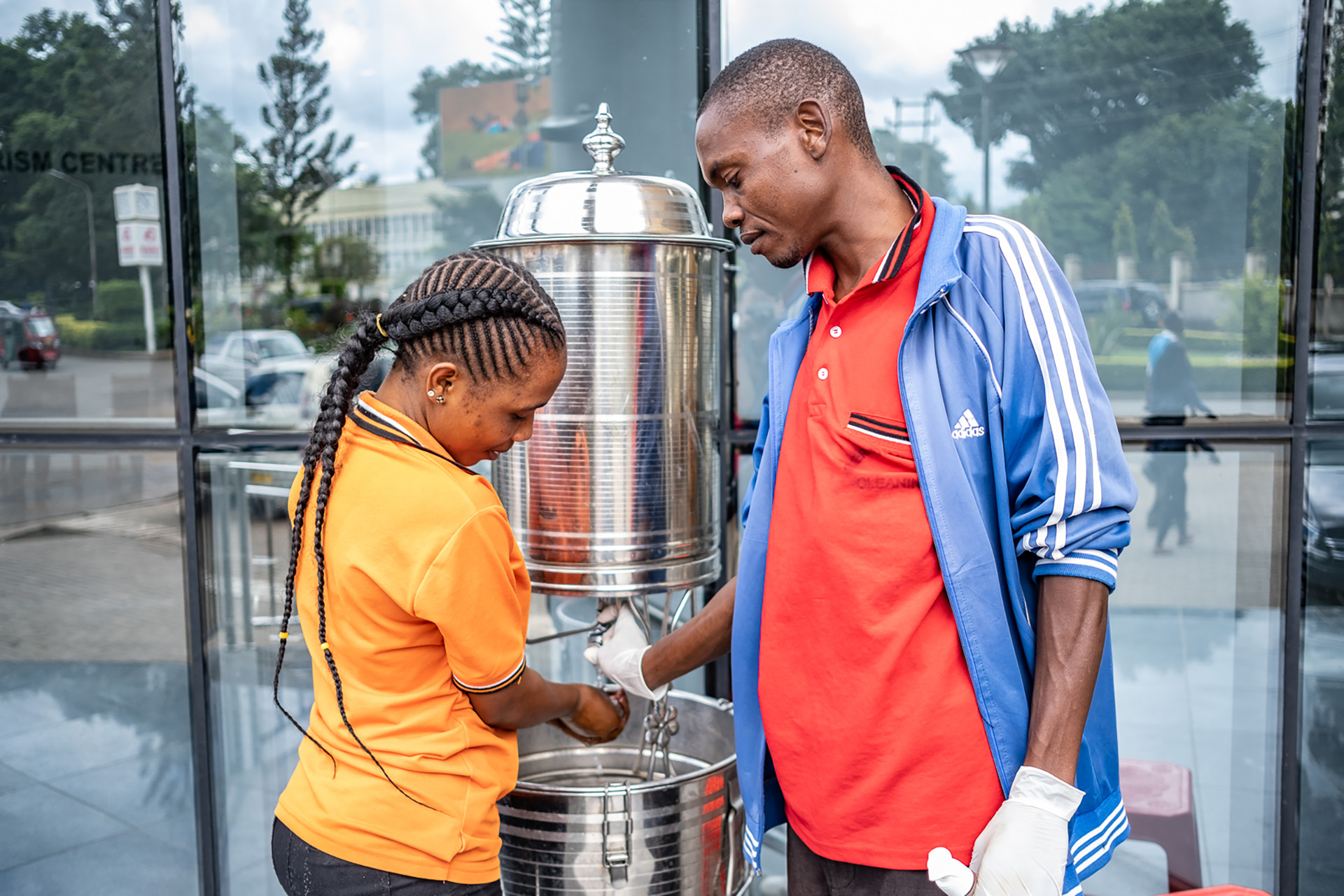 Handwashing stations quickly appeared outside many hotels, businesses, and shops. Pharmacists showed customers how to mix methylated spirits with glycerin when their stock of hand sanitiser ran out, or for customers who couldn't afford the jump in prices.
But not every Tanzanian was taking the disease seriously. One man, seated next to Massawe, said: "If you die, you die. But this is a white people flu. We Africans will be fine. Malaria kills more people than corona." 
More than one million people do die each year from malaria – the overwhelming majority under the age of five in sub-Saharan Africa.
However, there is a demand for the government to do more to prevent the spread of coronavirus, and to more adequately inform the public. "They need to take more precautions," Massawe said. "This is something new, and it's something very big. This isn't like malaria."
"We won't be able to stock up on food and hide in our homes for a month like they do in Europe," he said. "We need a real plan to prevent its spread."
18 March
'I'm freaked out'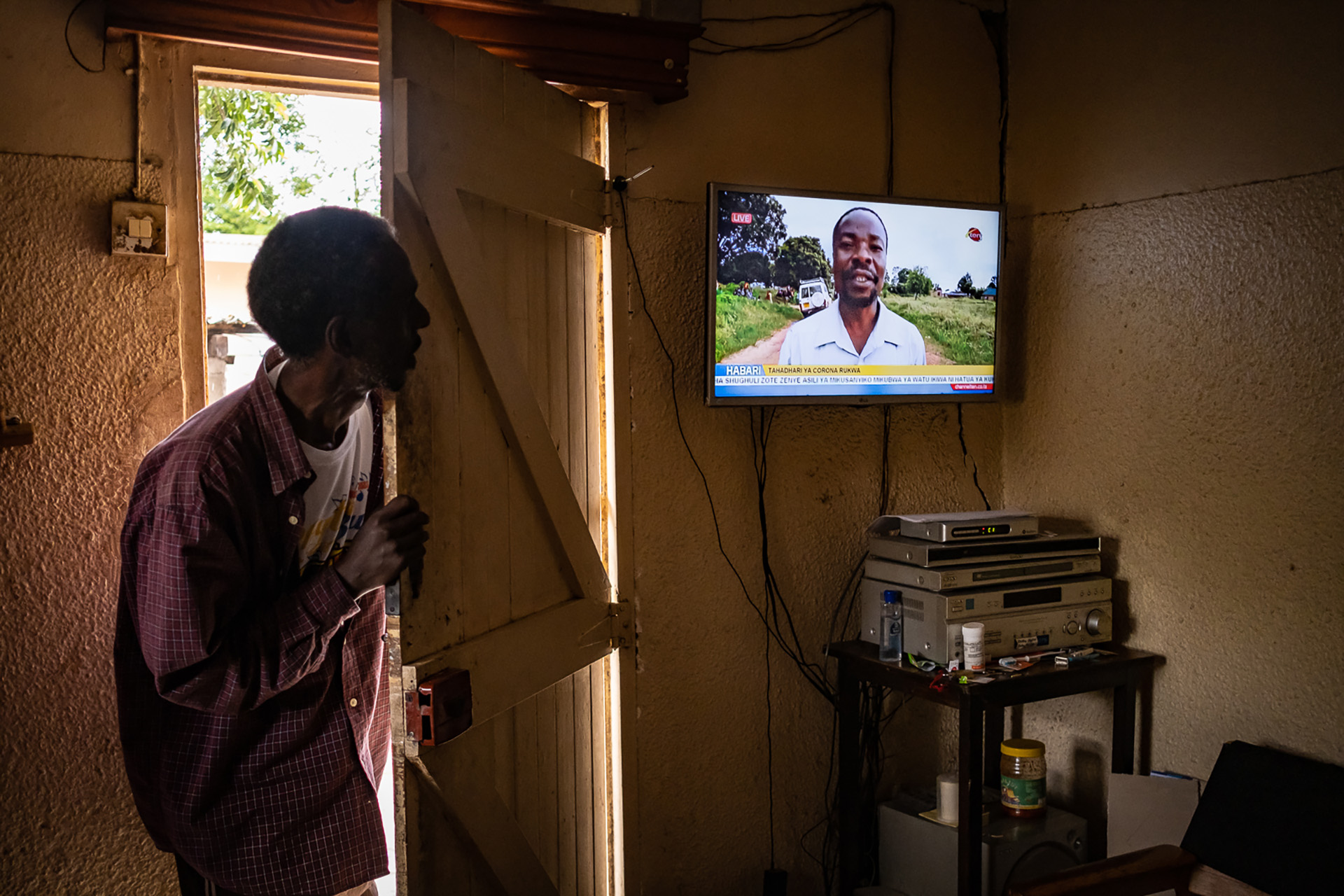 Hassan Mohammad, 46, lives in a small room with his 27-year-old girlfriend Irene Abdulrahman, who cradled Zamzam, their three-month-old baby, in her arms when TNH visited. The couple live in a shared compound with more than a dozen other people in Kaloleni, a densely populated area of the city.
Mohammad intermittently peeked into his younger brother's room, located next to his, to watch the TV and catch more news on the COVID-19 case in Arusha, as several children laughed and rolled a tyre around the communal, open-air area. 
On Wednesday, 18 March, two more COVID-19 cases were confirmed – in the commercial capital, Dar es Salaam, and semi-autonomous Zanzibar. Both were foreign nationals, from the United States and Germany. Both countries have reported tens of thousands of cases of the deadly virus, while almost 800 people have died in the United States.
"Frankly speaking, I'm totally scared. I'm freaked out," Mohammad said. "Any human being who is mentally okay has to be worried about this. If it's this contagious and it spreads this quickly, we all have to be worried."
However, Mohammad said he hadn't received any information from the government before the announcement of the first COVID-19 case, except for a commercial that appeared on the TV once every few hours showing Tanzanians how to properly wash their hands.
Abdulrahman, Mohammad's girlfriend, told TNH: "I have seen the news on TV. I've seen that it has been killing many people in Europe. I have no idea what else to do except wash my hands. I'm very frightened, but I have to believe the government will be able to handle this."
But, in Arusha, frustrations with the government were palpable.
"Many people are scared and we feel like the government is moving too slowly. It seems like they are just dragging [their feet]," Mohammad said. "I have about 30 percent trust in the government to handle this. The other 70 percent will just depend on us and what we decide to do as common Tanzanians."
This sentiment was prevalent among residents in Arusha. Juma, an employee at a safari airline who asked TNH to use a pseudonym to protect his identity, said he didn't believe the government had been prepared for a possible outbreak and wasn't taking the crisis seriously.
He referred to an earlier press conference – in response to the first COVID-19 case being reported in South Africa – when Mwalimu, the health minister, said: "I believe that God is going to protect us during this tragedy."
"Can you imagine a government saying this? I was so frustrated by this," Juma said. "This isn't right. We've had a more than two-month headstart on this. It was bound to come to Tanzania. We should have been preparing and creating awareness and making sure everyone had the information and education they needed so that they would know exactly what to do when the virus arrives."
In their words: 'I believe in God'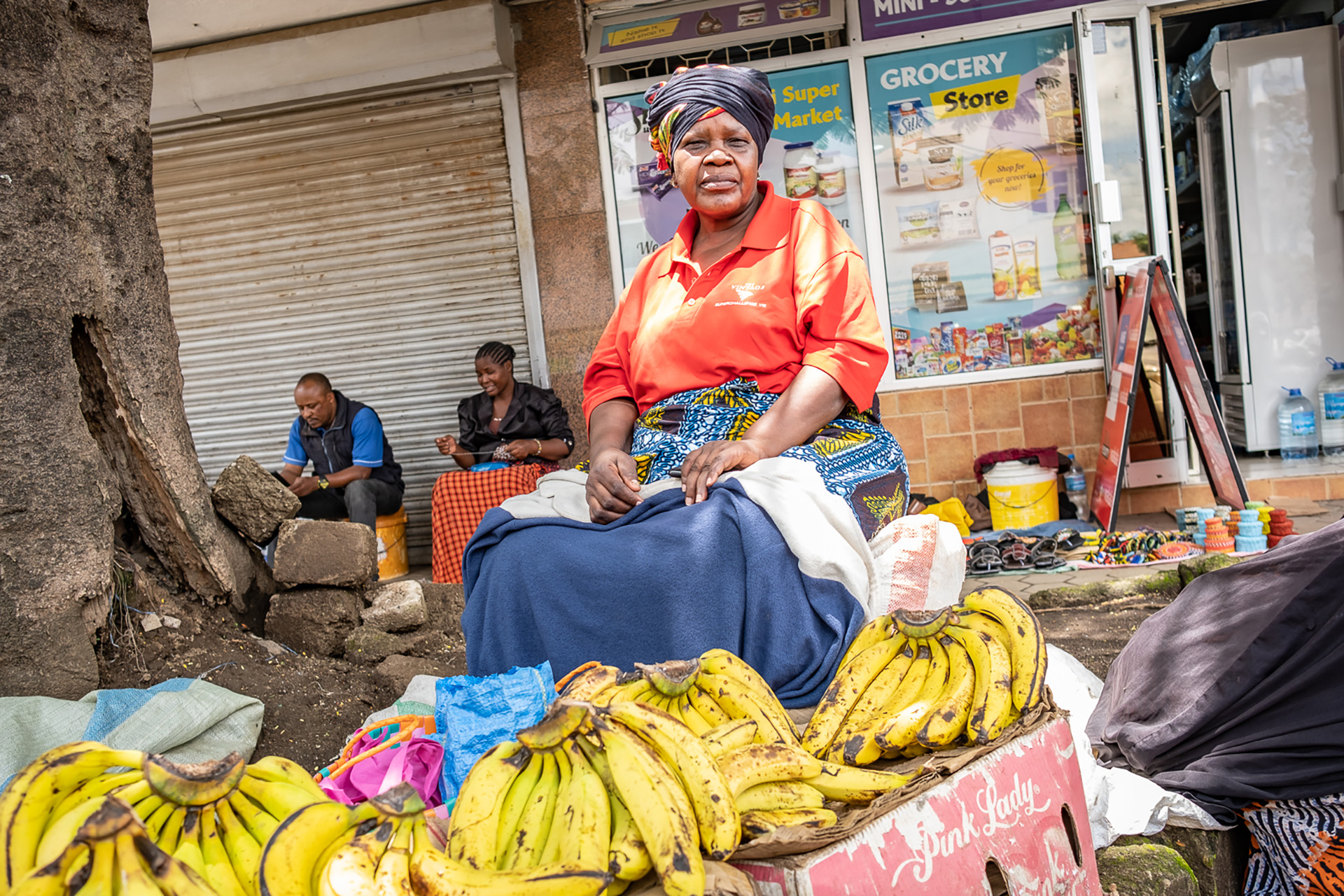 Anna Temba, 51, is a single mother from Unga Limited, one of the poorest areas of Arusha. She sells fruit on the side of the road in the centre of the city, near one of the main roundabouts. She is the main provider for her four children, aged 10 to 20.
In response to TNH asking her what she knew about COVID-19, she said: "I heard about the coronavirus coming here from my customers. It's all anyone is talking about. If I get sick, I will first try and drink a lot of hot water with salt. But if that doesn't work, I'll go to the hospital."
Temba says it has been a good day if she makes $2 selling fruit.
"If the Tanzanian government were to close businesses or lock us in our homes, we wouldn't have money to eat," she said. "We would suffer a lot. This little money is my family's whole livelihood. I'm praying that it doesn't get to that point, because if it does we wouldn't be able to survive it.
"I'm not worried about it, because I believe in God," Temba added. "I have faith that it won't spread here. God will protect Tanzanians."
Janneth Mghamba, assistant director of the epidemiology and disease control section of the health ministry, told TNH that "misinformation broadcasted by various media" was the cause of the population believing the government wasn't prepared.
"We've been preparing for this even before the WHO called this a pandemic," Mghamba said, citing a preparedness system the government put in place in 2015 in response to the Ebola outbreak in West Africa. "We also strengthened the ports of entry because we thought we would get an imported case," she said.  
Mghamba said Tanzania had been using thermal scanners as an "initial screening mechanism" and walk-through thermal scanners at the airports, while passengers from high-risk regions had been asked to fill out surveillance forms upon arrival so that authorities could quickly follow up with them.
However, experts have warned that temperature checks at airports are insufficient, as it can take two to 14 days for those infected with the coronavirus to develop symptoms. Infected passengers can easily pass through airports undetected – as was the case for several of the patients who tested positive for COVID-19 in Tanzania.
Mghamba said the government had released funds for the hospitals to begin procuring more equipment, such as ventilators. At Mt. Meru Hospital, there is an eight-room isolation building that was constructed in 2015 during the country's Ebola preparations, and a quarantine tent area has been erected inside the hospital grounds with a capacity of 20 to 30 beds, she said.
"I want to assure the community that we are on track, according to the WHO standards and assessments," Mghamba added.
'I was sent into a panic'
On the day the government announced the country's first COVID-19 case, Francis Kembo, a 52-year-old tour guide, was on his six-hour drive home to Arusha from Mwiba Lodge in the Serengeti when he received a call from his wife, who works as a nurse at Mt. Meru Hospital.
"She told me that there was a problem at the hospital and that she needed to stay later to answer some questions and run some tests," he recounted, sitting on a chair in a small work shed beside his house. "Right when she said that, it immediately clicked. I heard about the COVID-19 case in Arusha, but I wasn't even thinking about her being on duty that day."
"All of us have been watching the news and seeing what's happening in Europe," Kembo said. "And then suddenly it was here, and right in front of us. It sent me into a panic."
According to Kembo, Isabella Mwambapa, Tanzania's first COVID-19 patient, had come to the hospital on Sunday asking to be tested for the disease. When her test came back positive the following day, Kembo's wife and other medical staff were asked questions about their contact with the patient and given a COVID-19 test. Kembo's wife was allowed to go home that night.
In a panic, Kembo, still en route home, called his daughter – one of his five children aged between four and 24 – and told them all to stay inside and not interact with anyone. He also told his children to keep track of every person they had been in contact with over the last day. 
"My wife was around the coronavirus patient, and then she went home and interacted with the family," he said. "I was shocked that the hospital was not more concerned about the possibility of my family contracting it."
Kembo did not have any information on how to handle the situation, and sent around a frantic WhatsApp message to various groups, pleading for help or advice on what to do now that his family may have been infected with the virus.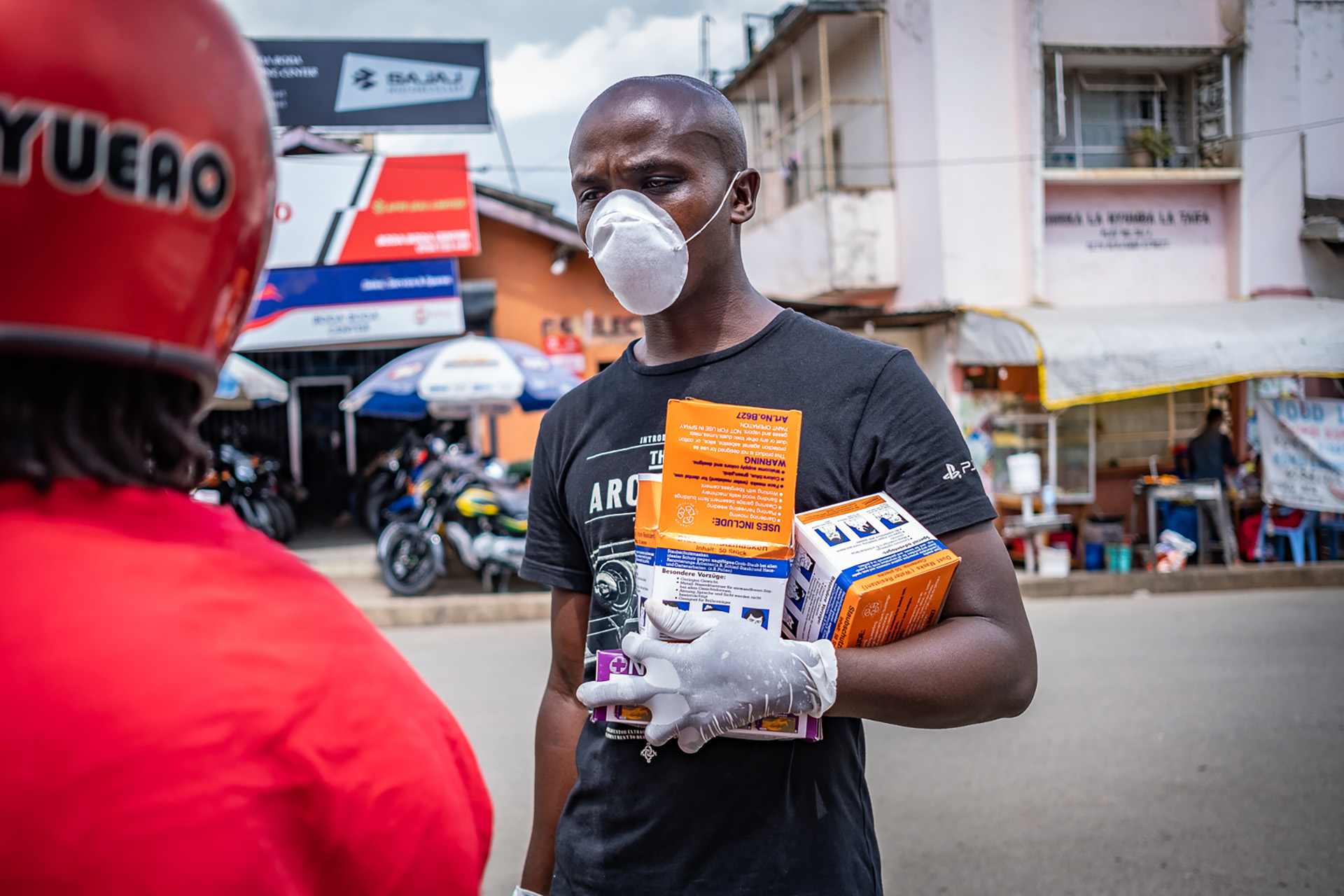 Someone sent him two emergency hotline numbers set up in preparation for a possible COVID-19 outbreak. However, according to Kembo, one of the lines didn't work and the other remained busy for four hours. He was unable to get through to anyone.
Kembo had considered bringing his children to the hospital to be tested, but was too worried he would infect others on the way if it turned out they were carrying the virus.
His wife, along with 27 others who were quarantined in Arusha after having contact with Mwambapa, tested negative for COVID-19. But Kembo is keeping his family in semi-quarantine for 14 days as an added precaution – despite his wife continuing to go to and from work at the hospital.
Kembo has since calmed down from the initial shock of being in such close proximity to the virus. 
In their words: An idea for the government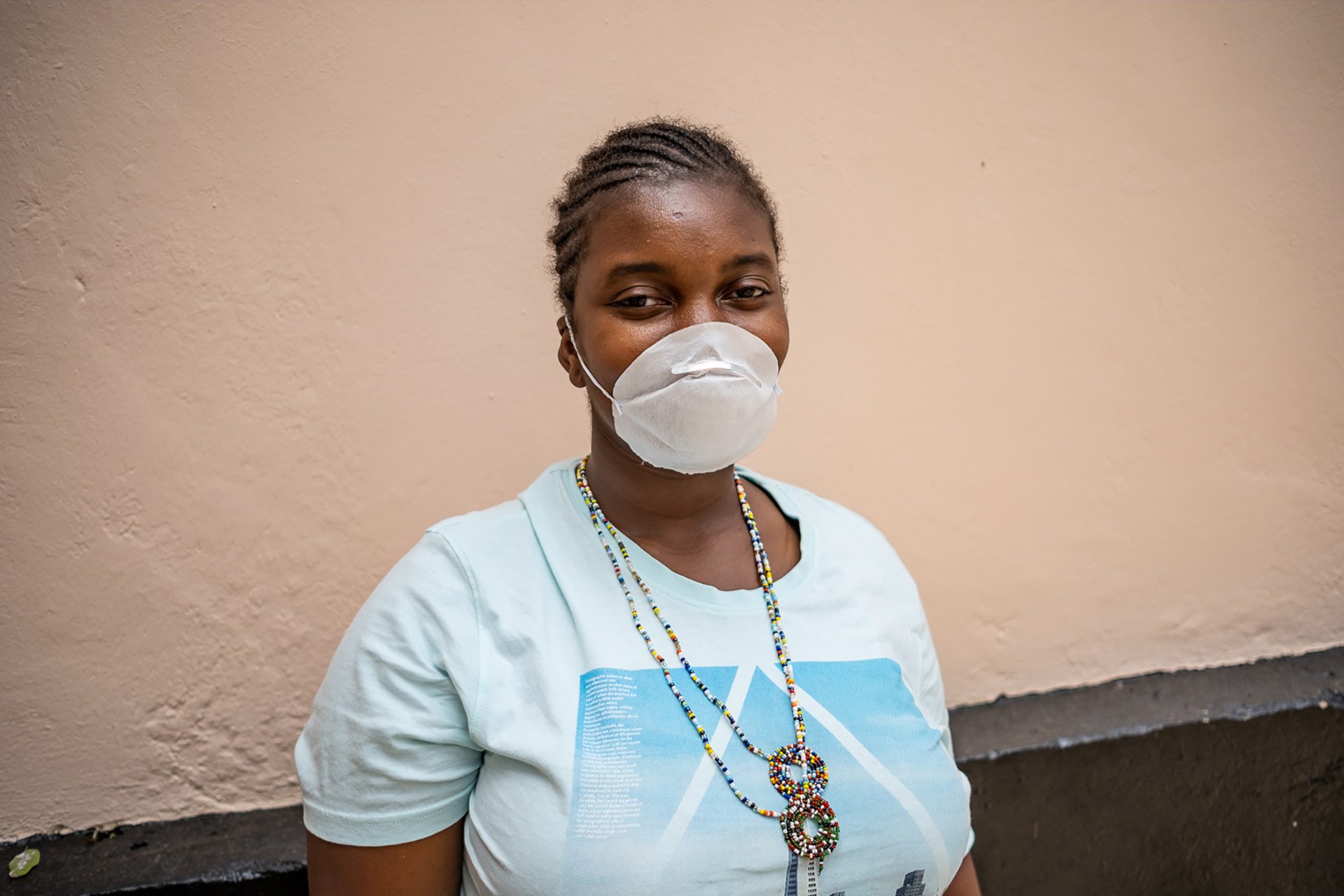 Faith Mnzava, 19, has some suggestions for the Tanzanian government. 
"I think they need to start providing the essentials for free to all Tanzanians, like masks and hand sanitisers," she said. "They should be preventing any kind of movement to or from the affected areas as a precaution – just until we are certain there are no cases."
"They need to close the border as soon as possible, and they need to start taking people's temperatures at places where many people frequent, like at the supermarkets," Mnzava said. "And they need to focus on testing as many people as possible, not just the people who have symptoms."
Mghamba, at the health ministry, told TNH that there are different guidelines applied to different contacts, depending on the risk factors, and that "you can't just come to the hospital and say you want to be tested".
"You get tested only after you're assessed by an expert," she added. Mghamba also assured TNH that the government has since expanded the emergency call centre.
Tanzania has only limited testing capabilities. All tests for COVID-19 are sent to a lab in Dar es Salaam, and it takes at least 24 hours to get the results.
While Kembo believes the government should be doing more, he doesn't blame them either. "We're an inexperienced nation in this kind of situation," he said. "But we need to do everything possible to prevent the spread of this disease."
"For instance, someone from the government should have come to speak to my family or at least listened to our concerns," he continued. "What if my wife did have the virus? And then it was spread to us? And then my children spread it to others? We're just giving it time to spread. But we should be doing every single thing we possibly can to prevent it from spreading."
"Once it spreads, we will have no way of containing it. We don't have the resources," he added. "We can't put whole cities under quarantine like they are doing in Europe. Most people here live hand to mouth. We would end up having to choose which death we prefer: coronavirus or hunger."
But Kembo urged Tanzanians to trust the authorities. "I'm sure the government will do everything they can to keep the situation under control," he said. "I don't think there's any government in the world that wants to see their people die."
Hundreds of millions of people around the world are now living under lockdowns to curb the spread of the virus. For many in Tanzania, however, the effects of such measures would cause economic devastation.
While other governments, including neighbouring Kenya, have mobilised resources to assist those who have lost their jobs or who have been adversely impacted by the closure of borders and businesses, the Tanzanian government has not announced any plans to cushion an economic collapse if the virus were to spread.
"In Tanzania, people work to live for just one day," Juma, the safari airline employee, said. "So people are really scared. If someone loses their job for just two days, that would have a massive impact on a person's life. People wouldn't be able to survive anymore and this is causing even more fear." 
"We know from the rest of the world how quickly this virus can get out of control," he added. "So the fact that the government is not planning anything ahead of what's right in front of them is causing all of us a lot of worry."
19 March
'There's not much I can do'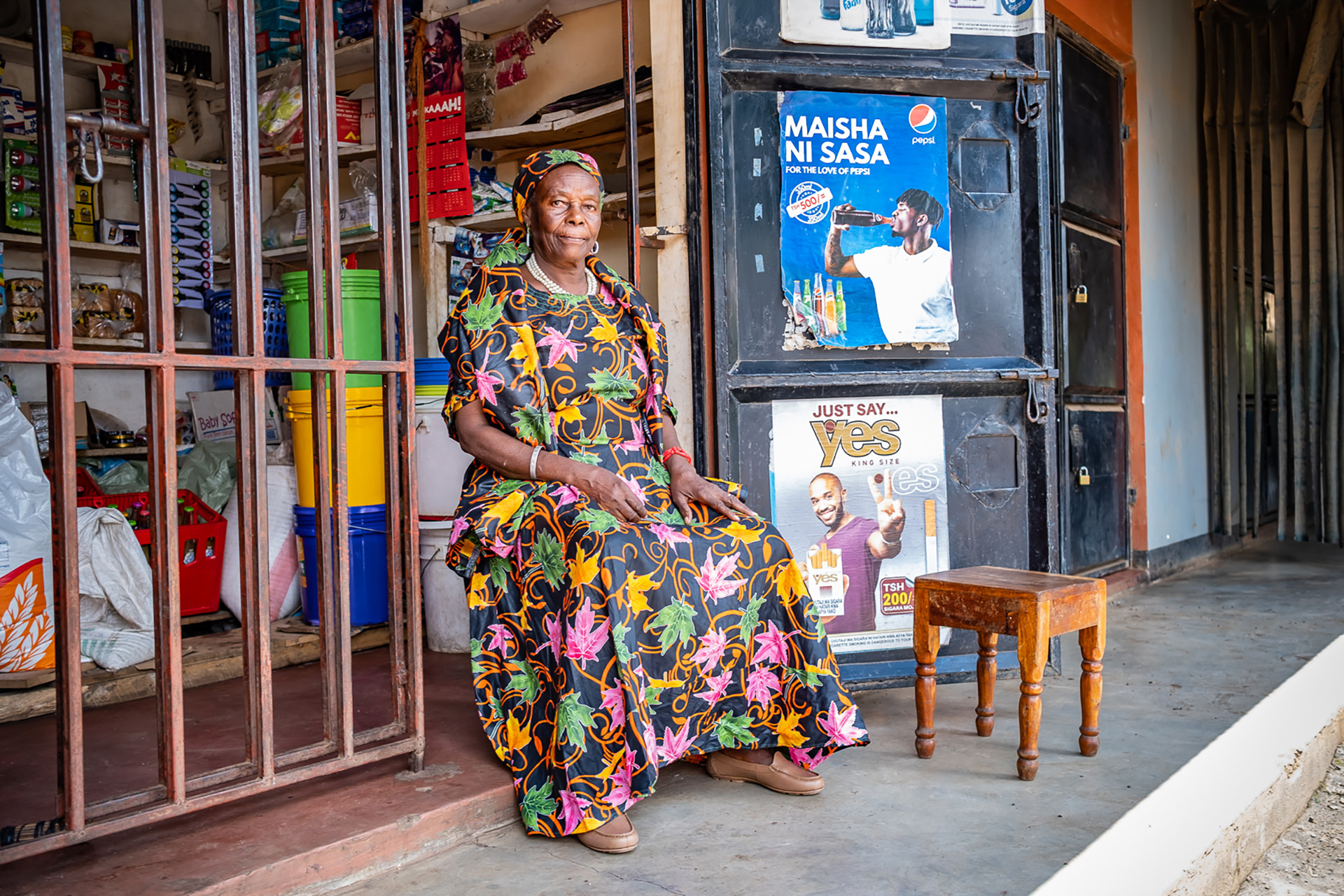 Despite several days having passed since the virus arrived in Tanzania, Marta Munuo has never heard of hand sanitiser. The 72-year-old owns a small shop in Moshono, near the centre of Arusha. She sells basic products, such as sugar, soda, cigarettes, and eggs. 
Munuo heard about the virus through the radio and was told by one of her customers that boiling hot water and mixing lemon together would prevent people from contracting COVID-19. Despite the Tanzanian ministry's claims that it has worked diligently to inform its citizens about coronavirus and the precautions to take, misinformation is still rampant. Others have said ginger and drinking plenty of water can ward off COVID-19.
"I get most of my information from the customers who come to my shop," said Munuo. She, like many impoverished Tanzanians, doesn't own a phone that can check the health ministry's website for information. "I get very little information from the government itself. I've only heard that I should be washing my hands."
However, Munuo's shop, where she also sleeps, has no running water. She must fetch water from other people's homes and carry the buckets back to the shop. Three 20-litre buckets last her about five days. One bucket is used for drinking, while the others are used for washing dishes and cleaning the toilet.
Asked what else she knew about COVID-19, Munuo replied: "I know that the main symptom is a cough. And I know that if you're infected, the blue part of the mask should be outside, and if you're not infected the blue part of the mask should be on the inside."
If she begins to feel symptoms, Munuo said she believes she needs to travel to a hospital in Dar es Salaam, more than 10 hours by bus from Arusha. 
In reality, the health ministry has said those showing symptoms can go to any hospital. However, government hospitals in Tanzania are often overcrowded, and if an infected person is not educated on how to protect others, they could easily spread the disease – whether at the hospital or en route on public transport.
Mghamba assured TNH that the emergency hotlines would explain how to best handle each situation based on the caller's symptoms. 
Munuo, however, said she didn't know what precautions she should take if she believed she had contracted the virus and had still not been made aware of any emergency hotline numbers.
"There's not much I can do," she said. "I will drink plenty of lemon water and pray to God it will go away."
Not a single person TNH spoke to was aware that testing and treatment for COVID-19 would be free in Tanzania, despite the health ministry confirming these details.
Azizi, an Arusha resident who requested that TNH not use his real name for fear of reprisal, said the government must do more to inform its citizens of the seriousness of the virus and what precautions they should take.
"I will drink plenty of lemon water and pray to God it will go away."
"You cannot just keep telling people to wash their hands or practise social distancing," he said. "Maybe these things work in the West, but here we have people with no water and we have people who don't have the ability to practise social distancing."
They are "too poor to order a private taxi each time they need to leave the house," he said. "They have no choice but to get on congested buses."
Azizi noted that the information the government was disseminating was too general to put Tanzanians at ease. 
"We need people from the government out on the streets and teaching people how to keep them safe," he said. "They should be teaching the dala dala drivers how to sanitise their vehicles. We need them to take decisive action against this disease.
"And they should have been doing this a month ago."
22 March
'We need the government to take more drastic measures'
On Sunday, during a live address to the nation, Tanzanian President John Magufuli confirmed that the COVID-19 cases in the country had doubled to 12 within a few days – four were foreign nationals and the rest Tanzanians. 
"I believe if Tanzanians follow the advice of the specialists and stick to it, we will defeat coronavirus like other enemies," the president said.
He also encouraged Tanzanians to continue to gather at their places of worship. "These holy places are where God is. My fellow Tanzanians, let us not be afraid of going to praise him," he said, adding that COVID-19 cannot survive in the "body of Christ".
To the confusion of many Tanzanians who believed Magufuli would follow the example of their East African neighbours and announce strict measures to control the spread of the virus, Magufuli instead said that any arrivals from the most affected countries would be quarantined for 14 days at designated locations at their own expense. However, it was unclear if measures were being implemented to enforce the quarantines. 
For many Tanzanians, this was not enough. 
"If this thing continues to spread here, many of us are going to die."
In Kaloleni, Mohammad chain smoked cigarettes by the door, taking long drags, tilting his head, and blowing the smoke outside, while his girlfriend breastfed their newborn baby on the bed.
"It's scary that our government seems even less worried than European governments," said Mohammad, his eyes wide and anxious. 
"We need the government to take more drastic measures. They need to completely shut the border. They cannot afford to let this get out of control. Europe has an advanced healthcare system, while we don't even have enough doctors as it is."
"We're not rich like Europe, and they can't even control this virus," he continued. "Imagine what would happen to us here in a country like Tanzania?"
"The government tells us not to panic. But they seem so relaxed about this, and it's making us panic even more. If this thing continues to spread here, many of us are going to die." 
ja/oa/ag
Subscribe to our coronavirus newsletter to stay up to date with our coverage.