For nearly a year, Suresh* has been stranded on Diego Garcia, a remote British-held island in the Indian Ocean, along with dozens of other Tamil asylum seekers who say they're fleeing ethnic persecution in Sri Lanka.
Suresh has watched friends and relatives who are with him descend into depression as they pass their days confined to a fenced encampment with nothing to do and no inkling as to how long they will have to wait there. He struggles with the pain of being separated from his wife and three children in Sri Lanka.
Some asylum seekers have lost hope and opted to return to Sri Lanka, but Suresh refuses to give up on the prospect of asylum.
"We wanted to leave our country because of our safety," he told The New Humanitarian by phone in June. "We strongly believe [the British authorities] will understand our situation and take our word. We are optimistic."
But facing a growing asylum backlog and record arrivals of small boats crossing the English Channel, the leadership of Britain's ruling Conservative Party has grown increasingly hostile toward asylum seekers in recent years.
Read more → Reporter's Diary: When the UK's cruel asylum policies hit close to home
In April, then-prime minister Boris Johnson deployed the Royal Navy to intercept boats making the Channel crossing, and announced a plan – widely condemned by rights groups and the UN's refugee agency, UNHCR – to send hundreds of asylum seekers to Rwanda to have their claims processed outside the UK.
Newly confirmed prime minister Liz Truss supports the Rwanda plan and has promised to continue the hardline approach to migration and asylum.
But even amid these deterrence policies, Suresh and more than 100 other holdouts on Diego Garcia face an even greater obstacle to their asylum bids: Diego Garcia is one of the only places under British sovereignty where the 1951 Refugee Convention does not apply.
The Convention – which the UK has signed – guarantees people entering British borders directly from a country where they face persecution the right to apply for asylum. The recently enacted Nationality and Borders Act, however, strips this right from asylum seekers who cross Europe to enter the UK.
Rather than considering the group on Diego Garcia for asylum under the Convention, UK authorities are subjecting them to a newly devised screening process that can't be appealed, according to Tessa Gregory, a lawyer at the London law firm Leigh Day, which represents 81 of the asylum seekers, including Suresh. 
The point of the process is to determine whether the asylum seekers can be sent back to Sri Lanka without violating the international legal prohibition on returning people to a country where they face persecution, Gregory said. 
"[British authorities] are not applying the Refugee Convention, and nobody will be confirmed as having refugee status at the end of the process," she told The New Humanitarian. "It remains entirely unclear what the UK has planned for those who they determine cannot be lawfully returned to Sri Lanka."
"This is a completely new and unprecedented procedure," she added. "Our view is that our clients ought to be urgently relocated to a safe third country, like the UK, as the conditions on Diego Garcia are intolerable."
Contacted by email, a UK government spokesperson declined to comment on the screening process for the Tamil asylum seekers, but said: "We have been working tirelessly since [October 2021] to find a long-term solution to their current situation. At all times their welfare and safety have been our top priority."
A remote, accidental refuge
Diego Garcia, a 27-square-kilometre atoll, is part of the British Indian Ocean Territory (BIOT) – a colonial holding of the UK situated halfway between Tanzania and Indonesia. The island's native Chagossian inhabitants were forcibly removed in the 1960s and 1970s to make way for a joint British-American military base.
Asylum seekers first arrived on the island on 3 October 2021 when British forces rescued a fishing boat carrying 89 Tamil men, women, and children that had set sail from India and was foundering near the island. Two additional boats that set sail from Sri Lanka arrived in Diego Garcia on 10 April and 21 June this year, bringing the total number of asylum seekers on the island to a peak of 173.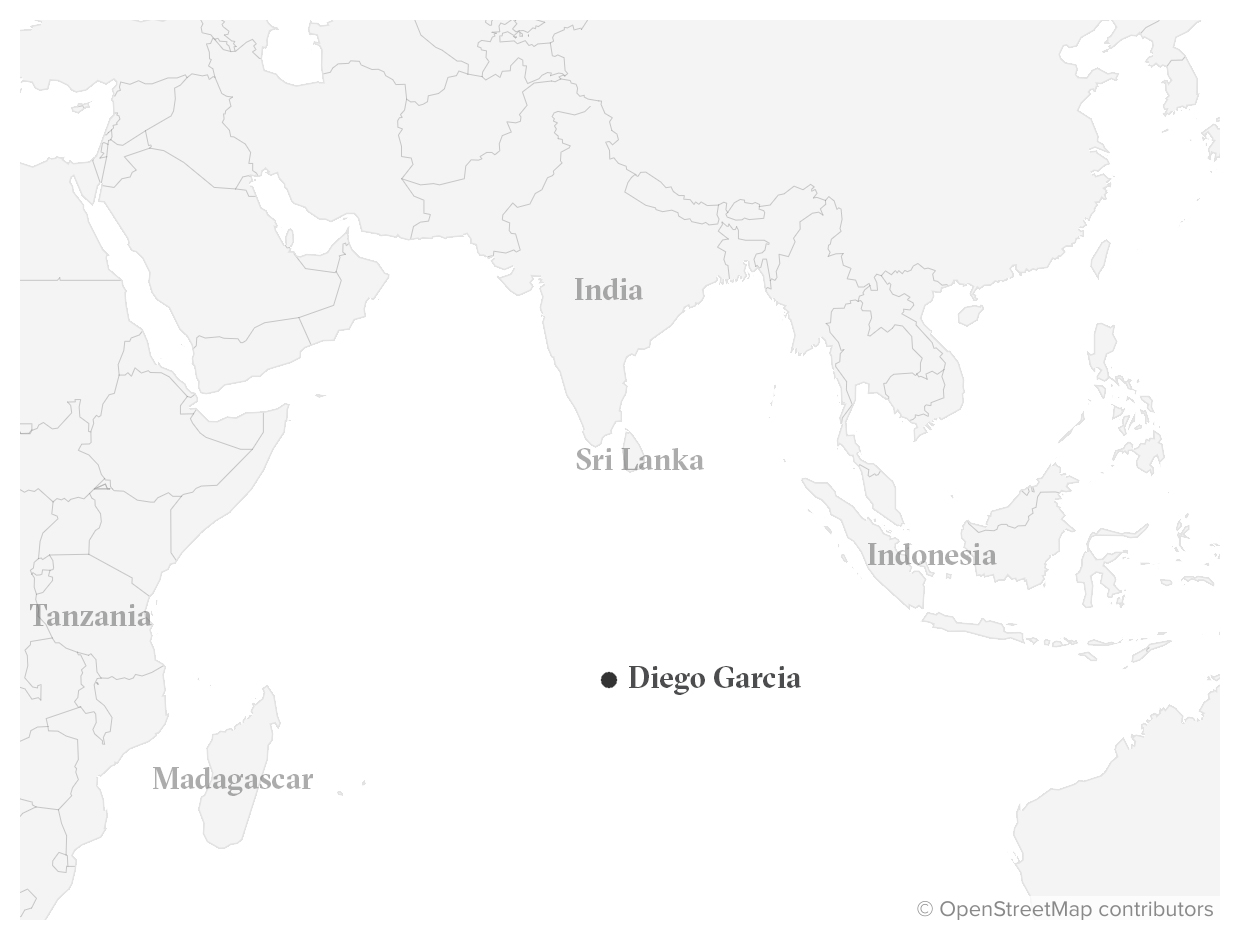 The asylum seekers are being housed in a fenced encampment within the joint US-UK military base. Six volunteered to return to Sri Lanka in late May, and another 56 requested repatriation in August, leaving 117 on the island.
Sri Lanka is in the midst of an acute economic collapse that is driving skyrocketing humanitarian needs and political unrest that resulted in the ousting of the long-ruling Rajapaksa family from government. But the asylum seekers on Diego Garcia say their primary reason for fleeing is to escape the persecution they face as part of Sri Lanka's minority Tamil ethnic group.
The Sri Lankan government – dominated by ethnic Sinhalese – and the Liberation Tigers of Tamil Eelam, a seperatist militant group, fought a 26-year civil war that ended in 2009 with the government's victory. Past support for the separatist group remains a common pretext for detaining Tamil civilians.
Suresh said he fled Sri Lanka in March 2021 after attending a protest against the government's treatment of Tamil political prisoners, and after being harassed and followed by security services. "That's why I couldn't live in my own house," he said. "It's an ongoing problem. That's why I decided to leave the country and seek protection."
For around six months, Suresh lived in a refugee camp in India's southern state of Tamil Nadu, where tens of thousands of Sri Lankan Tamils fled during and after the civil war. When a group of refugees, most of whom had been living in camps for years, decided to pool their money to buy a boat and try to sail to Canada, Suresh joined them. They set out from southern India in late September 2021 and were picked up 11 days later by British forces and brought to Diego Garcia.
A legal loophole
The case of the Tamils on Diego Garcia resembles a 1998 case in which British forces rescued a boat carrying dozens of asylum seekers off the coast of Cyprus and housed them in two military bases the UK retained as sovereign territory following the end of British colonial control in 1960.
The Home Office refused to process these asylum seekers' claims, arguing that the UK ratified the Refugee Convention in 1954 and had not extended its obligations under the Convention to the bases. The asylum seekers remained trapped on one of the bases for the next two decades, living in condemned living quarters.
In 2017, a UK court ruled that the bases were "not a 'new political entity' but a continuation of the Colony of Cyprus", and therefore the Refugee Convention applies to them.
However, the ruling also draws a distinction between the Cyprus bases and the BIOT, which was created in 1965 by cobbling together islands that had previously been part of two separate colonies, Mauritius and the Seychelles. The judges stated that the BIOT constitutes a "new political entity" that was created after the UK ratified the Convention, and therefore does not automatically fall under the Convention.
The same reasoning explains why the BIOT is exempt from several other international treaties. For instance, its exemption from the UN Convention against Torture allowed Diego Garcia to be used as a stop-over for secret flights carrying terror suspects and as an interrogation site in the US rendition programme in the years after the 11 September 2001 attacks.
"There's no access to a functioning society."
But even without the protection of the Refugee Convention, the asylum seekers on Diego Garcia are shielded from immediate deportation by the principle of non-refoulement, which under customary international law prohibits any country from returning a refugee or asylum seeker to a country where they would face persecution.
Still, conditions on the island are basically "prison-like", according to Gregory. "[The asylum seekers] can't leave. They have a security guard who monitors where they go. They don't have access to the whole island [beyond the military base]," she said.
With no civilian population on the island, "there's a lack of education for the children, limited medical facilities," Gregory added. "There's no access to a functioning society".
The UK government disputes that any migrants are being detained on BIOT.
Dire situation
Many of the asylum seekers on the island, primarily from the second and third boats, lack legal representation. Gregory said Leigh Day doesn't have the capacity to take on additional cases, although the firm is trying to refer the remaining unrepresented asylum seekers to other practices.
"It's very concerning that there appear to be individuals without legal representation," she said. "The UK government needs to do all they can to ensure they can effectively access lawyers."
On at least two occasions, the London-based governing authorities of the BIOT have prevented the asylum seekers from contacting their families for weeks at a time. After the first boat was rescued, the passengers were held incommunicado for six weeks. 
"This situation caused understandable distress to the individuals and their families, who naturally feared that they had died at sea," the law firm Leigh Day said in a letter addressed to the UK government in April and shared with The New Humanitarian.
The asylum seekers were eventually given access to a phone for around 15 minutes each week, which allowed them to contact their families and lawyers. However, according to the Leigh Day letter, this limited communication was not sufficient for them to "challenge the basis of their imprisonment", so dozens of asylum seekers staged a brief hunger strike in May and were soon granted unlimited access to three landlines.
"This situation caused understandable distress to the individuals and their families, who naturally feared that they had died at sea."
After the third boat arrived in June, BIOT authorities suspended communications again for five weeks to prevent those on the island from encouraging other asylum seekers to come. When communications were restored again in late July, Suresh called his wife Meera*, who is still in Sri Lanka with their three children, and described a dire situation on the island. 
"He said it is very difficult to stay there. He said, now, everyone, including the children, are suffering from depression," she told The New Humanitarian via WhatsApp message.
Suresh told The New Humanitarian he was concerned the effects of detention and isolation would hamper the asylum seekers' chances of avoiding deportation by passing their screenings, which include remote interviews with Home Office officials. 
"Because of their mental state, they are not sure if they will give the proper reasons and stories," he said. "We are not sure if they will be able to express their fears or full stories to the authorities. So they are very upset."
Questionable returns, uncertain future
UK authorities maintain that the repatriations of more than 50 asylum seekers have been voluntary. Generally speaking, UNHCR spokesperson Catherine Stubberfield said: "Voluntariness would require an understanding that there are options other than prolonged stay and limited movement on Diego Garcia".**
Matt*, who said he fled Sri Lanka last year after several of his relatives went missing or were shot dead by the military, nonetheless volunteered for repatriation in May. 
"I was forced to take this decision due to the delayed process," he said. "If [the BIOT administration] had taken me to a safe place earlier, I wouldn't have taken this decision. My health deteriorated more and more, and my mental health was affected. I didn't know what to do, where to go, or whom to ask for help."
After returning to Sri Lanka, Matt told The New Humanitarian he was arrested for leaving the country without a passport and charged under the country's immigration law. According to Meera, the law is often used by Sri Lankan authorities as a pretext to harass Tamils. 
"Now, I am on their watch list," Matt said. "They can take me at any time, or they can arrest the guarantors who came to bail me out."
Activists from the group Tamil Solidarity are raising funds to hire lawyers for asylum seekers who have decided to stay indefinitely on Diego Garcia while they undergo the BIOT authorities' screening procedure but are yet to secure representation.
Suresh worries about the family he left behind in a country where the government has collapsed and the prices of basic goods have skyrocketed. Meera has urged him to focus on getting to a country where he will not be persecuted.
"He inquired about the condition of our country and was very worried about how I would be able to live here with my children," she said. "I told him not to worry about us, we are fine. I told him not to think and to be brave, and I will deal with all the problems."
*Names of asylum seekers and their relatives have been changed for fear of reprisals.
**An earlier version of this story misrepresented UNHCR's position as a comment on a specific case, rather than a general position. This corrected version was republished shortly after publication.
Edited by Eric Reidy.