Our editors' weekly take on humanitarian news, trends, and developments from around the globe.
You can now sign up to receive The Cheat Sheet as a newsletter. Subscribe here.
On our radar
Turning up the volume on Ethiopian protests
More than 90 people have died in protests in Ethiopia over the killing on Monday of iconic Oromo singer, Hachalu Hundessa. Seen as the voice of his generation, Hundessa's songs captured the struggles of the historically marginalised Oromo people. The songs were a soundtrack to the anti-government protests that led to a change in leadership in 2018, with Prime Minister Abiy Ahmed taking office. Hundessa was shot dead in the capital, Addis Ababa, by unidentified gunmen – although his supporters blame the security forces. There have been multiple bomb blasts in the city, and some residents have armed themselves fearing ethnic violence. Human Rights Watch called on the government to act urgently to reduce tensions and ensure the "security forces do not make a combustible situation worse." But on Tuesday, the internet was switched off, and the police then detained Oromo opposition leader, Bekele Gerba, and media mogul and Abiy critic Jawar Mohammed. Abiy, an Oromo himself, has charted a reformist course after decades of repression. But ethno-regionalist passions have also been ignited, which are proving hard to contain, with the security forces playing by the old rule book of rights abuses. Delayed elections have added to the tensions.
It's illegal, but that doesn't seem to stop Greece 
Documentation is mounting of Greek authorities carrying out violent pushbacks of asylum seekers and migrants at the country's land and sea borders with Turkey. The practice violates EU and international law, but in the past four months human rights groups and media outlets have documented an uptick in its use at the Greece-Turkey land border. Rights groups have also documented the abandonment of asylum seekers in floating tents without any means of propulsion and masked men sabotaging boats carrying asylum seekers in the Aegean Sea. The UN refugee agency, UNHCR, has urged Greece to investigate. The spike in pushbacks began in March following a highly politicised showdown between Turkey and the EU over refugee hosting that began when Turkish President Recep Tayyip Erdoğan declared he would no longer prevent asylum seekers from leaving the country. In response, Greek Prime Minister Kyriakos Mitsotakis vowed to turn people back from the country's border. Mitsotakis' government has taken a hardline approach to migration policy since coming into office last summer. Oxfam International and the Greek Council for Refugees recently said that Greece's overhauled asylum law, which came into effect in January, is "designed to deport people rather than offer them safety and protection".
Yemen's behind-the-scenes war crimes?
In an exhaustive report released on Tuesday, the watchdog Mwatana for Human Rights has documented a part of Yemen's more than five-year war that sometimes goes overlooked, perhaps because of its secretive nature: enforced disappearances, torture, and deaths at illegal detention centres across the country. The group has documented abuses by all parties to Yemen's war, some of which it says may constitute war crimes, at places that range from military bases and buildings run by intelligence agencies to an underground cellar, a community college, and homes. The treatment described in these locations is brutal, humiliating, illegal, and sometimes deadly. While Mwatana's report covers incidents between May 2016 and April 2020, worrisome detention practices remain an issue in Yemen, especially as COVID-19 spreads throughout the country. This week, Human Rights Watch highlighted the risks to detainees in a "grossly overcrowded" Aden facility, where family members of men held without charge said one guard is already believed to have died of the virus, and people inside do not have access to basic healthcare or hygiene products.
Worries over Myanmar military 'clearance operation'
The threat of a military sweep in Myanmar's Rakhine State may have forced thousands of civilians to flee, but humanitarian groups say they're still in the dark as aid access is limited. Alarm rose last week as Myanmar's military announced a "clearance operation" in an area of Rakhine's Rathedaung township, home to about 40,000 people. "Clearance operation" is the same language the military used to describe a 2017 crackdown on the state's Rohingya population in 2017, which many see as part of a genocide. The military reversed its warning days later, but evacuations and violence continued. "We are deeply concerned by reports of burning villages, indiscriminate fire, and the arbitrary detention of civilians," several international NGOs said this week. The UN cited reports that some 3,000 people have fled, but there is extremely limited humanitarian access to verify needs or deliver aid. Conflict between the military and the Arakan Army, which draws support from the state's ethnic Rakhine population, has grown increasingly volatile. Local aid groups say more than 100,000 people have been displaced since January 2019. For more background on the conflict: The growing emergency on Myanmar's newest battleground.
Cracks form in Congo's ruling coalition
A proposed reform to the justice system in the Democratic Republic of Congo has sparked street protests and opened cracks in the fragile ruling coalition between President Félix Tshisekedi and the man he replaced, Joseph Kabila. Tshisekedi says the reform – put forward by Kabila's camp – would undermine the judiciary's independence and expand the power of the justice ministry, which is led by Célestin Tunda, an ally of the former president. Tunda was briefly detained on Saturday in a move condemned by other Kabila allies, including the prime minister, who said the entire government might resign as a result. Tshisekedi took power in January last year, following long-delayed elections that were reportedly rigged in a secret deal between the current president and Kabila, whose Common Front for Congo party commands a parliamentary majority and the bulk of cabinet posts. The spat comes a few weeks after one of Tshisekedi's top aides, Vital Kamerhe, became the country's most senior politician yet to be prosecuted for embezzling public funds in a landmark trial that gripped the nation. Corruption also affects humanitarian aid in Congo, as TNH examined in a recent investigative series.
A US-Mexico meeting of the minds 
Restrictive US policies may be keeping many asylum seekers from crossing the southern US border, but Mexico's president is travelling north next week to meet his counterpart in the White House. (Fun fact: he's taking a commercial flight.) Andrés Manuel López Obrador, Mexico's populist president, will visit Washington DC on 8-9 July. Critics have plenty to say about the US visit, López Obrador's first official foreign trip. President Donald Trump referred to Mexicans in the US as rapists and drug traffickers and insisted that Mexico pay for a border wall in the 2015 speech that launched his presidential campaign. Lately, though, Mexico has proven useful to Trump on migration policy. Last year, López Obrador accepted the Migrant Protection Protocols (MPP) – also known as the "Remain in Mexico" policy – which require migrants seeking legal entry to the US to await decisions on their applications south of the border. Mexico has also barred entry to migrants from Northern Triangle countries at its southern border. Venezuela, though, has been a sore spot between the two countries – until last week. López Obrador had stood alone within the Lima Group (a bloc of a dozen Latin American countries plus Canada) in rejecting US-led sanctions against Venezuela. That appeared to change after Mexico's financial crime department froze bank accounts of companies blacklisted by the US for evading anti-Maduro sanctions. The firms, Libre Abordo and Schlager, are accused of trading Venezuelan oil in what the US Treasury described as part of a wider money laundering network. The companies had signed an oil-for-food agreement with Caracas, framed as a humanitarian provision. Delivery of corn, which was part of the agreement, never took place.
COVID-19 news
BURUNDI: COVID-19 is now the country's "worst enemy", newly sworn-in President Evariste Ndayishimiye said this week. It's a sharp reversal on the policies of his predecessor, whose death last month was widely rumoured to be coronavirus-related. "Everyone has to take measures to stop being infected or infecting others," Ndayishimiye said.
INDIA: Severe monsoon flooding has hit more than 1.6 million people in Assam, authorities in the northeast state say. Coronavirus lockdowns prevented the government from finishing pre-monsoon repairs on river embankments, which burst after days of heavy rainfall, local groups say. Flood waters are seeping downstream to parts of north and northeastern Bangladesh.
MEXICO-US BORDER: At least three people have tested positive for coronavirus in a makeshift camp for asylum seekers and migrants in the border town of Matamoros, in northern Mexico, where crowded conditions and pre-existing vulnerabilities could lead to a devastating outbreak. The camp is home to an estimated 2,000 people who are either waiting to apply for asylum in the US or to have their asylum claims heard under controversial policies put in place by the administration of US president Donald Trump. 
MIDDLE EAST: The World Health Organisation has warned that the eastern Meditteranean region, which includes the Middle East and parts of Asia, is at a "critical threshold" as lockdowns ease and COVID-19 cases rise. More than 1 million people are now known to have been infected in the region, with more than half of the cases in Iran, Saudi Arabia, and Pakistan, and increasing numbers in places including Iraq, Libya, Morocco, the Occupied Palestinian Territories, and Oman.
UK-GHANA: The UK government has started airlifting a bulky field hospital to Ghana for the UN's COVID-19 response, and the Royal Air Force bill will count as aid. In response to questions from TNH, the UK government said that up to £1.2 million of its aid budget will go to that and similar flights needed because commercial air cargo options are disrupted. The use of military assets can be counted as Official Development Assistance (ODA) under international rules. Development Secretary Anne-Marie Trevelyan said "this is the best of British – the UK military and UK aid – working together". The UK is obliged under law to spend 0.7 percent of Gross National Income on international development. In 2019, that amounted to £15.1 billion, three-quarters of which was spent by the Department for International Development (DFID). The rest was tallied from initiatives that meet the definition of ODA but don't all involve sending any money abroad. Opposition MP and shadow secretary of state for development, Preet Gill, told TNH that DFID "consistently outranked the Ministry of Defence on transparency of aid spending. And this is another reason why the Prime Minister's decision to scrap it was irresponsible and wrong." 
In case you missed it
MOZAMBIQUE: Islamist insurgents staged the latest in a series of high-profile attacks in Cabo Delgado province on 28 June, causing large numbers of people to flee their homes. More than 210,000 are now displaced in the gas-rich northern area, according to the UN's aid coordination agency, OCHA. Read our latest on the situation.
MYANMAR: A mudslide at a jade mine in Hpakant, in Kachin State, killed at least 160 people on Thursday. Authorities say dozens more are missing. Eyewitness video showed a wave of rock and mud crashing into an excavated pit. Heavy monsoon rains preceded the slide, but rights groups say the Hpakant jade mines are notorious for poor safety practices that lead to frequent disasters. Many who work at the Hpakant mines are migrants, including people whose families are displaced by conflict.
NIGERIA: Four aid workers have been abducted by jihadist group Islamic State West Africa Province (ISWAP) in the country's northeast. The hostages are believed to work for the agencies Action Against Hunger, the International Rescue Committee, and Reach. A private security guard was also among the group. ISWAP has launched 101 attacks so far this year, despite government claims of military successes. It has executed abducted aid workers in the past.
PALESTINE/ISRAEL: Israeli Prime Minister Benjamin Netanyahu's controversial plan to annex parts of the West Bank as early as this Wednesday has been put on hold. In the past weeks, Palestinian protests against the annexation mounted, and key allies – including the White House, Netanyahu's coalition partners, and even right-wing settlers – appeared to back away from supporting the proposal, the details of which are still not firm.
SUDAN: Tens of thousands of protestors took to the streets of Sudanese cities on Tuesday, nearly a year after mass demonstrations forced the military to share power with civilian leaders. Many fear the military has out-manoeuvred the civilian-led government, while promised reforms have not come about and an economic crisis continues to worsen. Read our latest reports for more.
SYRIA: An annual aid conference on Syria tallied donor pledges for $5.5 billion for 2020, "not a bad outcome", according to UN humanitarian chief Mark Lowcock. Still, it's less than the UN's estimates of immediate needs of $10.1 billion, including refugee and COVID-19 programmes. Syrian, regional, and international NGOs and civic groups attended the virtual event but the Syrian government slammed their presence as "flagrant interference".
Weekend read
Since 2018, the United States government has made seeking asylum on its southern border with Mexico increasingly difficult for migrants. Now, new policies implemented in the name of public health have all but cut off access for those attempting to flee gang violence, homicide, extortion, and extrajudicial killings in their home countries, particularly Honduras, Guatemala, and El Salvador. In late March, the Centers for Disease Control and Prevention (CDC) implemented an order paving the way for irregular entrants to the country to be expelled immediately without having the chance to apply for asylum. Since then, nearly 40,000 people have been expelled from the United States, including those who are COVID-19 positive. Read our briefing on how the restrictions are exacerbating an already dire living situation for migrants in Northern Mexico, if the policies could be fuelling new coronavirus outbreaks in Latin America, and whether they are here to stay.
And finally…
End of empire?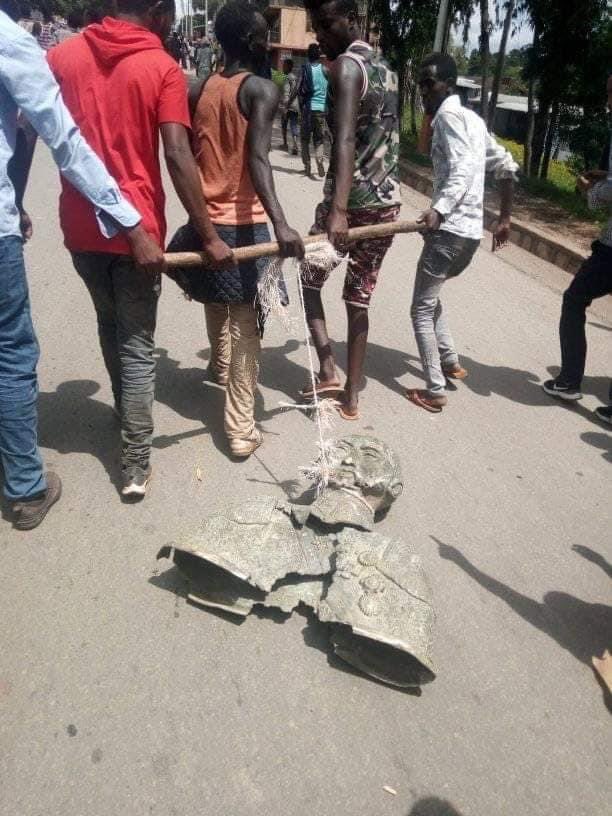 Statues of British slave traders, Confederate generals and Belgian royalty have been pulled off their pedestals in a global wave of anti-racist protests. Ethiopians, too, are looking back at a history of imperialism that underlies much of Ethiopia's political instability today: the 19th- century expansion of the Ethiopian empire under Emperor Menelik II included the conquest and subjugation of many ethnic groups. The present-day leaders of those communities frequently say they have never achieved equal status with the historically dominant highlanders. Statues of Emperor Haile Selassie and his father have been pulled down recently. Before his unexplained killing this week, ethnic Oromo singer and activist Hachalu Hundessa had called for pulling down Addis Ababa's statue of Emperor Menelik.
as-il-oa-pk-pdd-er-bp/js/pd