In May this year, a Greek court sentenced Abdallah, Kheiraldin, and Mohamad, three Syrian refugees whose full names have not been disclosed in court documents, to a combined 439 years in prison for "facilitating unauthorised entry" into Greece.
The charges against them stemmed from a shipwreck that took place on Christmas Eve last year. The men had been piloting a boat packed with around 80 people attempting to make the clandestine journey from the Turkish coast to Italy and had ended up at the helm only because the smugglers who organised the trip had offered them discounted fares, according to the three men's lawyer. 
The overcrowded boat ran into trouble near the Greek island of Paros and capsized – 18 people drowned. The smugglers responsible for organising the trip and overloading the boat were out of reach in Turkey. But Greek police arrested Abdallah, Kheiraldin, and Mohamad and prosecuted them as smugglers. 
The case against the three men is not an anomaly, but a particularly egregious example of a trend taking place across Europe: Since the 2015 migration crisis, European countries have increasingly prosecuted asylum seekers and migrants using laws intended to combat people smuggling. 
The same laws have also been used to crack down on civil society organisations and activists providing humanitarian support to people migrating. But while those cases – mainly involving European citizens – often garner media attention, cases involving asylum seekers and migrants are frequently overlooked. 
Between 2015 and 2021, Italy detained over 2,000 asylum seekers and migrants on smuggling charges. In Greece, 7,000 people were arrested for smuggling between 2015 to 2019. Meanwhile, in the UK hundreds of people have been arrested and dozens convicted of crimes related to people smuggling since the number of people crossing the English Channel on small boats from France began to increase in 2019.
European law enforcement agencies and governments say the prosecutions are meant to protect asylum seekers and migrants by breaking the business model of unscrupulous people smugglers. But lawyers and migration advocates argue that the cases criminalise vulnerable people who are seeking safety and opportunity. They also say that the arrests allow authorities to claim action is being taken to combat irregular migration while sending a message to would-be asylum seekers and migrants that they are not welcome. 
"The government, and also judges, have been trying to send a message… saying, 'Watch out, do not come, because we'll give you severe penalties'," Rosa Lo Faro, an Italian lawyer who has defended dozens of asylum seekers and migrants accused of people smuggling, told The New Humanitarian. "But people don't stop." 
The New Humanitarian spent more than six months speaking to more than 50 people – including lawyers, asylum seekers, academic researchers, and human rights advocates – and analysing court documents from the UK, Italy, and Greece – three countries at the receiving end of prominent maritime migration routes. We found that:
Many of those prosecuted have either been wrongly accused or ended up steering a boat through happenstance or coercion;
Once accused, structural inequalities in European legal systems – such as a lack of qualified interpreters and difficulties accessing quality legal counsel – create barriers to them having fair trials;
While awaiting trial, asylum seekers and migrants can spend months, even years, in pre-trial detention because they lack quality legal support and a permanent address in Europe;
Once cases do go to trial, there are numerous examples of people who have been able to secure quality legal council being found innocent or having their convictions overturned on appeal;
Those who are found innocent have a hard time accessing compensation or redress of grievance for the time they spent behind bars;
And criminal prosecutions can make it more difficult for people who are found innocent to access asylum procedures, leaving them little choice other than to become undocumented in Europe or return to their home countries.
"These people are victims of the system," said Flavia Patané, a researcher at the faculty of law of Maastricht University in the Netherlands who studies the involvement of asylum seekers and migrants in people smuggling activities. 
From searching for a future to jail 
Badr, a 34-year-old from Morocco, is one of thousands of people whose lives have been altered by European countries' prosecution of asylum seekers and migrants as smugglers. 
In 2013, when he was 25, Badr left his hometown of ​​Kenitra in northwest Morocco because he didn't see a future in his country, making his way to Libya, where he found work as a day labourer. But Libya grew more chaotic and dangerous, and in 2015 Badr decided it was time to leave. At the time, thousands of people who were trying to reach Europe – from Syria, Eritrea, and elsewhere – were departing from Libya every month.
On a calm August night, a smuggler brought Badr to a beach along with hundreds of others. He soon found himself packed onto an overcrowded wooden boat. As it set out to sea, the waves got rougher, and the engine started to overheat. Badr heard screams. "We realised there were people below us," he told The New Humanitarian over Zoom in March this year.
Before the boat was rescued by a Swedish Coast Guard vessel taking part in an EU border control mission, 53 people in the engine room had died from asphyxiation. When the Swedish ship docked in Palermo, Badr did not have time to process the fact that he had survived the crossing. Instead, he was immediately arrested and charged with facilitating illegal migration and causing the deaths of the people who had suffocated in the engine room. The Italian prosecutors in charge of the case asked for a life sentence.
Criminalising migration 
The law that Badr was prosecuted under – introduced in 1998 – criminalises the act of promoting, directing, organising, and financing irregular migration, but also transporting people without visas, or "facilitating" their movement. 
"Italian law doesn't differentiate between who ends up steering a boat and who organises the smuggling… with devastating consequences for people who are not responsible for smuggling but who are themselves victims of it," said Germana Graceffo, a lawyer with the NGO Borderline Sicilia.
According to the Italian civil rights organisation Antigone, this law led to a sharp increase in the percentage of foreigners in Italian prisons, which jumped from around nine percent in 1996 to 25 percent in 1998.
Similar to Italy, laws in Greece, the UK, and other European countries – as well as regulations at the EU level – leave the door open for asylum seekers and migrants to be prosecuted as smugglers. Following the 2015 migration crisis, prosecutions under these anti-smuggling laws have increased as pressure has mounted for authorities to take action on irregular migration, according to several lawyers and researchers The New Humanitarian spoke to. 
Read more: Legal frameworks in Greece, the UK, and at the EU level
In Greece, a 1991 law made facilitating irregular entry to the country a criminal offence – although there is also a separate offence for people smuggling – which has similarly been used to prosecute asylum seekers and migrants.
In the UK, asylum seekers and migrants have been prosecuted under the 1971 Immigration Act, which codified the offence of facilitating illegal entry. 
At the EU level, a 2002 directive called on Member States to sanction people who intentionally assist irregular migration, both in cases where there is a profit motive and in ones where there is not. One exception was for people providing humanitarian assistance – but even then it is up to Member States to decide whether to impose a punishment.
"These [smuggling] cases are a mirror of the politics," Patané, from Maastricht University, explained.
Questionable investigations
When it comes to investigations, law enforcement agencies rely heavily on the identification of smuggling suspects by officers on board European navy or coast guard ships participating in border control and surveillance missions operated by the EU border agency Frontex.
In one appeal hearing The New Humanitarian attended on the Greek island of Samos in February 2022, a Syrian asylum seeker had been sentenced to 25 years in prison for steering a boat carrying other asylum seekers and migrants in October 2017. A member of the Greek Coast Guard called as the only prosecution witness at the hearing said she had not been present when the incident occurred and that the defendant had been identified by German Frontex officers. The appeals court released the defendant on parole.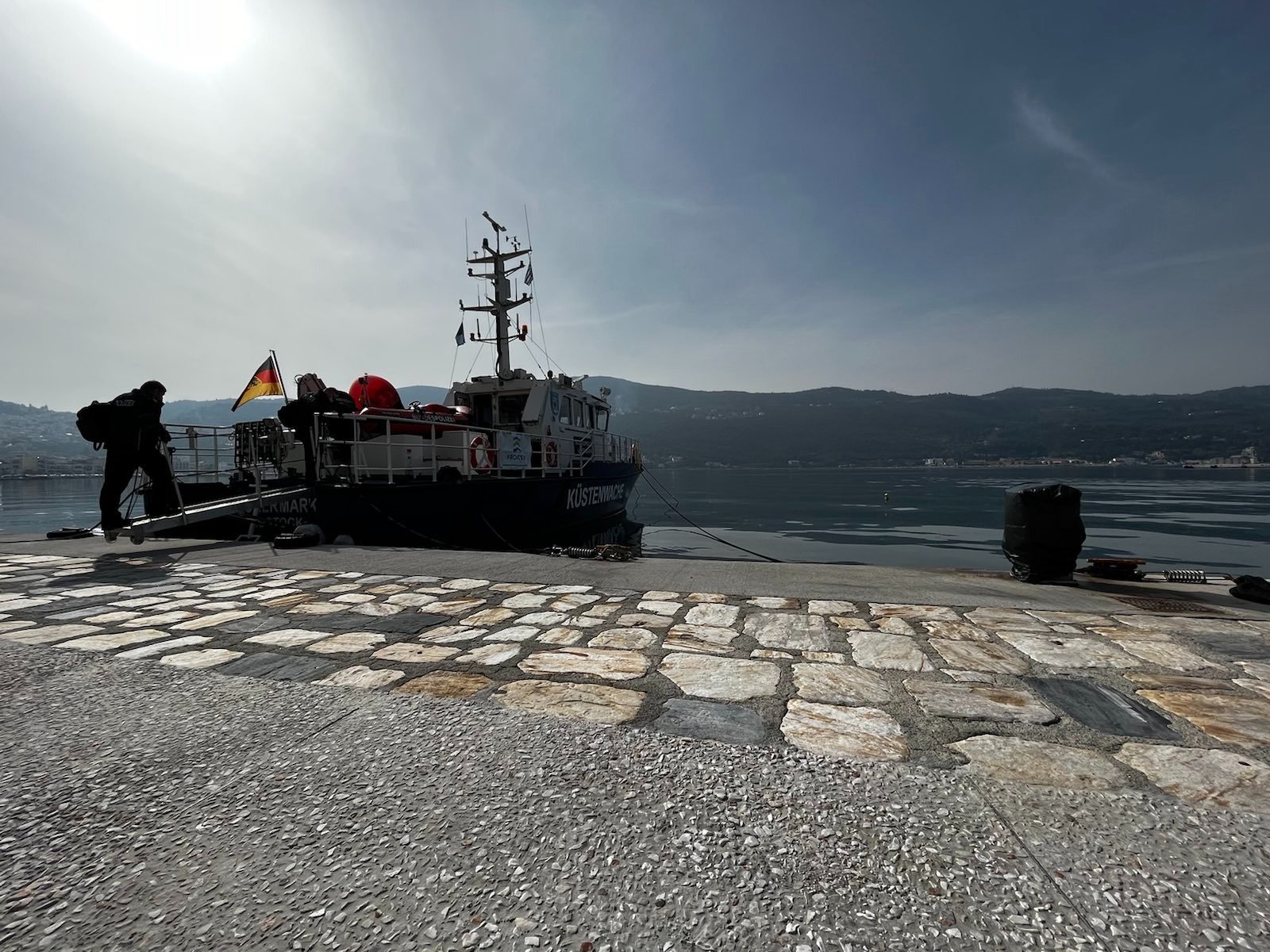 At the hearing, the judge admonished the Greek Coast Guard officer: "Next time [the Coast Guard] better send someone who was present during the incident and actually has something to say. The Greek Coast Guard doesn't seem to understand that these are people on a trial for very serious charges and [are] facing years in prison."
At the same time, gathering testimony from other witnesses can be difficult. Usually, the only eyewitnesses are other asylum seekers and migrants who quickly disperse after they arrive on European shores. Due to the vulnerable position they are in, these witnesses can be easily persuaded or coerced into giving unreliable testimony. 
In Italy, a report by the NGOs Arci Porco Rosso and Alarm Phone found a recurring pattern of Italian authorities offering temporary legal status to witnesses in exchange for the identification of supposed smugglers. While the practice can encourage witnesses of a crime to come forward, lawyers and migration rights activists argue it can also be used to coerce testimonies and creates a perverse incentive for people to give false evidence.
Eye witnesses are also often interviewed on board ships shortly after they are rescued, or are questioned by law enforcement immediately upon arrival in Europe when they are still in shock from the sea crossing. "They don't even let them eat or take a shower," said Lo Faro. The same is true for defendants, she added. "[The police] scare them to get a confession." 
Making a phone call to alert state or NGO rescuers to their position at sea or turning on a phone to find GPS coordinates can also be used by prosecutors to build a case, according to a 2020 report of the NGO bordermonitoring.eu. 
This is what happened to G.N., a 23-year-old Syrian national, who is being referred to only by his initials so as to protect his identity. After reaching Samos by boat in 2019, G.N. was charged with facilitating unauthorised entry to Greece. The fact that he had turned on a navigation app on his phone was the only evidence the Greek Coast Guard used to identify him as the driver of the boat, according to Dimitris Choulis, a human rights lawyer on Samos who represented G.N. It took G.N.'s case three years to come to trial, but he was acquitted in February 2022. 
As for Badr, Italian police interviewed four witnesses out of the 494 people who had been on board the boat. The witnesses were granted residency permits shortly after they gave their testimony. Judges who looked at the case later concluded that their testimony was motivated by the possibility of gaining legal status as well as a scuffle Badr had with one of the witnesses. Badr was acquitted of all charges, but only after spending three and a half years in pre-trial detention.
Barriers to a fair trial
In Italy and Greece, where the justice system often moves slowly, asylum seekers and migrants accused of smuggling are almost always held in prison while awaiting trial because they usually don't have housing and judges often consider them flight risks. 
Navigating the legal bureaucracies they are entangled in is frequently a baffling experience for asylum seekers and migrants. Many do not speak the language of the country they have just entered. Sometimes, they don't even grasp that they are being accused of a crime. 
In February 2021, Mohamoud Al Anzi, from Kuwait, was convicted of facilitating illegal entry to the UK after helping steer a boat across the English Channel the previous summer. According to court documents, Al Anzi said during his trial that he believed his interview with the authorities after being arrested was about his asylum claim. He did not know he was being charged with a crime. "He also admitted that his defence statement was wrong… because he could not read or write and signed it without knowing its contents," the court documents read. 
Issues like these are exacerbated by the fact that asylum seekers and migrants accused of smuggling in the UK, Italy, and Greece are usually appointed lawyers by the state. These public attorneys are not immigration law specialists and often meet their clients for the first time in court for their pre-trial detention hearings.
Applying for legal aid to hire specialised attorneys is difficult. Some immigration attorneys end up working on smuggling cases pro bono, or in cases where asylum seekers and migrants are granted assistance, reimbursement and payment to lawyers from the state can take years to come through. On top of this, a recent report from the UK found that asylum seekers and migrants are frequently sent to smaller towns and cities where there is little to no legal aid available to them. 
In Italy, obtaining evidence from state authorities – such as video recordings of rescue operations – can cost up to 300 euros. Court-appointed attorneys, who are usually at the beginning of their careers, cannot afford to pay these costs up front.
"You have to pay for all the defence expenses out of your own pocket and then you'll get paid three years later and payment is ridiculous," Benedetta Perego, a criminal defence lawyer based in Turin, Italy who has many migrants and asylum seekers among her clients, told The New Humanitarian. 
Interpretation is another major obstacle. "I'll go as far as to say that in court, I have never had a hearing with a good interpreter," said Perego. 
Read more → 'Translation machines': Interpretation gaps plague French asylum process
Britain's Ministry of Justice is carrying out a review of the minimum qualifications that interpreters must have, but currently those appointed to a court don't need to be registered or have minimum hours of experience. In Italy and Greece, court interpreters are rarely professionally trained, and each court keeps its own lists of interpreters, which often do not require any qualifications. 
"Literally anyone can go and claim to know a language and have their name added to the list. Τhere's no regulation. Ιt's just chaos," said Vasiliki Ntantavasili, president of the Greek Panhellenic Association of Translators (PEM).
In Badr's case, for example, Pakistani witnesses were assigned Bangladeshi interpreters who did not speak the same language. 
'I am a victim'
In December 2019, British authorities arrested Fouad Kakaei, an Iranian national, for steering a boat across the English Channel. He was convicted of facilitating illegal entry into the UK. In May 2021, the conviction was overturned on appeal. Kakaei's lawyer successfully argued that UK law distinguished between the terms "entry" and "arrival". While entering the UK illegally was an offence, arriving in UK territory and claiming asylum before passing immigration control was not. 
"The significance of this is that those who merely arrive, immediately claim asylum, and are as a result admitted to the UK while their asylum claim is processed have not entered the UK illegally. They therefore have not themselves committed an offence – and nor have those who assisted them," his lawyer, Aneurin Brewer, explained in an article for the website Free Movement. 
Dozens of other people have been convicted of similar charges for steering boats across the English Channel since the number of people attempting the journey began to increase in 2019. "Until the case of Mr. Kakaei, no one had successfully challenged the legal premise of these prosecutions," Brewer wrote. 
The court's finding in Kakaei's case paved the way for other convictions to start being overturned as well. In December 2021, three others were thrown out, and the accompanying ruling stated that criminal investigations against those caught piloting small boats were launched "without any careful analysis of the law and appropriate guidance to those conducting interviews, making charging decisions, and presenting cases to courts".
Seven more cases were overturned in February this year. After the hearing at the Royal Courts of Justice in London, one of the cleared men took a handwritten sign from his bag reading: "I am a victim."
However, the UK's recently adopted Nationality and Borders Bill lowers the bar for prosecuting people for facilitating irregular entry and increases the potential penalty for those convicted of the offence to life imprisonment.
In Italy, a 2016 ruling acquitting two defendants who had been accused of facilitating illegal migration also raised hopes that more cases would be overturned. But asylum seekers and migrants are still being arrested for people smuggling, according to Lo Faro.
There are also likely far more asylum seekers and migrants who have been prosecuted but never received adequate legal defence and whose cases have not been subject to public scrutiny by journalists and human rights groups, according to lawyers and advocates. And even when people are found innocent, the damage has often already been done. Having a criminal record can make it more difficult for people to apply for asylum, and it is difficult for those who have been wrongfully convicted to sue or apply for compensation. 
Badr filed a case asking for one million euros in compensation for the three and a half years he spent behind bars – but the claim was rejected. His lawyer, Cinzia Pecoraro, who has taken on numerous cases of asylum seekers and migrants charged as smugglers in Sicily, was not surprised. "Italian legislation tends to avoid paying compensations," she explained. 
After Badr was released, he was served an expulsion order – a common practice for people in his situation, according to lawyers in Sicily. Badr returned to Morocco, but still has nightmares about prison and experiences hallucinations, seeing his prison guards and other inmates in the streets and crowds. "It destroyed my life, my memory, my head, my future," Badr told The New Humanitarian. 
Despite this, Pecoraro believes Badr is one of the lucky ones. 
"He had a lawyer that specialises in these kinds of cases," she said. "But what about the other ones who are lost in the system and don't have that?"
Reporting for this story was supported by the Investigative Journalism for Europe (IJ4EU) fund.
Edited by Eric Reidy.