Swollen rivers and relentless rains have flooded an estimated 80 percent of northeastern Bangladesh, along with Assam and Meghalaya states in India, since mid-June. 
The New Humanitarian spent several days visiting these areas, chronicling the flooding and its impact on residents. 
In northern and eastern Bangladesh, visual journalist Zakir Hossain Chowdhury travelled by taxi, rickshaw, and boat, recording the impact of floods that submerged entire villages. On 23 June, he went to North Bengal, badly hit but often overlooked by international media, where residents told him they moved every few years because of the rapidly eroding riverbanks. 
Lutfor Mia, 32, gave voice to the frustrations of many of his neighbours: "How many people come and take such pictures and videos year after year... and we don't get any help."
An estimated 7.2 million people in Bangladesh's northeast are in need of assistance, with many having lost their homes, crops, and livelihoods in the back-to-back floods in May and June. In India and Bangladesh, more than 200 people have died – a figure almost certain to rise, as rescue crews have yet to reach all flooded areas. 
Located on the deltas of two major rivers, the Surma and the Kushiyara, Bangladesh has always been prone to flooding – as have low-lying Assam and Meghalaya in India. But scientists and researchers say the heavy and repetitive rainfall is sign of a changing climate – one that has worsened amid poor river management. 
"This increase in short spells of heavy rains causing floods is a clear signal of climate change," Dr. Roxy Mathew Koll, a climate scientist at the Indian Institute of Tropical Meteorology, told The New Humanitarian in Assam. 
Climate change alone isn't to blame for worsening floods. In Assam, reporter Aatreyee Dhar spoke to researchers and activists who pointed to the hundreds of embankments that have collapsed. Some residents maintain that politicians pocket bribes from contractors who carry out shoddy work, ensuring these structures are never repaired or maintained properly.
And even sturdy embankments can make flooding worse if they are not properly managed and narrow the river's channel, reducing its ability to move floodwaters along.
In Jamunamukh, a small town located in Assam's Hojai district, primary school teacher Azarul Azad recalled watching in horror on the night of 17 June as water crested over his two acres of land, and began pouring into his concrete home. Within 10 minutes, the level had risen higher than he had ever seen.
"No representative from our village paid attention to the problem or erosion and maintenance of embankments for years, and we had to suffer the brunt of the utter neglect," he said. 
No contact and no way to reach home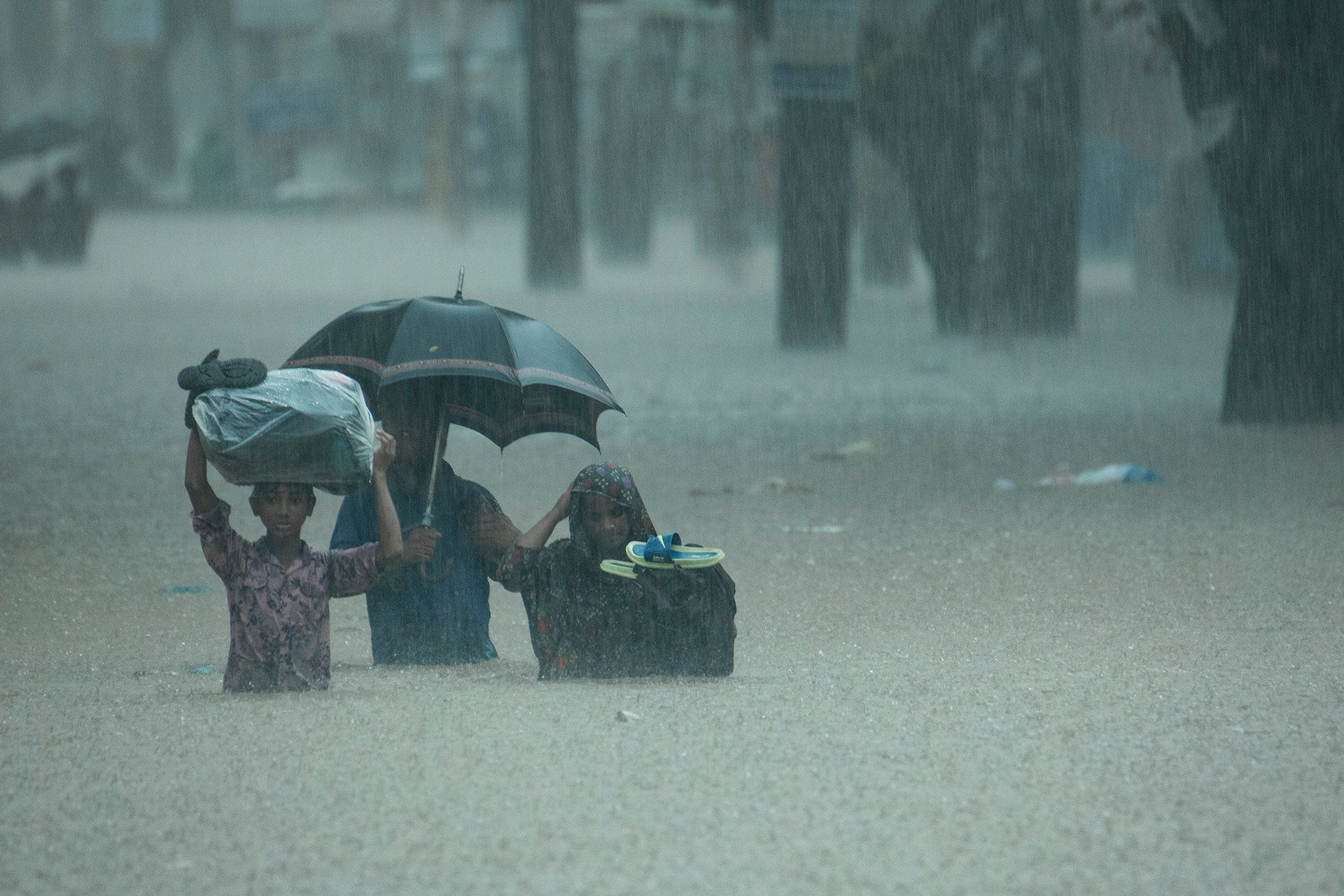 In eastern Bangladesh, residents of Sylhet city – which had been 80 percent flooded by 18 June and straddles the banks of the Surma – told The New Humanitarian they had been unable to contact family members located in towns further upriver. Mobile networks downed in the flood remained offline for several days, while roads were submerged so badly that cars couldn't get through. Strong currents, residents said, also made it impossible to get rescue boats into the area.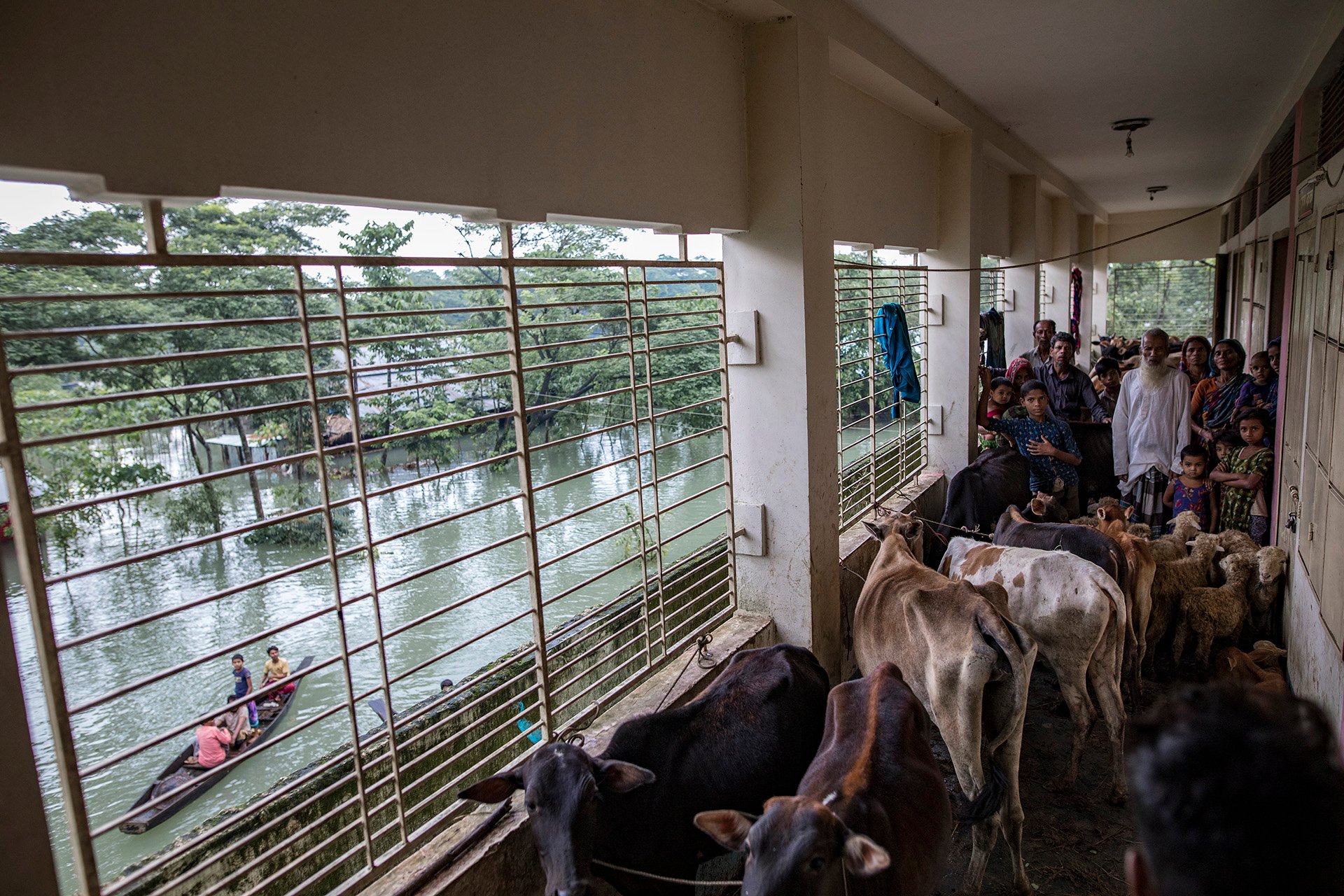 In Nandirgaon, about 22 kilometres from Sylhet, people sheltered inside a primary school. By 19 June, water had already submerged the ground floor, and the town was accessible only by boat. Cattle, goats, and sheep were tied to the verandah – an attempt to keep them safe – and more than 100 people were packed into the classrooms. Though they had been camping there for five days, no assistance had arrived.
"There is a shortage of food," housewife Karimon Begum said, explaining how the community's stores of paddy rice had been submerged, and how the price of staples like rice had tripled since the flooding. "We have not been able to recover anything," she added. "We are eating food once a day. We are feeding the children."
'That help does not reach us'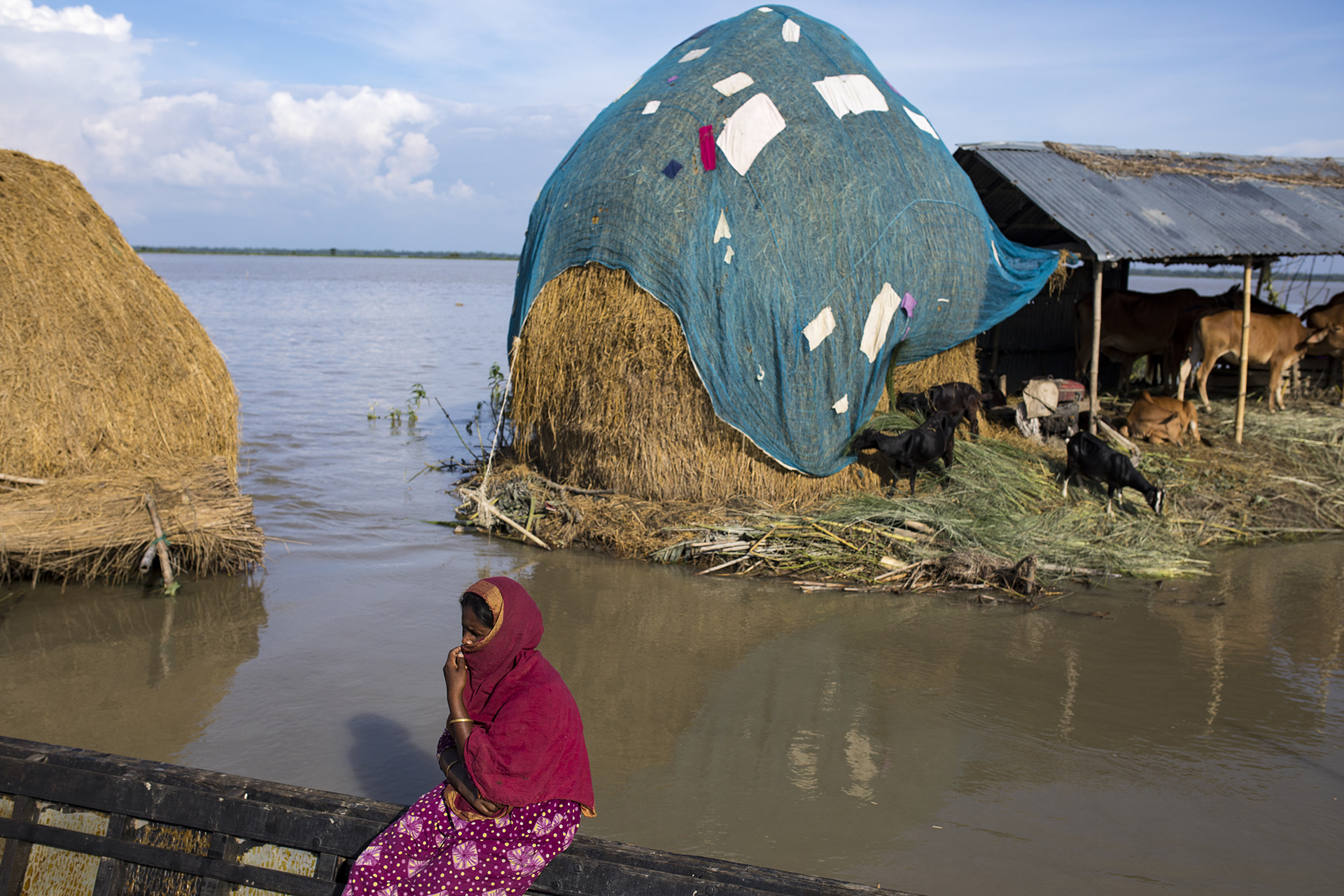 The Bangladeshi government has launched large-scale rescue operations and sent out hundreds of medical teams with water-purifying tablets, but, with millions impacted, meeting the acute needs of survivors is all but impossible. The UN has called for $58.5 million to meet the food, shelter, and sanitation requirements of 1.5 million people over the next six months.
In the river island of Char Dolike, in northern Bangladesh, residents spoke of flooding that worsened with no end in sight. On a 23 June visit, they told The New Humanitarian that little aid had arrived and virtually nothing had been done to prevent repeated flooding.
Considering the extent of the flooding, the death toll remains extremely low. As of 4 July, 102 people had died in all of Bangladesh from drowning, lightning strikes, and diarrhoea. That speaks in part to Bangladesh's concerted efforts to improve disaster management in recent years, with early warning systems and safe shelters. But mitigation and adaptation have proven far harder to address, especially amid the rapidly worsening climate crisis.
Read more → How Bangladesh is beating the odds on climate disaster deaths
Travelling deeper into the floodwaters by boat, Chowdhury passed the island of Hatibari Char – badly flooded for more than a week but also yet to see any assistance. "You report that the government-rich people send aid after seeing your own news, but that help does not reach us anymore," an angry resident shouted as the boat drove past. She declined to give her name. 
Erosion eating away at livable land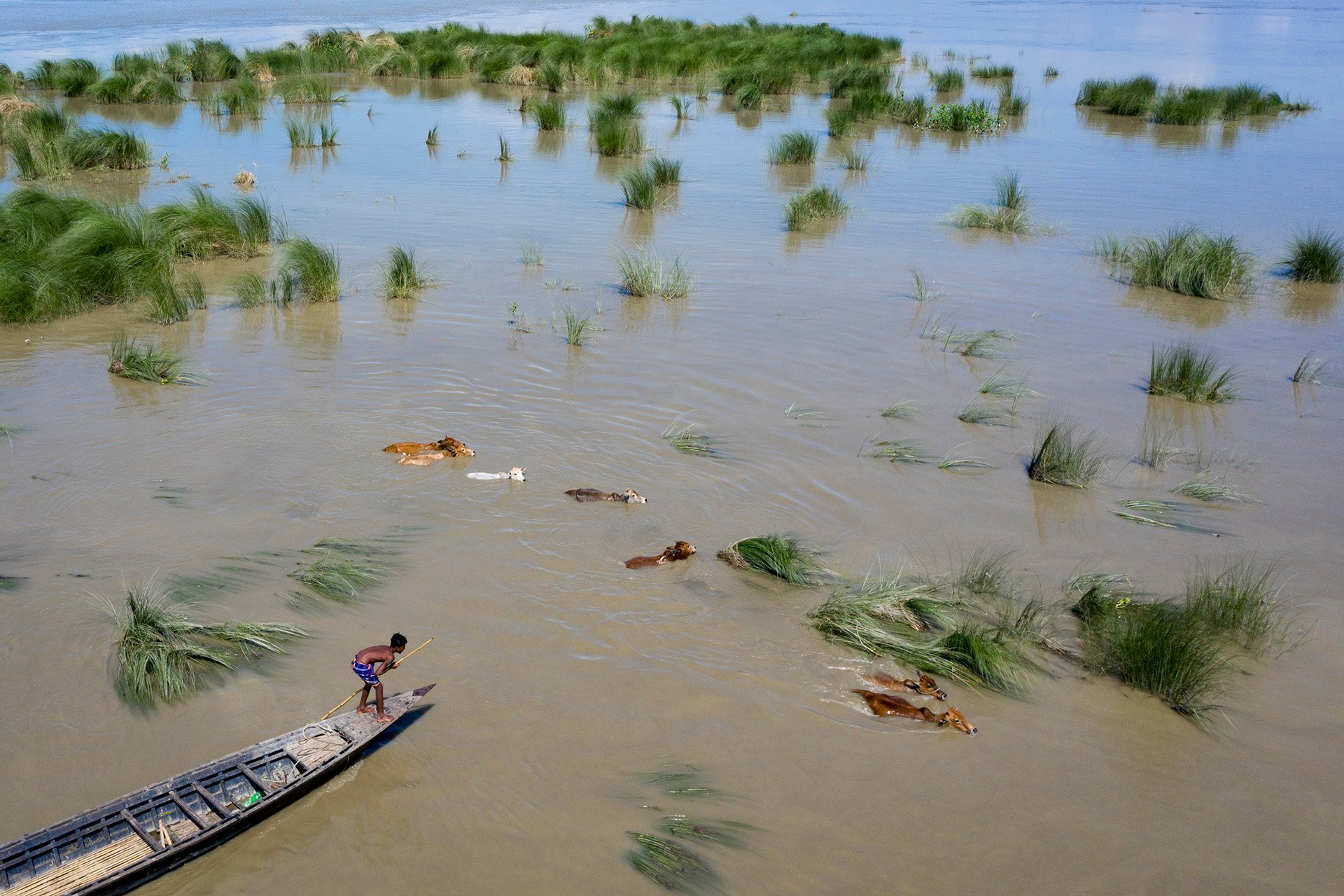 Elsewhere, residents had escaped their flooded homes, sheltering in higher pasture land along with their cattle. In villages in Chalubari Union, erosion had already been eating away at the riverbanks, making it difficult to settle there permanently.
Abdus Salam, 42, said he had been forced to move 11 times in his life, amid relentless floods. 
"We never had a permanent address. I saved some money by staying on an island for a few years," he said. "We don't have anything to save when we move around like this. We have to go to a higher place and buy land and build a house, [but] it is no longer possible – the price of land in high places is very high."
Hunger fears mount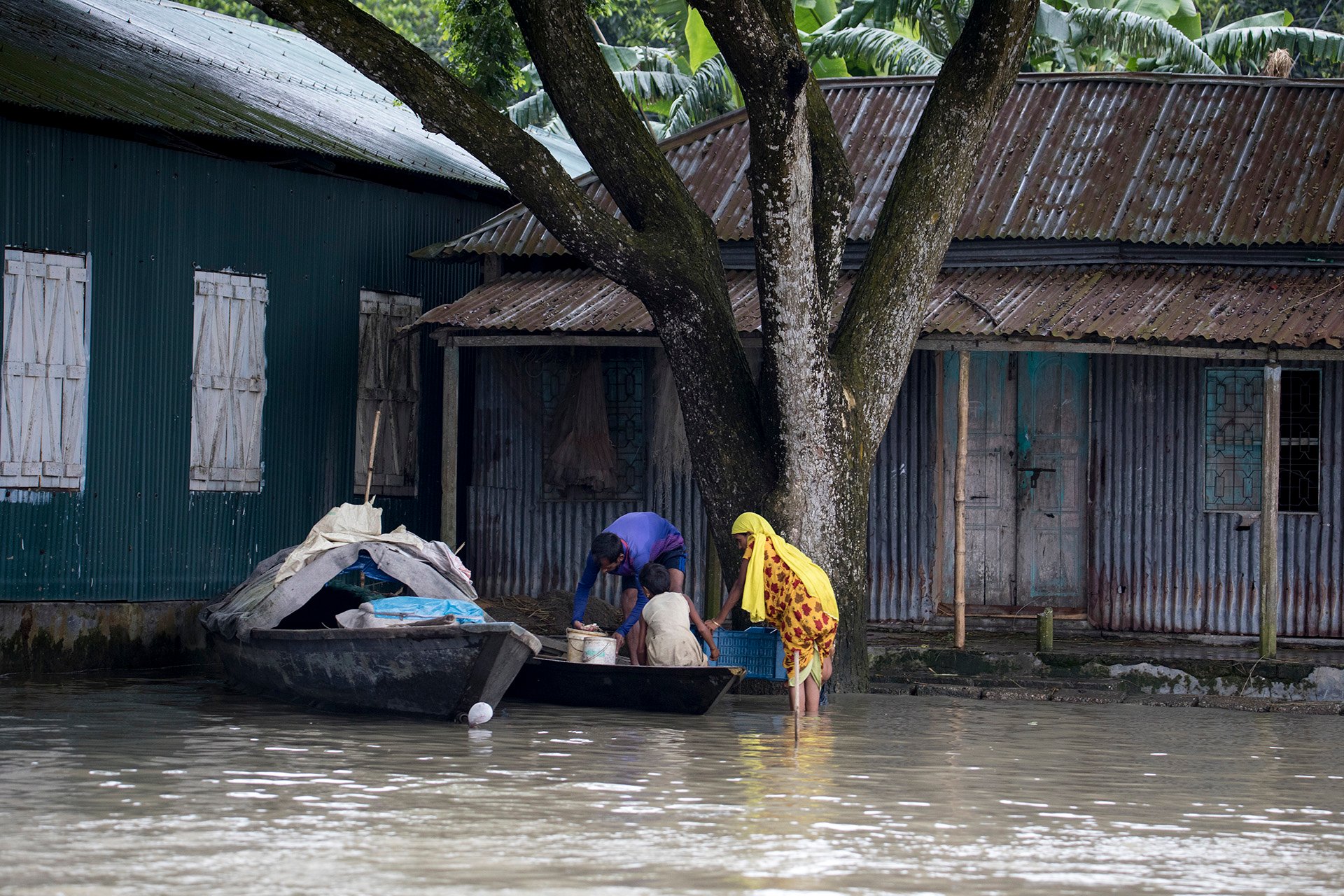 In Gaibandha district, located on the banks of the flooded Brahmaputra River, residents and officials complained that the aid offered was far from sufficient. Chhaku Mia, 55, said the floods meant he was unable to work, even as the food in his house was running out. 
Speaking on 23 June, five days after the flooding began, he said no food aid had arrived. "I can't feed cows and goats," he said. "I can't feed myself." 
Kanchipara Union Chairman Sohail Rana, the local government leader, said only 1.5 metric tonnes of rice and 60 packets of dry food have been sent to his town. But with a population of around 35,000, far more aid was needed.
More than 110,000 hectares of crops have been damaged, according to the International Federation of Red Cross and Red Crescent Societies, along with an unknown amount of livestock, fisheries, and stored crops. The damage has raised concerns over whether there will be enough food – worries that are only likely to grow as the floods have delayed farmers from planting new seedlings.
While the total financial impact of the floods won't be known for some time, it will doubtless be steep. A report issued in May by the Bangladesh Bureau of Statistics found that between 2015 and 2020, flooding caused more than $10.82 billion in damage. The burden is shouldered primarily by the country's more vulnerable communities. In disaster-prone areas, the poorest quintile lose, on average, 97 percent of their earnings in natural disasters. 
Breached embankments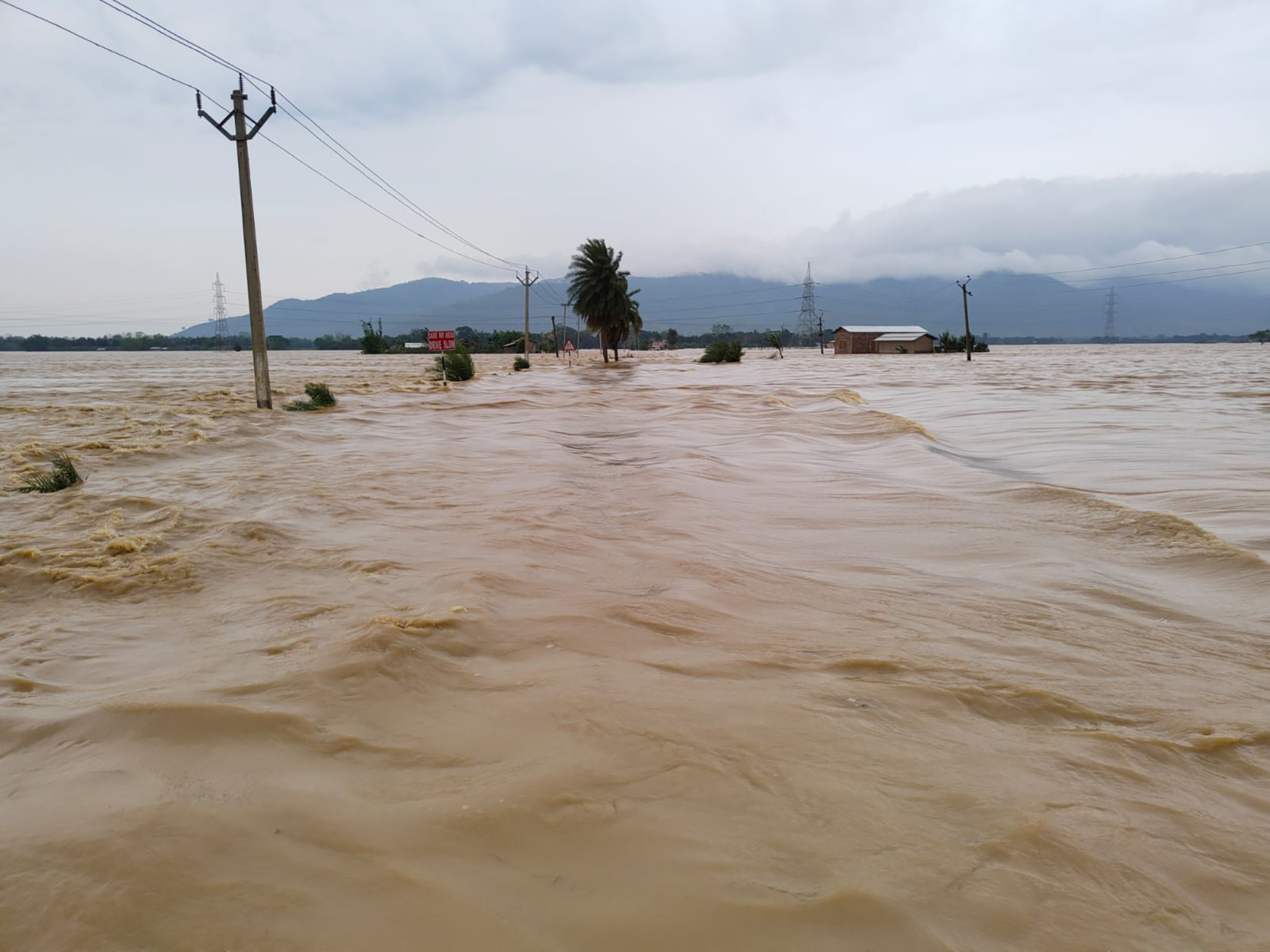 The Assam, India town of Jamunamukh sits along the Kopili, a tributary of the Brahmaputra River. When Azarul Azad, a teacher, saw the Kopili rapidly overflowing its banks on 16 June, he knew the destruction that would come. A week of sitting water has already wiped away more than $6,000 of stored rice, while all of his farmed fish – more than $1,000 worth – had been lost in the May and June floods.
The impacts are likely to be long-lasting. Floods ripped apart the roads leading to the village, making them impassable. "Out of 100 students, only 40-45 are coming to school," Azad said a week later. "The rest have no means to reach the school until roads are repaired."
"Once you create an embankment, the space within which the river can flow, particularly during monsoons, is constricted," explained Nirmalya Choudhury, a senior researcher with the Vikas Anvesh Foundation, a Pune-based think tank focusing on key development issues in India. "This leads to sediments getting deposited inside a narrower channel, increasing the size of the riverbed that reduces the capacity of the river to hold water."
Calls for better adaptation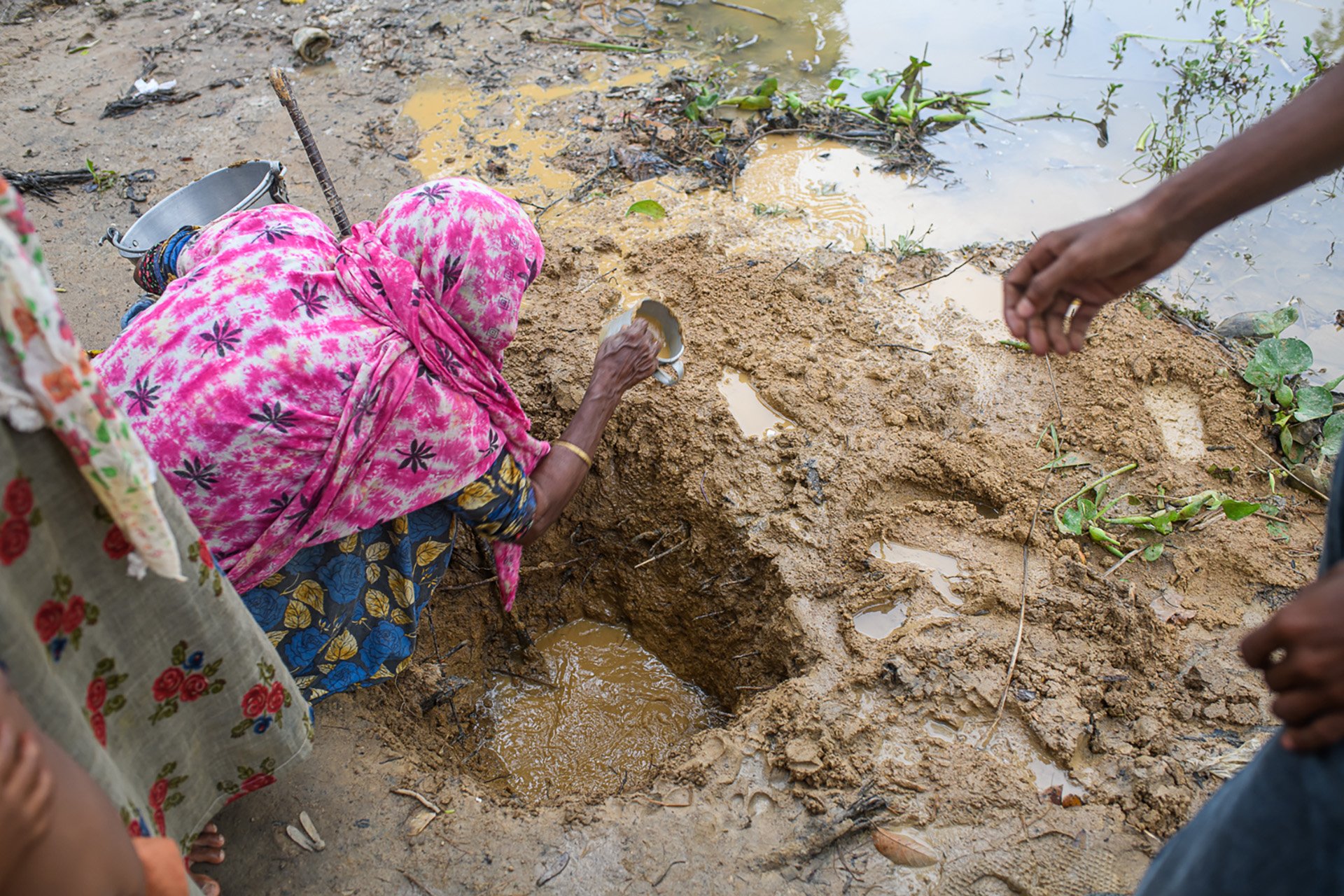 Regardless of river management, much more should be done by the Assam government to minimise the loss of lives and livelihoods, said Surajit Ghosh, regional researcher at the International Water Management Institute – headquartered in Colombo, Sri Lanka. 
"There could be a cross-collaboration between various government departments, such as animal husbandry, agriculture, and water resources department, based on forecasting to save crops or livelihoods," Ghosh said. "Farmers could be given insurance days ahead for the imminent damage, or they could be asked to remove barriers that could help drain out floodwater. However, this is only possible when there's a lot of government or co-operative funding for the farmers."
In Morigaon, Assam, communities have taken shelter in the Kholahat Reserve Forest. The forest is set inside an elephant corridor, and residents on 24 June said they spent a sleepless night after three elephants came through the camp. Without potable water, the residents dig holes in the ground to get water, boil it, and use it for drinking and bathing. 
"We have received flood relief only twice in the last two months," said Roimon Nessa, who is now living inside the reserve. "There is a shortage of drinking water."
With rivers still rising in some parts of Bangladesh and India, the situation continues to worsen for countless communities across both countries. And as officials and aid groups try to meet the growing needs, more displacements are occurring amid warnings of the spread of cholera, dysentery, and other waterborne illnesses.
Additional reporting by Prakash Bhuyan in Morigaon, Assam. Edited by Abby Seiff.