Even before Gaza reported its first cases of COVID-19 in late March, there was serious concern about how to tackle the virus in one of the most densely populated places in the world, where social distancing is hard and the economy is already in tatters.
As of 3 April, the Palestinian territory, home to 1.9 million people, had reported 12 cases and no deaths.
Schools have been turned into quarantine centres and mosques closed as officials, aid agencies, and health workers try to work out how to tackle the outbreak in a territory where movement of people and goods is severely restricted. Israel has imposed a blockade on the territory since Hamas took control in 2007.
Doctors in Gaza say medical supplies were already in short supply before the virus began to spread, making preparations even more difficult. While reports differ on how many ventilators and ICU beds are available in the strip, all the numbers are low. The head of the World Health Organisation's office for the occupied Palestinian territories reportedly said last week that there are 87 ventilators in Gaza, and 80 percent to 90 percent of them are in use. 
Over the past week, Palestinian journalist Mohammed Zaanoun has been documenting how COVID-19 has changed life in Gaza. As the streets are sprayed down, artists look to raise public health awareness through messaging on murals, and quarantine facilities fill up, his photographs offer a glimpse of what the global pandemic looks like in his hometown.
Schools serve as quarantine quarters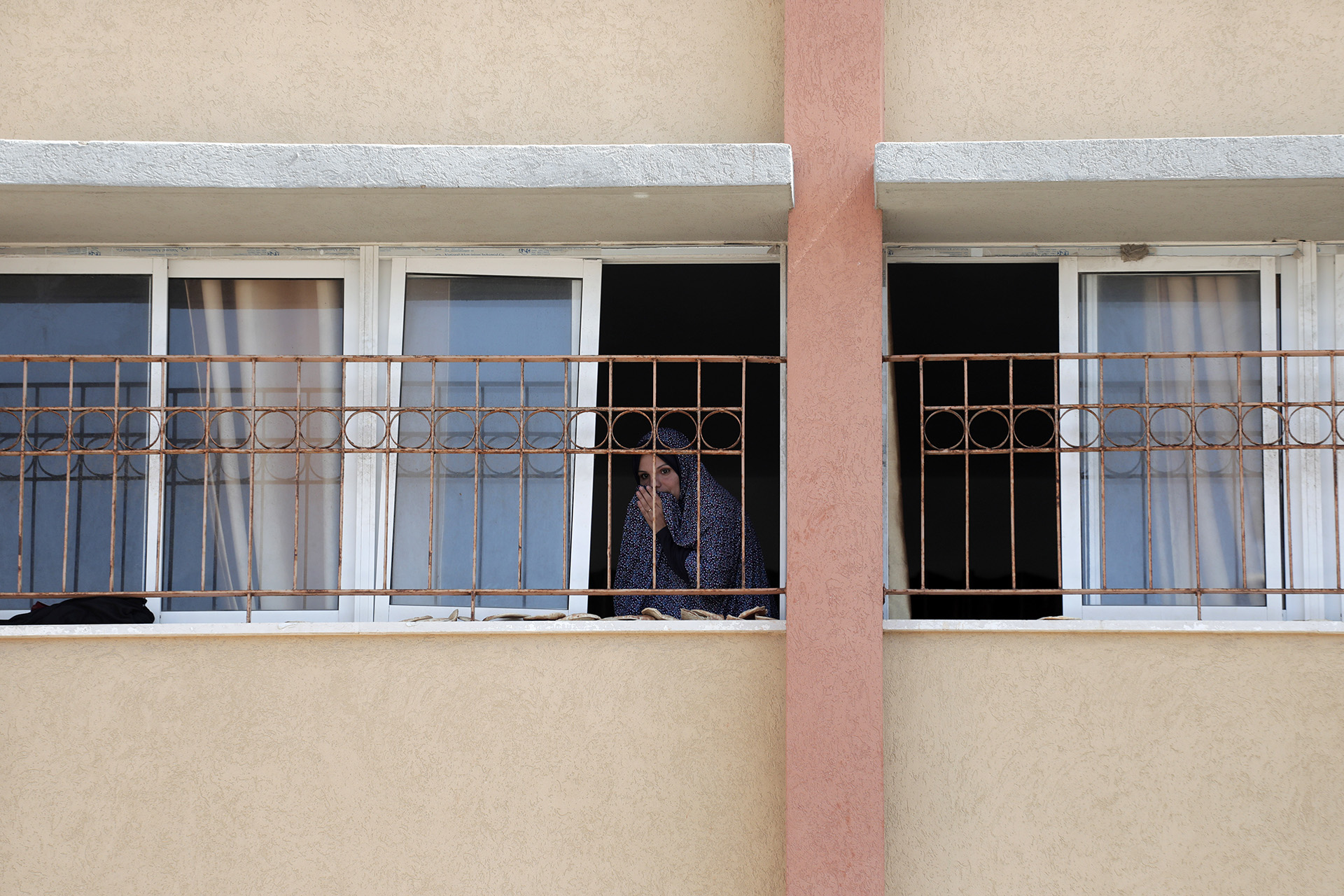 A woman looks out the window of the school where she is quarantined.
With all schools shuttered and hotels mostly empty, those buildings have been turned into quarantine facilities for people who have recently entered Gaza or have tested positive for the virus.
Rights groups and media reports have expressed concern that conditions in the school buildings are forcing multiple people to share a room and bathroom. Since then, Hamas has said it will build two mass quarantine centres.
Mosques close their doors, but call to prayer continues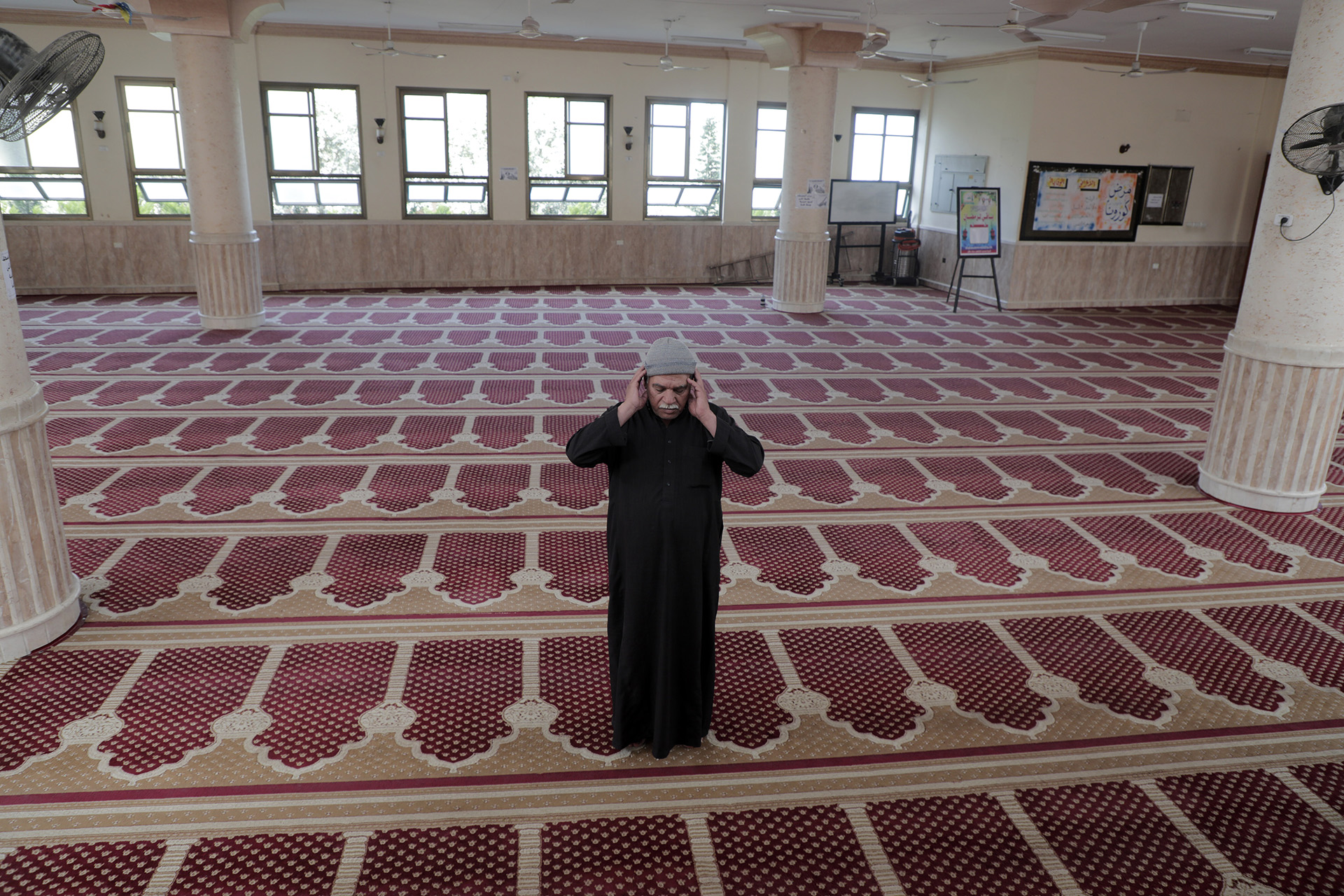 The imam of a mosque in Gaza City prays alone after it was shut to Friday prayers.
The call to prayer has continued to ring out in Gaza, but people have been instructed to pray at home with their families to avoid large gatherings.
Disinfecting Gaza's streets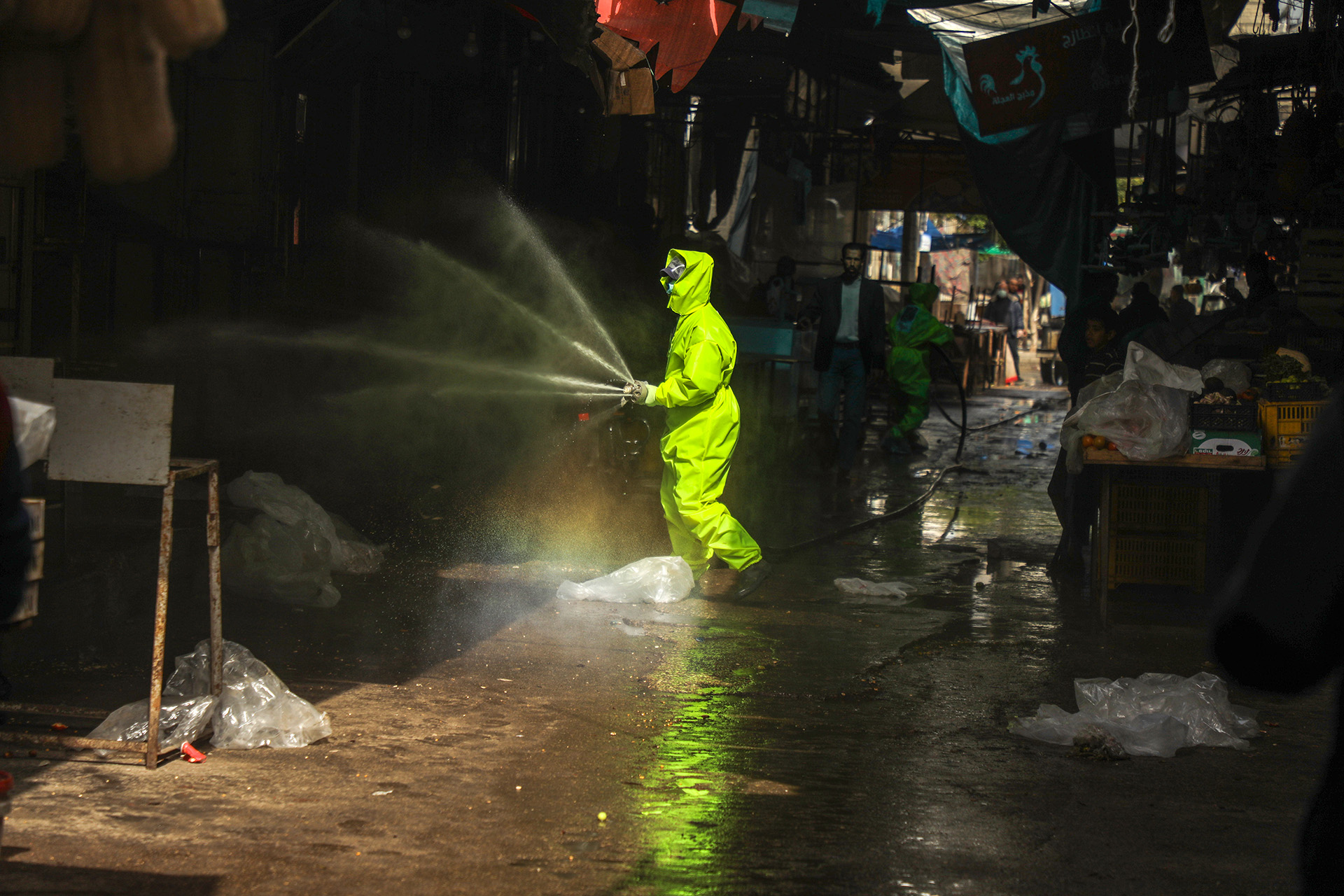 A worker sprays disinfectant at Gaza's al-Shati camp (also known as the "Beach Camp") as a precaution against the spread of COVID-19.
The UN's agency for Palestine refugees, UNRWA, says that al-Shati is the third largest of Gaza's eight refugee camps and one of the most crowded.
Of the strip's total population of 1.9 million, 1.4 million residents are registered refugees, and nearly 600,000 live in "abject poverty." The UN's emergency coordination body, OCHA, says that "people in refugee camps and other poor, densely populated areas across the [occupied Palestinian territories] face a higher risk of contagion due to overcrowding and inadequate sanitation."
Last week, UNRWA appealed for $14 million for March, April, and May to prepare and respond to the pandemic in the areas where it operates: Gaza, the West Bank including East Jerusalem, Jordan, Lebanon, and Syria.
Restaurants feed those in quarantine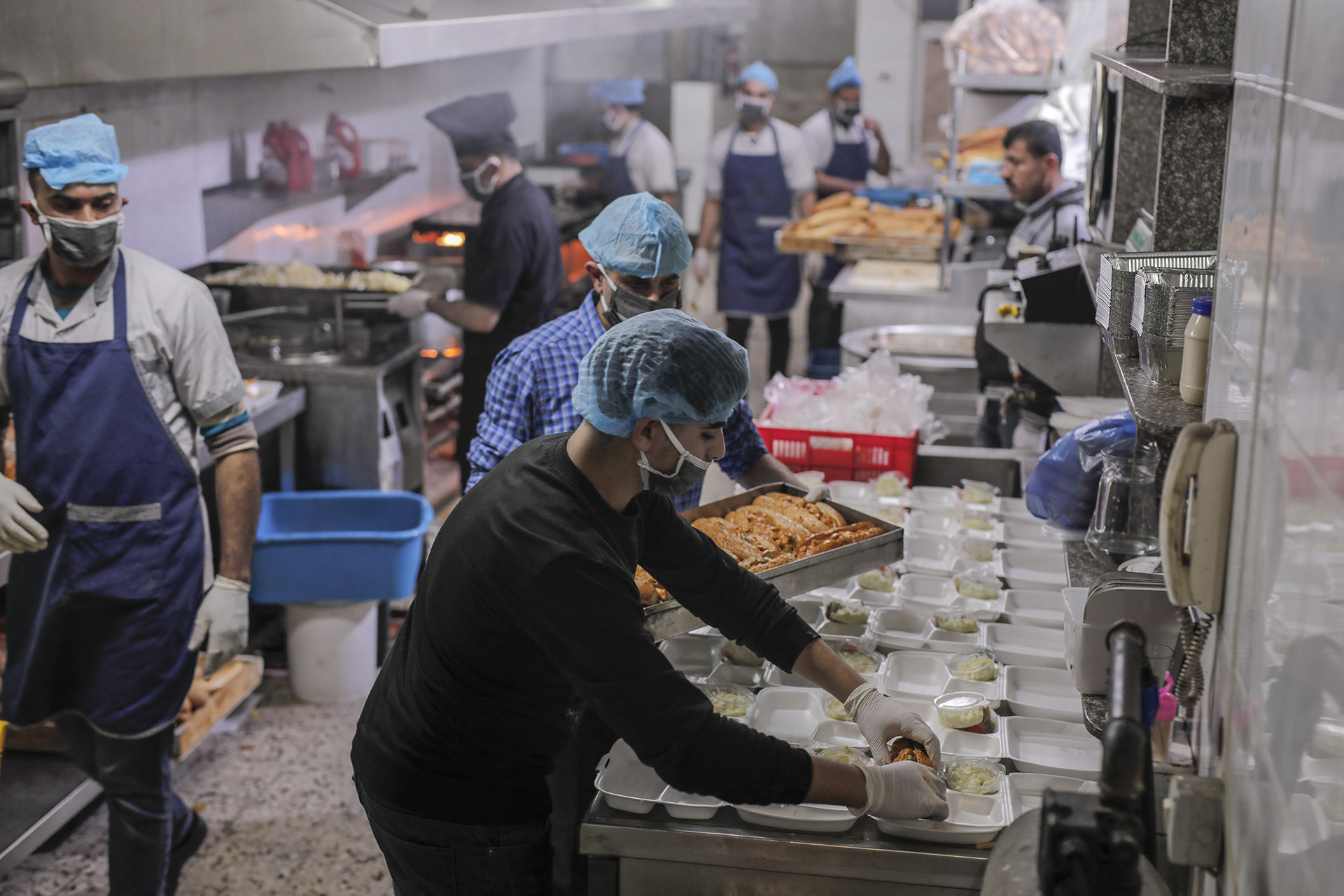 Restaurant workers in Gaza city prepare meals for people who have been quarantined.
Restaurants, cafes, wedding halls, markets, schools, and universities have all been closed, and authorities are reportedly considering imposing a curfew. Unemployment in Gaza was already high before the outbreak, hovering at around 45 percent at the end of 2019.
Artists promote public health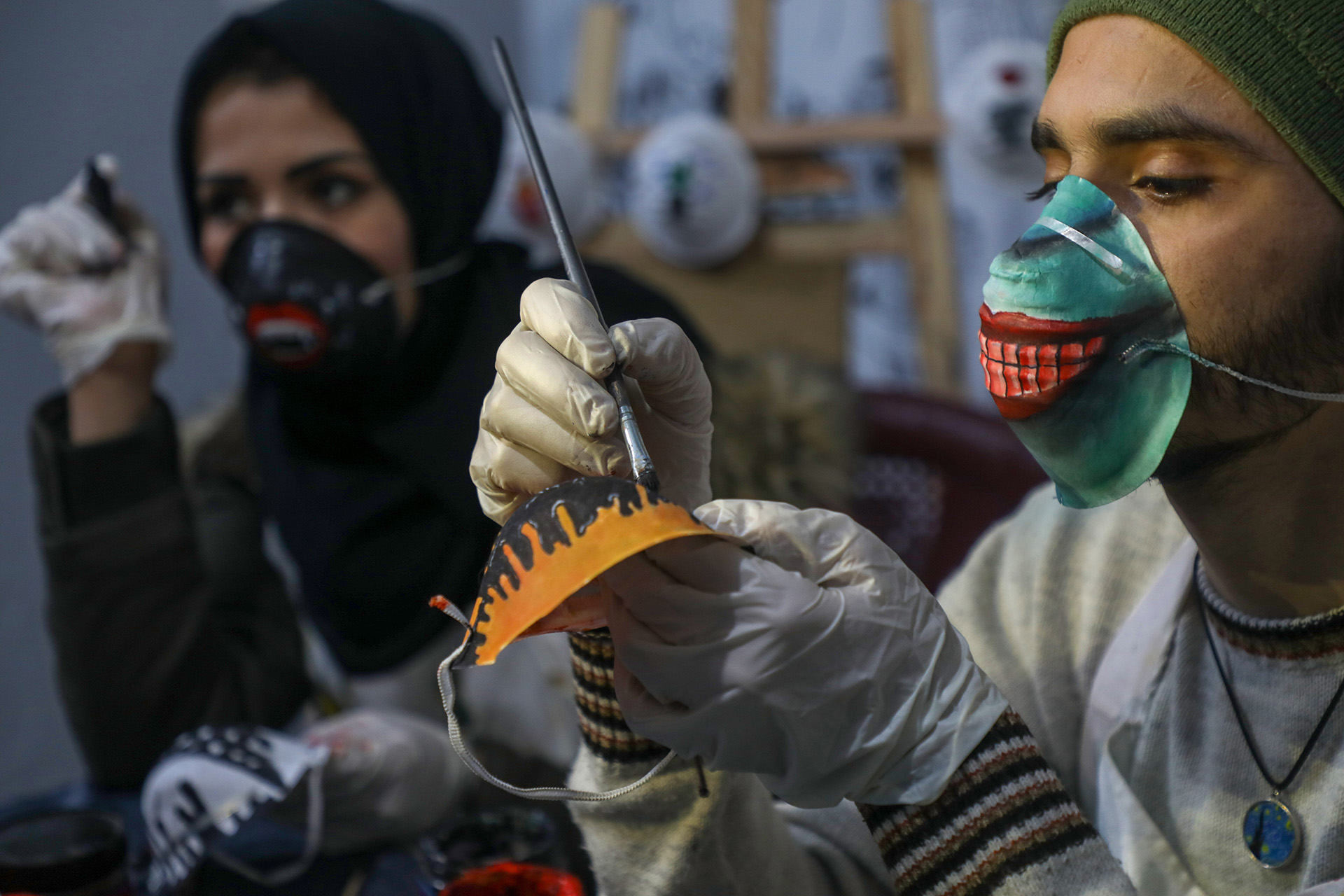 Artists in Gaza paint on face masks to promote their wide use. Many people in Gaza have begun donning the masks as a protective measure against the virus that causes COVID-19. 
Doctors in Gaza say they do not have enough personal protective equipment (PPE), and at least one clothing factory in the territory has begun making masks and gowns.
The UN says the "capacity of the Palestinian health system to cope with an expected increase in patients remains severely impaired by longstanding challenges and critical shortages, particularly in the Gaza strip."
New ways of delivering aid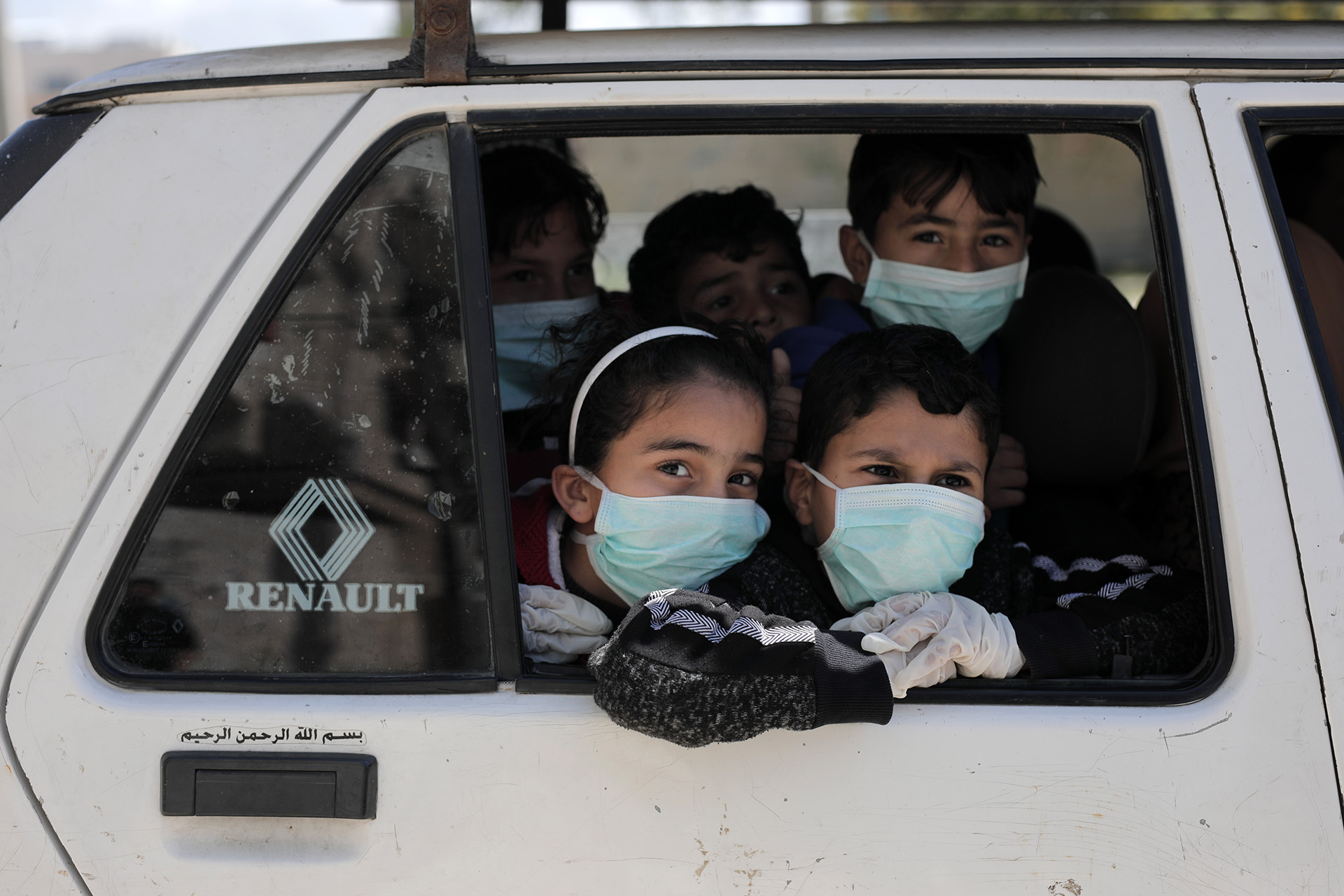 Children wear surgical masks as they ride through Gaza. With schools in the territory closed and new restrictions on public gatherings, aid agencies and NGOs have been forced to change the way they deliver help to the people who need it.
Last week, UNRWA began delivering food parcels to individual homes rather than asking people to pick them up at distribution centres. 
Face masks for all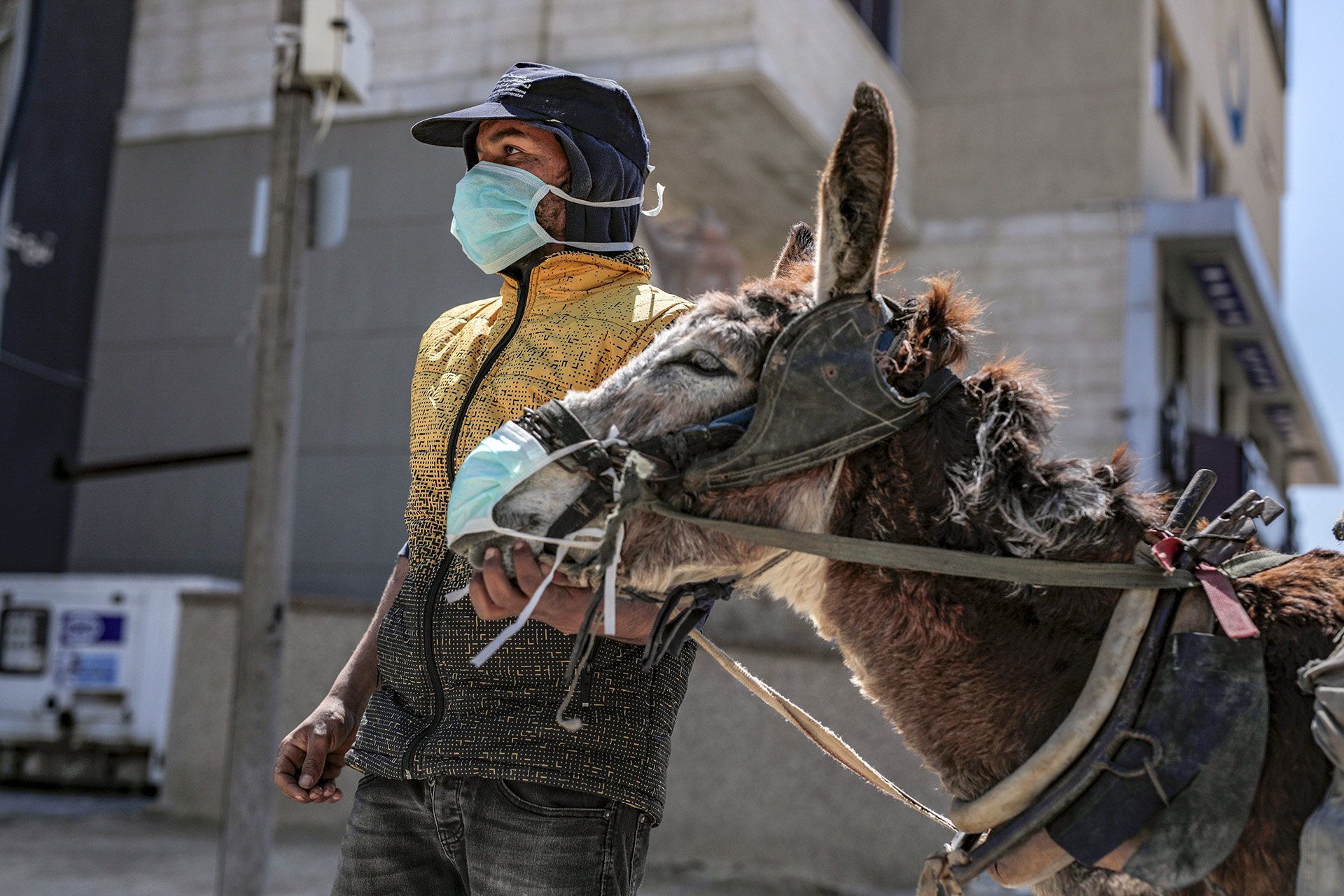 This donkey, used to carry goods in Gaza, has joined many in donning a protective mask.
Gaza has so far not reported any deaths from COVID-19, but that has not stopped humanitarians from warning of the potential disaster if the virus spreads or of the already difficult circumstances in which most Palestinians there have lived in for years.
"Even before corona, Gaza was collapsing," UNRWA operations director for Gaza Mattias Schmale told TNH, complaining that while the humanitarian situation in the Palestinian territory is becoming increasingly dire, "no one talks about it anymore".
Additional reporting by Annie Slemrod
maz/as/js
Subscribe to our coronavirus newsletter to stay up to date with our coverage.