For years, Georgia, the tiny former Soviet republic of 3.7 million people, relied on neighbouring agricultural powerhouses – Russia next door and Ukraine across the Black Sea – to feed its citizens.
But the former's invasion of the latter has changed all that. The rising costs of food, rent, and basic services – combined with changing weather patterns due to climate change – are exposing structural weaknesses in the country's food systems.
In a nation where bread appears in almost every meal, only a fifth of wheat consumed is produced locally. The rest is imported, with almost all of it coming from Russia. Most wheat flour and sunflower oil also comes from Russia and Ukraine.
Wheat imports are already significantly lower this year: 105,000 tonnes in the first three quarters, compared to 283,000 tonnes in 2021 and 368,7000 tonnes in 2020.
Like Egypt, Georgia suffers from "double dependence" – heavily reliant on a few staple imports but also hostage to a handful of exporters to deliver those essential goods.
"Milk and dairy products are also essential to us, and a significant portion of them are imported from Russia, Ukraine, or Belarus. Due to the war, supply channels were restricted, and dairy products became more expensive," explained Ia Katsia, deputy head of the Agricultural Policy Research Center at the ISET Policy Institute, a university-based think tank in the Georgian capital, Tbilisi.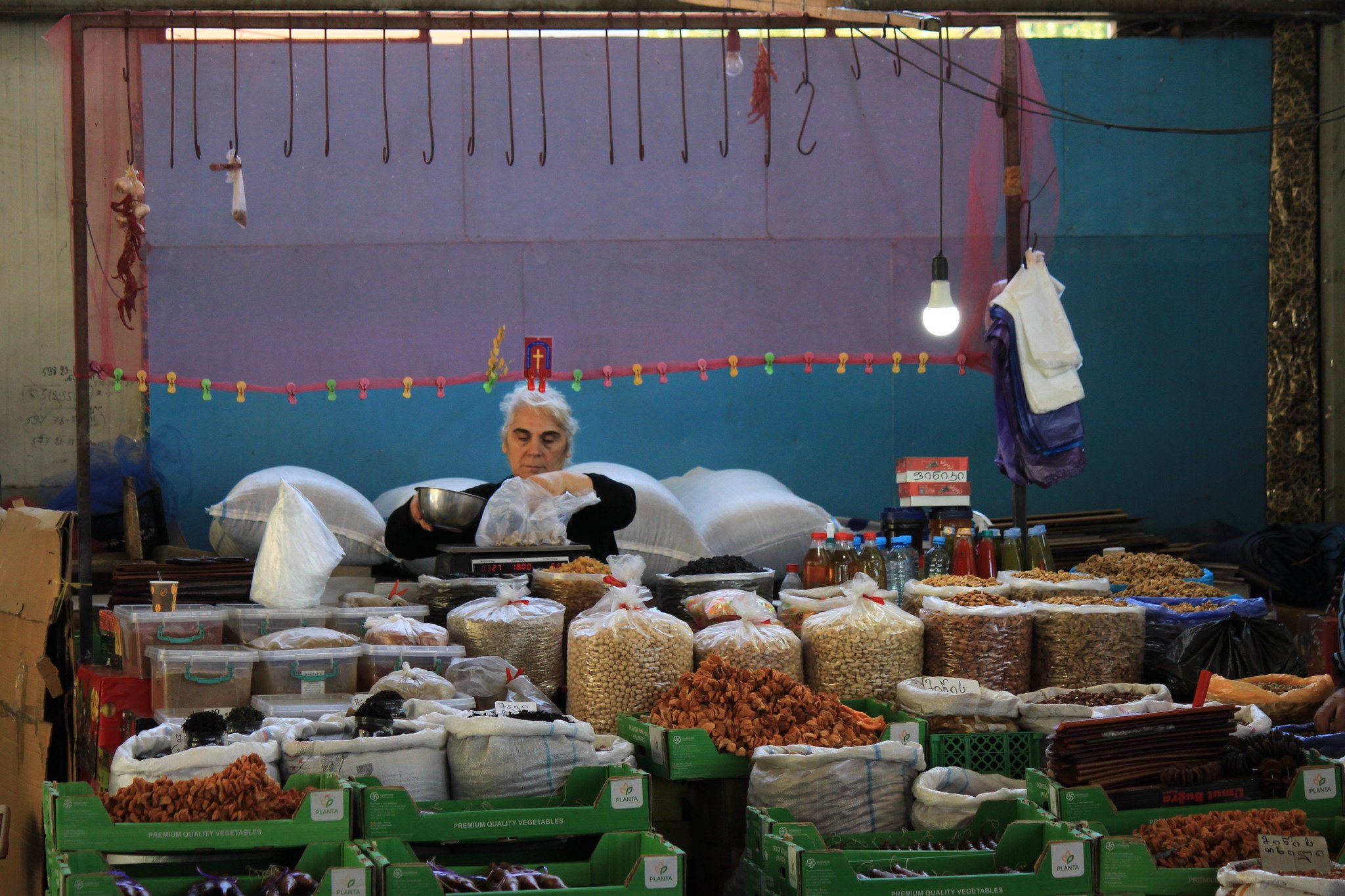 "According to the Khachapuri Index, the cost of a kilogram of cheese has increased from last year's average of 11 Georgian lari ($4) to 18 ($6.60). This is one of the steepest growths I've ever seen," she told The New Humanitarian.
Katsia was referring to an index that tracks inflation by using the prices of ingredients in a traditional Georgian cheese-filled bread called Khachapuri. Set up by ISET, it has increased by between 24% and 38% throughout 2022.
Ordinary Georgians told The New Humanitarian of their struggle to pay rent and feed their families. Farmers, lamenting losses of both money and harvests, are worried about what the future holds. Aid workers, meanwhile, warned that Georgia is part of a volatile region and must not slide back to the days of a few decades ago when humanitarian needs were paramount.
David Khurtsilava, a 27-year-old entrepreneur, started a second job in October as a tour guide when he noticed the profits from his two-year-old company, which produces board games, had shrunk in the past year. 
He also bought a white car so that if the situation worsens, he can become a taxi driver. Georgian law requires private taxis to white.
"For most people, it is no longer sufficient to work one job," he said.
"[Since] the war [in Ukraine began], the cost of everything [has] climbed. The majority of people in my close surroundings are finding it difficult as their earnings aren't enough to pay their expenses. We live on the verge of survival," added Khurtsilava.
It now costs 30 lari (about $11) for a can of coke, a few pieces of cake, bread, sour cream, and eggs, he said, adding: "Maintaining such a poor diet costs you 900 lari per month." This is equivalent to the median salary in Georgia in 2021. 
Others, like Goga Sharangia*, 29, left Georgia in search of opportunities abroad. Sharangia had been considering the move for a while but the war in Ukraine accelerated his decision.  
"I ended up going to three different stores to compare prices and purchase the product at the lowest possible price. It affects your mental health," he said. "I often didn't have enough money to go somewhere with my friends, even to a cafe, for lunch."
Sharangia borrowed $13,000 from a bank and followed a popular route to get to the United States – via Spain, Portugal, and Mexico. Arrested after he crossed the US border from Cancun, he spent 18 hours in prison, sharing a small room with an open toilet with 40 others.
Sharangia is now seeking asylum and plans to work illegally, as his parents and grandmother back home in Georgia are reliant on remittances from him and his sister, who also lives abroad. 
'More and more poverty'
But it's not just the war in Ukraine making life in Georgia harder. Farmers are battling pests, droughts, and more rainfall, as fears grow that climate change could hit future food production hard.
"With each passing year, the rise in temperature and decline in rainfall becomes more evident," said Mikheil Matiashvili, a cattle breeder from the eastern region of Kakheti, where a drought slashed his hay harvest and caused up to $3,700 in losses.
"Both pastures and crop grass needed to feed cattle in the winter are in short supply," he told The New Humanitarian.
Installing an irrigation system would help, but it costs tens of thousands of dollars, which he does not have.
Potato farmers are having big problems too. Some are fighting off fungus because of higher precipitation, explained Marcella Maxfield, Action Against Hunger's regional director for the South Caucasus. "Everywhere you go, farmers are struggling," she said.
READ MORE: Georgia's fragmented farms problem
Becoming self-sufficient in food production is a tall order for Georgia, a small country whose agricultural sector is characterised by old equipment, low productivity, a lack of investment, and a lack of up-to-date technical knowledge. The biggest obstacle, however, might be the fragmentation of farmland, said experts.
In the 1990s, after the fall of the Soviet Union, and after Georgia had been impoverished following two wars, the government decided to distribute land to households so they could grow their own food, explained Rati Kochlamazashvili, deputy chair of the Georgian Farmers' Association. "The government's only priority in a devastated country with a severe food shortage and long lines of people waiting for bread was to keep people fed," he said. 
"People in rural areas ate the food they had harvested, and any excess was given to relatives in cities or sold during those hard times. This is not a way of gaining economic wealth; instead, it is a way of survival. The current land distribution is the result of this inertia."
According to the World Bank, almost 80% of households in Georgia operate less than one hectare of agricultural land and 14.9% on one to two hectares. Only 1.3% (8,577 households) have five hectares or more. 
In addition, Georgia has no integrated nationwide land management system containing land use, land cover, registration, and cadastral data, the World Bank said. The land balance report and corresponding database, which had monitored and evaluated soil quality, land cover, and use nationally has not been updated since 2010. 
"The distribution of land in small amounts saved us after the collapse of the Soviet Union, but this strategy is now causing a problem," said ISET's Katsia. "The land is extremely fragmented. A person may own land in one location and another 10 kilometres away. This distribution makes it difficult for people who want to stay in agriculture to expand."
Faced with a limited amount of land, farmers choose produce they can sell at a higher price, such as berries and nuts, or niche products like pink tomatoes, instead of staples like wheat, she added. 
Kochlamazashvili, however, cautioned against doing away with small farmers altogether under the guise of more efficiency and productivity. 
He suggested combining farming with agro-tourism and giving farmland to those who are "truly motivated to develop agriculture as a business" to increase farming incomes. 
Their experiences stand in sharp contrast to the rosy picture painted by economists and Georgian officials.
In September, the Asian Development Bank predicted 7% GDP growth in 2022 for the lower middle income nation. The International Monetary Fund projected an even higher 9% growth on the back of strong tourism revenue and a large inflow of money transfers. An economic adviser to Georgia's prime minister wrote an opinion column, saying Georgia's economy is going against the trends of deficits, debts, and instability in Eurasia.
Yet in an August poll by the Washington DC-based National Democratic Institute (NDI) and non-profit research centre CRRC-Georgia, 30% of respondents in Georgia said every month, or more often, they "did not have enough money to buy the food" they or their family needed. A further 29% said they have experienced the phenomenon, but less often than every month. Only 39% said they have "never" faced such a situation.
Government statistics also showed food prices have risen by 16.8% and housing and utilities by 15.4% this year, a significant hit in a country where households have long spent nearly half of their income on food.
"More and more people are sliding into poverty," said Maxfield, whose organisation has been working in the region since 1994. The number of people receiving social benefits has also increased from 11.7% in 2020 to more than 18% in 2022, and because the process to qualify is arduous, people are often hesitant to start a job once they receive benefits, she added.
"Even if the state provides employability programmes and support to get them out of this dependency… [people] are afraid [the work is] going to be really short term, or informal labour, and that they would not be able to support their family," she added.
Even before the war in Ukraine, some 40% of the population faced difficulties accessing enough safe and nutritious food for an active and healthy life, according to the UN. This number was around 32% in 2014-2016. More than one in five adults were obese and more than one in four women of reproductive age anaemic, which some attributed to a starch- and bread-heavy diet.
The Russian influx
Economists cite the arrivals of Russians – at least 112,000 have reportedly moved to Georgia this year – and their money as one reason for Georgia's economic boom, yet locals who have been squeezed out by the newcomers are not seeing improvements in their lives.
"The market thinks that wealthy people have entered the country and can afford 12 lari for a bunch of grapes, and that if a citizen of Georgia can't buy it Russians will," said Khurtsilava, the entrepreneur.
He and his wife moved when their landlord more than doubled the rent, from $200 to $450 a month. It is now rented to Russians, and his new neighbour is also a Russian who pays $500 for rent, he added.
More than 160,000 Ukranians have entered Georgia since the war began, but only around 25,000 remained in the country as of November, according to UNHCR, the UN's refugee agency.  The Georgian government is providing 300 lari a month to each Ukrainian family, plus an additional 45 lari per individual. UNHCR and World Vision are also giving them cash support.
The South Caucasus region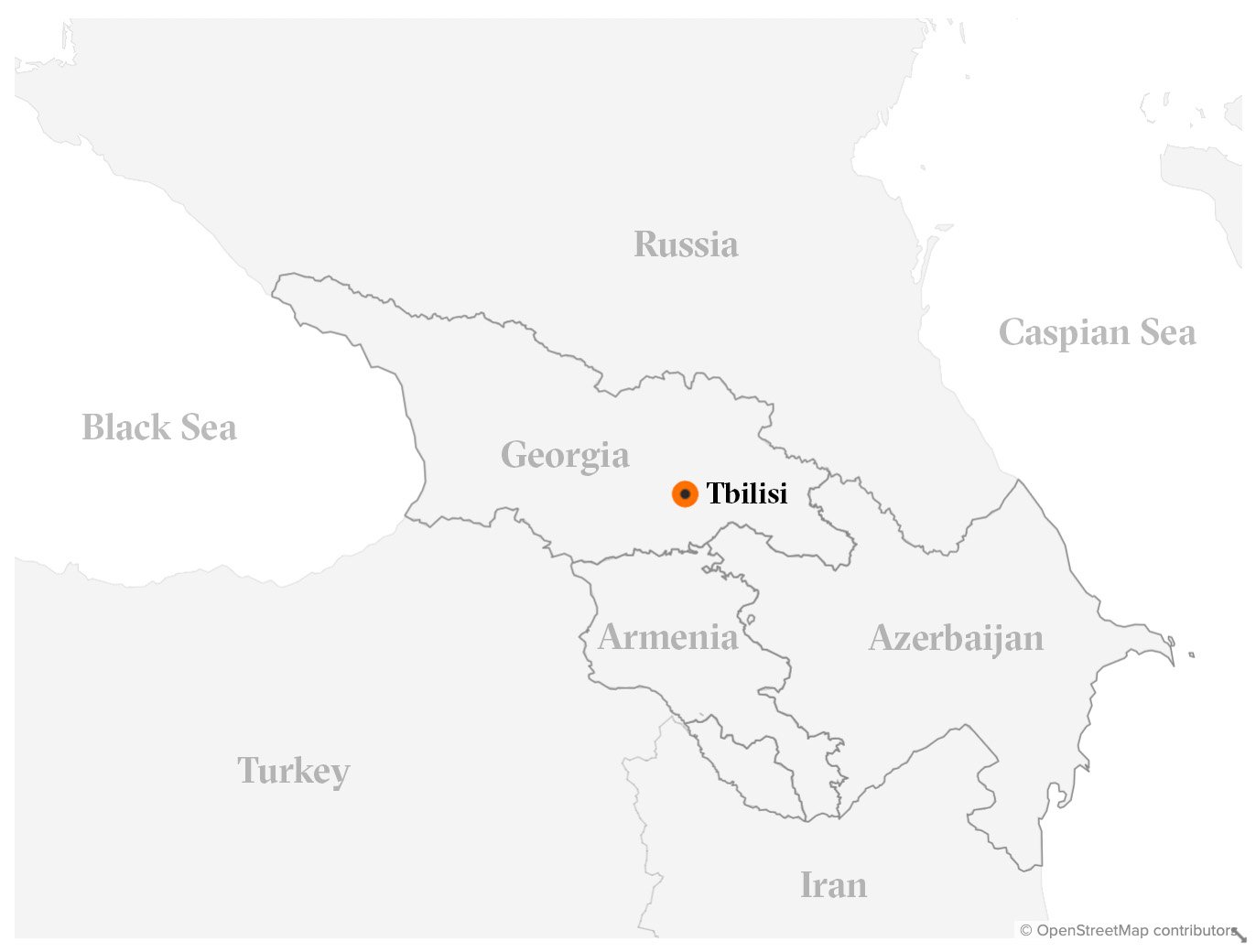 For many Georgians, memories of the 2008 conflict with Russia over two breakaway regions, South Ossetia and Abkhazia, are still fresh.
They are really concerned that having a large population of Russians could again threaten their sovereignty, said Action Against Hunger's Maxfield, who is worried humanitarian aid will become even more politicised.
"We already hear of one donor not wanting to fund any more occupied territories, which for us would be disastrous to see because we work in Abkhazia," she said. "And there's a lot of very poor and vulnerable people that we would like to continue working with [there]."
Sandwiched between Iran, Turkey, and Russia, the South Caucasus countries of Georgia, Armenia and Azerbaijan are still dealing with both internal political and socio-economic struggles and volatile international geopolitics.
Armenia is also struggling with high inflation and reduced purchasing power, and donors should be aware of the potential for the situation to return to one where aid agencies were "providing purely humanitarian aid," Maxfield added.
A climate-affected future
As a way to adapt to a changing climate, Nino Chkhobadze, chairperson of Friends of the Earth Georgia, is advocating for testing more traditional crops and focusing on organic farming, as well as for a more ambitious climate action plan.
"It is becoming clear how challenging climate change is for agriculture. Everyone who did not have automated irrigation systems struggled to get a good harvest [this year]," said Chkhobadze, who also stressed the need for a water law to regulate its use.
One of those who suffered is Lado Chikovani, who has been farming hazelnuts for decades in Samegrelo in western Georgia. He usually harvests 20 tonnes a year. This year, he only got nine tonnes, the result of an abnormal drought in June when the heart of the nut fills and grows.
"It is becoming clear how challenging climate change is for agriculture. Everyone who did not have automated irrigation systems struggled to get a good harvest this year."
"Because of the exceptionally hot weather, the water was not supplied to the crop. Bearing fruit required consistent weather, with rain once a week and normal temperatures the rest of the time," he said.
Now his profit has been cut in half. He could have alleviated the problem with an irrigation system, but like cattle breeder Matiashvili, it is too expensive for him.
"I won't be able to install anything next year either. I'll just have to rely on the weather once again," he added.
The drought came after years of battling the brown marmorated stink bug, which has been devastating hazelnuts, Georgia's largest agricultural export. Rising prices of insecticides, fertilisers, and other chemicals are now making it harder for farmers to tackle this problem effectively, Chikovani said. 
Farmers, aid workers, and others told The New Humanitarian they're concerned about what the future holds. If the situation worsens, there could be an influx of people leaving both Georgia and Armenia for better livelihood opportunities elsewhere, said Action Against Hunger's Maxfield.
Many have already made the journey, according to Sharangia, who recalled a family of five who sold everything they owned and paid $45,000 to get to America.
"Their motivation for leaving… was to provide a better education for their children. The husband was a craftsman who used to build houses, and worked hard, but his pay was inadequate," he said.
Now Sharangia meets Georgians everywhere in the United States, including those who used to be lecturers and high-ranking officials. Some have travelled the same route as himself.
Sharangia's mother worked in Russia for over two decades to support them, with the hope they would not have to leave their homes. 
"My mother used to say that she put all of her resources into our education as she believed that would save us from the necessity of migration, but she was wrong," said Sharangia, a university graduate who studied public administration law but was unable to land a job. "We were unable to break this chain." 
*These interviewees' names have been changed to protect their identities for security reasons.
Elene Khatchapuridze reported from the Georgian capital, Tbilisi. Thin Lei Win reported from Turin, Italy. Edited by Andrew Gully.