A year after earthquakes and tsunami waves pummelled the city of Palu in Indonesia's Central Sulawesi province, more than 57,000 survivors are still homeless and tens of thousands more are waiting for help to rebuild.
On 28 September 2018, a series of earthquakes unleashed tsunami waves that crashed ashore, wiping out seafront homes along the Sulawesi coast. The earthquakes also liquefied the soil in some parts of Palu, swallowing up entire neighbourhoods. The disaster killed more than 4,800 people, according to government figures, displaced at least 172,000, and damaged or destroyed more than 110,000 homes.
National and local governments in Palu say rebuilding plans – projected to last years and cost hundreds of millions of dollars – are progressing smoothly. But residents and advocates paint a starkly different picture, pointing to long delays in dispersing rebuilding funds and low-income survivors trying to make a living while still living in tents.
"It's like an illusion of security," said Juli Savana, who has helped lead local volunteer groups still responding to the disaster. She's part of a coalition of volunteer and activist groups including the environmental group Walhi, women's rights group Solidaritas Perempuan, and Yappika, an affiliate of international NGO Action Aid.
"What's the use in waiting if it's already been a year? If they don't want to help, then don't."
The groups say recovery plans are moving ahead but fail to address the needs of families still without homes or jobs.
"It's like a checklist," Juli said. "If survivors need water, the government gives water. If they need health check-ups, they give them. But they don't build up the capacity of the people themselves."
Aid groups say women and children in particular are struggling in cramped tents and shelters; some groups report a rise in gender-based violence and child marriage. And with irrigation systems among the vital infrastructure damaged in the disaster, rural families dependent on their land have spent a year without stable housing and livelihoods.
In June, the Asian Development Bank and the World Bank announced loans, earmarked for reconstruction projects, totalling almost $450 million.
Read more → Behind Indonesia's tsunami response, a patchwork army of volunteers
"We see on the news that there's money coming in, but where is it?" asked Hamsin Lasaso, 63, who lives with 14 other people in tents erected after the earthquake left his home with crooked walls. He said he hasn't received rebuilding funds; he would repair his home himself, but no one in the family has been able to return to their jobs over the last year.
"What's the use in waiting if it's already been a year? If they don't want to help, then don't," he said. "They think we're simple and we'll just wait."
The government and a variety of NGOs have built some 19,000 "transitional homes" meant to house displaced people for up to two years. But official statistics show there's still a shortage of 14,000 units – and no current plans to build half of these. This means an estimated 57,000 people, according to the International Federation of Red Cross and Red Crescent Societies, are still living in makeshift tents beside their destroyed homes, or in unofficial camp settlements spread out across damaged Palu and surrounding districts.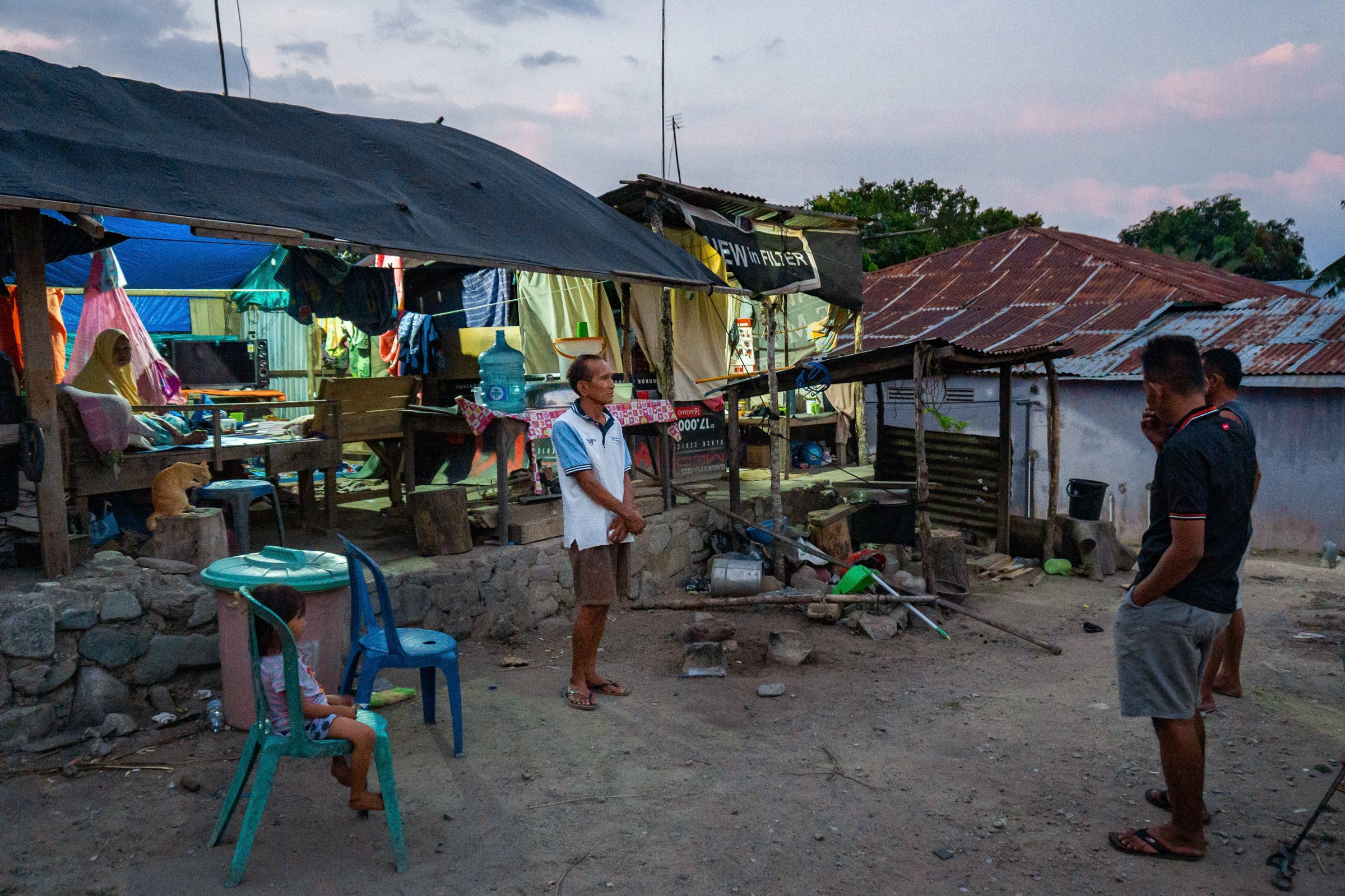 Fewer than half of the survivors have received promised compensation for dead relatives, or two months of cash allowances totalling about $42, according to government statistics. Indonesia's government plans to distribute some $16 million to help people rebuild their own homes, but the money only started flowing to a handful of families in August.
"The process has not been as fast as we had hoped," said Syaiful Alam, head of operations for the Indonesian Red Cross in Central Sulawesi.
Disaster-proofing Palu
Government authorities say they're still sifting through documentation to verify survivors in tightly packed temporary shelters and distribute long-awaited rebuilding funds.
Officials at Palu's social affairs office said the full distribution of cash allowances and compensation will continue as these checks are completed. "Don't get it wrong. People are receiving the funds," said the office's social protection head, Diana, who uses one name.
Arie Setiadi Moerwanto, in charge of rebuilding the region's infrastructure for the national government, says the first 1,600 of 10,000 planned permanent housing units will be completed by December.
The new units are identical six-by-six metre, three-room homes – budgeted at about $3,500 each and built with future disasters in mind.
"We're limited by our funding," Arie said. "So we are first making sure that each home can withstand earthquakes. The houses can also be developed and grow later by the inhabitants themselves."
Planners are also rethinking the region's development following last year's catastrophe. The destruction brought accusations that the city had allowed reckless development in areas known to be at risk.
In response, the government plans to forbid development in the most unstable areas, including the liquefied neighbourhoods. The government wants to block off a strip of land cutting straight through the city along a major fault line, known as the Palu-Koro fault, which ruptured at a rapid speed and jump-started last year's cascading disasters.
But finding land to rebuild and permanently resettle tens of thousands of people has been difficult.
Read more → Indonesia's start-up 'disaster news agency'
"The biggest obstacle to building the permanent shelters is finding land that won't trigger problems over land claims," Arie said.
Many families – including in areas the government has marked as unlivable – say they want to rebuild where their old homes are because it's closer to family or jobs. The Red Cross says some newly built transitional shelters are empty because families think they're too far away.
An embankment stretching seven kilometres along Palu's coastline is also under development amid growing community opposition. The three-metre high structure is meant to protect the city from floods after parts of the beach sank during the disaster. But fishing families worry they'll lose access to the sea, and local environmental groups want authorities to explore other options like replenishing mangrove ecosystems, which researchers say helped protect some coastal villages last year.
Rebuilding lives
Even families who have received shelter and recovery help say they're struggling.
Ayu Lestari, 38, said the tsunami waves washed away her home – and her family's three fishing boats. She and her husband, Muhammad Ichsan, 40, now live in a sweltering complex filled with temporary, blue-tarp homes. The government provided a boat to help them start fishing again, but it hasn't been enough, she said.
"We used to have three boats, six people each. Our one boat now is only big enough for us," Ayu said. "And we were even blown over by the wind in it."
On land, many farming families dependent on their fields have spent a year unable to grow rice as they wait for damaged irrigation systems to be repaired.
Sanitation and water are a constant need, said Dino Argianto of JMK-Oxfam, a coalition of 23 NGOs including local groups and Oxfam. There are water shortages in almost all the areas where the coalition works, he said: "Irrigation is completely broken, so they have to adapt their foods."
The organisations are helping farmers transition to alternative crops like corn, which require less water to grow. But so far this has also produced less income for the farmers. In Rogo, a village of 300 families, once-iridescent rice fields have turned into grazing grounds for livestock.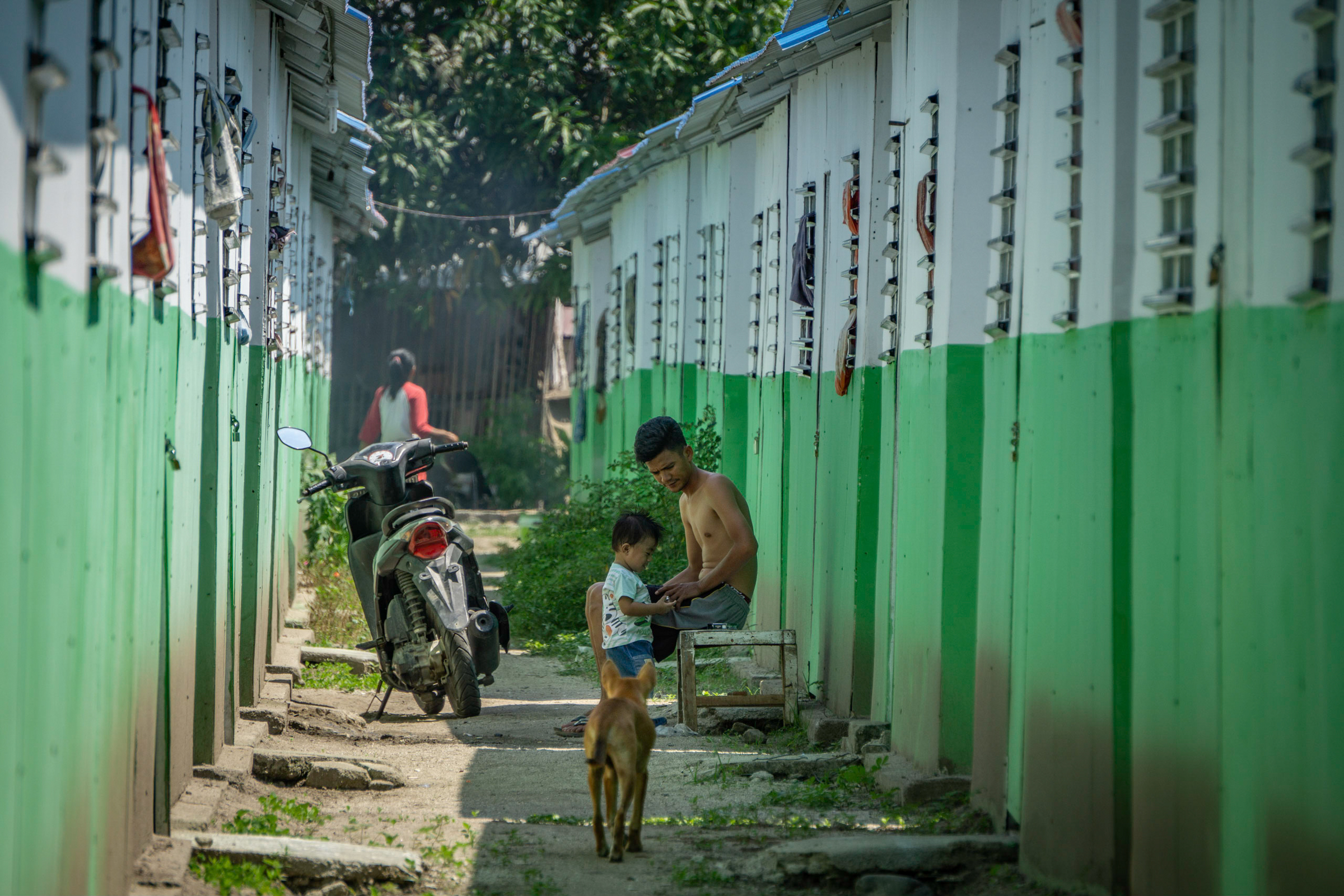 "In Rogo, they used to say, 'if you plant rice, you can eat. Half you eat, half you sell'. But now they can just sell the corn and buy more rice," said Nining Rahayu of LBH APIK, a legal aid group and a member of the coalition.
Risks to women rise in cramped quarters
As Palu's long recovery continues, there's growing concern for women and children: two local women's rights organisations, LBH APIK and Libu, say they've received dozens of reports of gender-based violence and child marriage.
"There were a lot of changes after the earthquake, because it made people think that marrying children at a young age is a solution to their troubles," Nining said. "Marry the girls, make the boys work – that's what they think the solution is, but they don't realise that that could present new problems for all the kids."
"There is no privacy; it gives me goosebumps to think how exposed women are."
Dewi Rana, who heads Libu, said the girls' ages range between 13 and 17, and there have been at least nine reported pregnancies in these underage marriages. Both organisations are active in just a handful of the hundreds of temporary shelter areas that have sprung up over the last year.
Libu has set up spaces where women can find support and privacy, as well as report violence.
Dewi said the risks to women and girls rise as families squeeze together in complexes of tiny shelters measuring five-by-five metres.
"There is no privacy; it gives me goosebumps to think how exposed women are," she said.
In the months since the earthquakes and tsunamis, some of the temporary shelter sites have begun to take on features of neighbourhoods now buried. One of these areas, "New Petobo", is named after the village that was churned up and destroyed by liquefaction last year.
Residents of old Petobo fled to the slopes above their former homes. Today, concrete and wooden shops have popped up along a main road through the new neighbourhood. Vendors sell phone credit and food; some have set up homely, potted-plant gardens. Neighbours wave to each other across gravel streets.
Along Palu's seaside promenade, levelled by a three-metre tsunami last year, beachside stalls are inching back one by one and fishing boats are returning. The city's largest mosque is still home to displaced families packed together in tents. But now there are also market stalls and, occasionally, a bouncy castle for children.
Memories of last year's disaster are easily triggered, however. Earlier this month, a small earthquake struck the city again. The 3.4-magnitude quake did little damage, but it was enough to persuade many here to sleep outside their homes, reminded again of the ragged fault line that runs beneath their city.
(TOP PHOTO: Ayu Lestari and Muhammad Ichsan received a new boat from the government, but they worry a planned embankment meant to prevent flooding will keep fishing families away from their only source of income.)
im/il/ag