The EU-backed Libyan Coast Guard has intercepted more than 13,000 asylum seekers and migrants at sea this year, preventing them from reaching Europe – already a greater number than in all of 2020. Those intercepted are returned to Libya and sent to detention centres where a well-documented cycle of extortion, torture, gender-based violence, and trafficking has been taking place for years.  
Following reports this week of minors being sexually assaulted by Libyan guards, the European Commission, the EU's executive body, said on 21 June that migration detention centres in the country needed to close.
At a glance: Libya's stalled detention centre reforms

The EU-backed Libyan Coast Guard has already intercepted more asylum seekers and migrants in the Mediterranean this year than in all of 2020.
Those returned to Libya are automatically sent to detention centres where they face extortion, torture, and trafficking.
EU efforts to work with Libyan authorities to improve conditions in the centres have so far been ineffective, according to human rights and aid groups.
A plan last year to close the centres most notorious for abuse appears to have been more about consolidating political control than improving conditions for detainees.
UN agencies and NGOs attempted to coordinate support for detainees being released from a facility in the town of Zintan. The shortcomings of that effort underscore the limitations of the international aid response.
Former detainees said they felt abandoned by the international community and saw little choice but to keep trying to cross the Mediterranean to Europe, often restarting the cycle of interception, detention, and abuse.
At the same time, the EU is facing intensifying scrutiny over its hand in the system due to its support for the Libyan Coast Guard – including the use of its aerial surveillance assets to coordinate interceptions and returns to Libya. It is criticised more broadly for offshoring its efforts to curb migration to a country where the international community is helpless when it comes to protecting asylum seekers and migrants, both in and out of detention.
Read More → The legal battle to hold the EU to account for Libya migrant abuses
Médecins Sans Frontières (MSF), one of the few NGOs periodically granted access to provide assistance inside Libyan detention centres, said on 22 June it is temporarily suspending activities in two facilities in the capital, Tripoli, due to an escalation of tensions inside since February. Over this period, MSF staff documented several deaths, treated detainees for fractures and gunshot wounds, and witnessed people being beaten by guards as they attempted to leave their cells for consultations with doctors. 
Last year, Libya's Department for Combating Illegal Immigration (DCIM) – which oversees the country's 20 or so official migration detention centres – decided to shut down and replace some of the facilities most notorious for abuse. 
"We are opening centres in areas beyond the control of the militias or outside towns where human traffickers are active," Mabrouk Abd al-Hafiz, the head of the DCIM, told The New Humanitarian in an interview last December. 
On its surface, the plan appeared to be a long-awaited step toward reform, and at least five detention centres have been shuttered since September last year, including Dhar el-Jebel in the town of Zintan, which The New Humanitarian visited in December while it was being shut down. The other four were in the coastal towns of Al-Zawiyah, Zuwara, Sabratha, and Al-Khoms – all known hubs for the people smuggling trade. 
In addition to the closures, the DCIM has lived up to its promise to open new facilities. Euphemistically referred to as "Gathering and Return" centres – and controlled by commanders close to Abd al-Hafiz – these include two in the desert far from the Libyan coast where conditions are reportedly harsh and the same cycle of abuse is taking place.
---
---
Notes obtained by The New Humanitarian from a May meeting of a working group monitoring EU-funded aid projects in Libya said conditions in one of the new centres, called Baten Al Jabal – around 190 kilometres southwest of Tripoli – are "reportedly brutal; guards routinely extorting ransoms for release… [an] escape attempt on 1 April led to [the] shooting of two migrants".
For years, the EU has been encouraging Libyan authorities to improve the human rights situation for migrants and refugees in Libya. But the DCIM has either been unable or unwilling to do so. For the EU, the continuation of abuses poses a "reputational risk", according to Human Rights Watch. 
Since 2017, Italy and the EU have been providing training, funding, and equipment to the Libyan Coast Guard. The support has helped contribute to a significant decline in the number of people crossing the central Mediterranean, but the majority of the nearly 65,000 people – mainly from East and West Africa, but also from as far away as Bangladesh – intercepted in the past four and a half years have been sent to DCIM-affiliated detention centres. Others have simply disappeared off the official radar. 
Read More → What happens to migrants forcibly returned to Libya?
In both cases, critics argue that the EU's support for the interceptions and returns makes the bloc complicit in the abuses taking place in the facilities where people inevitably end up. 
A new desert patrol unit – that Libyan authorities told The New Humanitarian is also benefiting from EU border management funding and equipment – started patrolling the country's land borders last October to prevent asylum seekers and migrants from reaching departure points on the coast. People picked up by the unit are also sent to the new "Gathering and Return" centres in remote desert towns, according to the DCIM.
Prospects for actual reform of the detention centres by Libya's new Government of National Unity (GNU), which took office in March, appear slim due to the continued power and influence of militias in the country: They see controlling the facilities as a lucrative source of revenue and a way to gain political legitimacy. 
"The only meaningful protection is to provide safe shelter from abusers and immediate evacuation."
Since the GNU took office, a number of European leaders – including EU commissioner for Home Affairs Ylva Johansson – have visited Libya to reaffirm the importance of cooperating to control migration and improve conditions in detention centres.
But after years of Libyan reticence, human rights groups and aid organisations say EU calls to improve detention conditions are increasingly tone-deaf to the reality asylum seekers and migrants face in the country. 
"The protection response cannot be just about distributing food and relief items," Lucie Eches, from the MSF protection team in Libya, told The New Humanitarian. "The only meaningful protection is to provide safe shelter from abusers and immediate evacuation."
During several reporting trips to Libya between October 2020 and March 2021, The New Humanitarian discovered just how ineffective the process of closing the detention centre in Zintan was – as well as the extent of the failures to account for the needs of former detainees.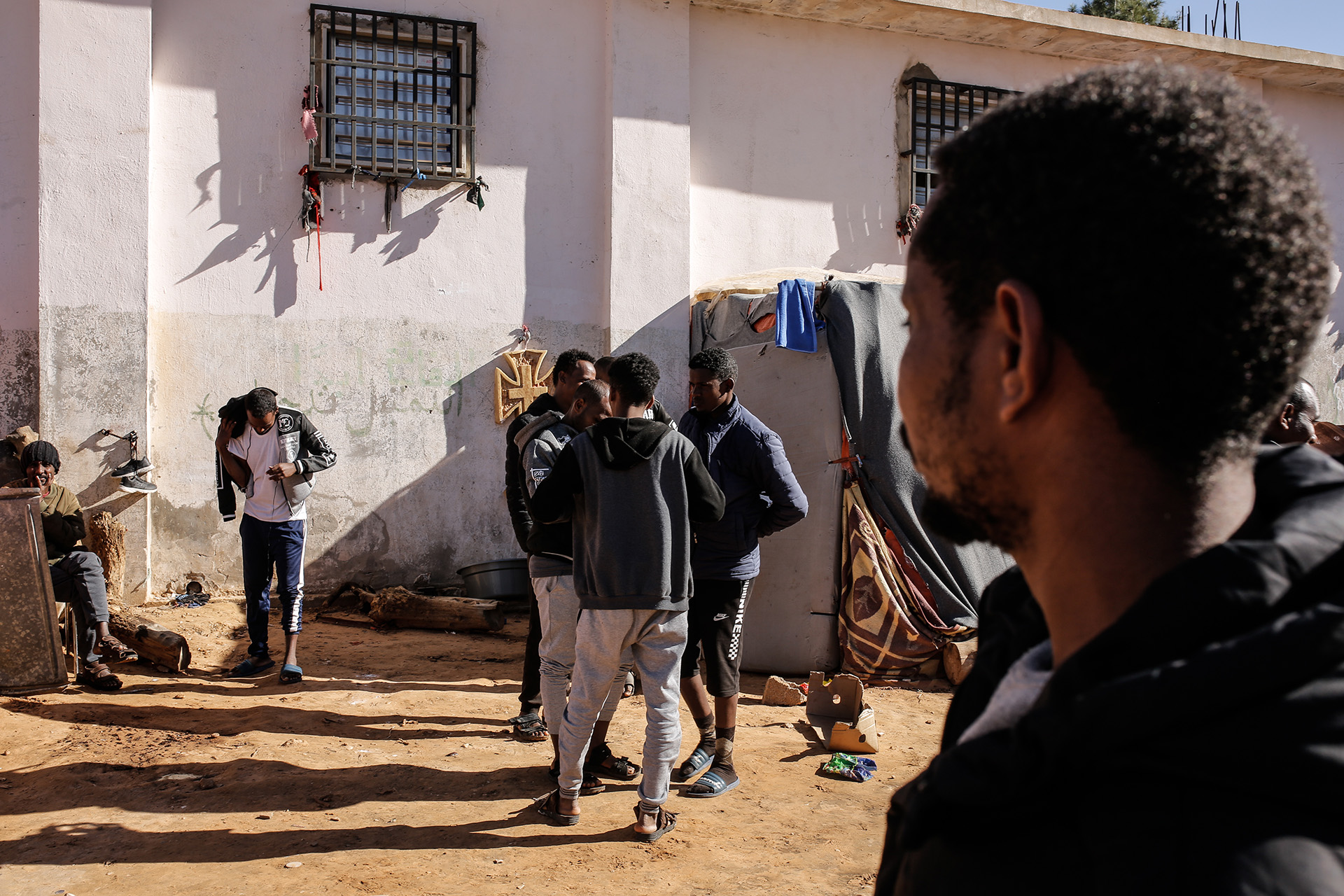 Closing Zintan
"I am lucky to survive from Zintan," Tumzi, a 34-year-old Eritrean asylum seeker who spent more than two years in the Dhar el-Jebel detention centre in the town, told The New Humanitarian. "I am lucky to be here and speak as a witness."
Like tens of thousands of other Eritreans, Tumzi fled his home in 2009 to escape the country's mandatory, indefinite military conscription. In the intervening years, he struggled to find stability and a safe place to call home – first venturing to Israel, only to then be deported to Uganda. Eventually, he made his way through Sudan to Libya in 2017 with the hope of crossing the Mediterranean and reaching Europe. 
Instead, Tumzi ended up trapped in Libya's detention centres. After being intercepted at sea in 2018 by the Libyan Coast Guard, he was sent to a centre close to the airport in Tripoli. When that facility got caught in the crossfire during a battle for control of the city in the summer of 2018, Tumzi was transferred to the centre in Zintan, located in the mountains to the south. 
Conditions inside Dhar el-Jebel were horrendous, according to Tumzi, and the centre's remote location made it difficult for the UN's refugee agency, UNHCR, and other international organisations to visit and provide aid. 
Around 700 asylum seekers and migrants were held in an overcrowded hangar with only four toilets, no showers, and sporadic access to water that was unsuitable for drinking, according to an MSF report. The head of the centre would withhold food from detainees as a form of punishment, and at least 22 people died of tuberculosis during an outbreak in 2019. More than 100 others fell sick. 
After the outbreak, the population of the detention centre dwindled as some people paid bribes to leave and others escaped. The decision to finally close the facility appears to have been made in early December 2020, according to a leaked email from the UN's emergency aid coordination body, OCHA, seen by The New Humanitarian. 
There were 325 asylum seekers and migrants in the detention centre at the time, and the DCIM had agreed to release them and help transfer them to Tripoli over the course of about a week. 
The closure was supposed to be completed by mid-December but was held up by negotiations between the DCIM and UNHCR over how many guards were needed to provide security during the transfer, and by the DCIM's request for UNHCR to pay for their services during the process, according to Abd al-Hafiz. 
"I am lucky to be here and speak as a witness."
"We need the official police escort, so this took time to get agreement from the authorities," Jean-Paul Cavalieri, UNHCR's head of mission for Libya, told The New Humanitarian. "It took time also to inform the people and asylum seekers on what UNHCR can provide," Cavalieri said. "We have to be very honest about our limitations in a country like Libya."
When The New Humanitarian visited Zintan at the end of December, almost two weeks after it was supposed to be closed, the official process of releasing people and transferring them to Tripoli had yet to start. In the meantime, conditions had deteriorated further: Makeshift shelters had been dismantled in anticipation of the closure, and people were sleeping outside in the cold and rain.
Asylum seekers and migrants were turning to smugglers charging 400 Libyan dinars – about $100 at the black market exchange rate – to take them to the capital. "Out of desperation, many refugees started to find their way to Tripoli," a Somali refugee who was still in Zintan told The New Humanitarian during the visit. 
---
---
The escapes were dangerous, and numerous people went missing after leaving the centre, according to a humanitarian aid worker, who asked to remain anonymous because they weren't authorised to speak to the media. 
By the time the official transfer of the final remaining detainees took place in mid-January – a month after the process was supposed to have been completed – only 121 asylum seekers and migrants were left to be released from the facility.
Life outside detention
After escaping or being released, many former Zintan detainees ended up in densely populated areas of Tripoli where thousands of other asylum seekers and migrants – including minors – share crowded rooms in rented apartments or live in abandoned buildings. 
A leaked email thread between employees of UNHCR; the UN's migration agency, IOM; and other aid organisations working in Libya shows they had planned – but were unable to coordinate – an effective response to the humanitarian needs of former Zintan detainees.
As the release was delayed and people fled the worsening conditions at the detention centre using smugglers, the response appears to have dissolved into confusion, according to the thread, seen by The New Humanitarian. 
On 20 December, four days after the closure was due to have been completed, a UN employee wrote that they had received information from another organisation "about several detainees escaping from the Zintan [detention centre] to reach Tripoli and try to get registered with UNHCR". 
"One of their [key informants] reported that 10 detainees who attempted to escape were captured last night and prolonged gunshots were heard," the employee continued, asking: "Would you have any information on this?"
MSF, as well as several asylum seekers who spoke to The New Humanitarian, said UNHCR asked the detainees who remained in Zintan to sign a form before they were released stating that the UN refugee agency would not provide them with shelter or cash assistance, which an internal email said the agency was unable to do because of "cash liquidity problems".
"I don't see any efficient response [being] implemented on the ground."
After the official release in mid-January, MSF said it received calls from several former detainees who were disoriented and confused after spending years in detention only to be dropped off in front of UNHCR's office in Tripoli by transport organised by UNHCR and the DCIM. The former detainees said all they were given was an asylum certificate, pocket change to pay for transportation in the city, and promises they would soon get a food parcel, which few actually received. 
UNHCR told The New Humanitarian people released from Zintan did receive emergency cash assistance and other support from UN partners, including cash cards that could be used at over 4,000 shops in Tripoli, but did not specify when the support was provided. 
Libya is not a signatory of the 1951 refugee convention, and Libyan authorities only allow UNHCR to register people from nine nationalities as refugees, even if others have legitimate claims to protection under international law. 
UNHCR's ad hoc standing in Libya makes it difficult for the agency to do everything from obtaining visas for staff to providing cash assistance – even to people who do fall under the agency's mandate – according to Vincent Cochetel, the UN agency's special envoy for the Central Mediterranean.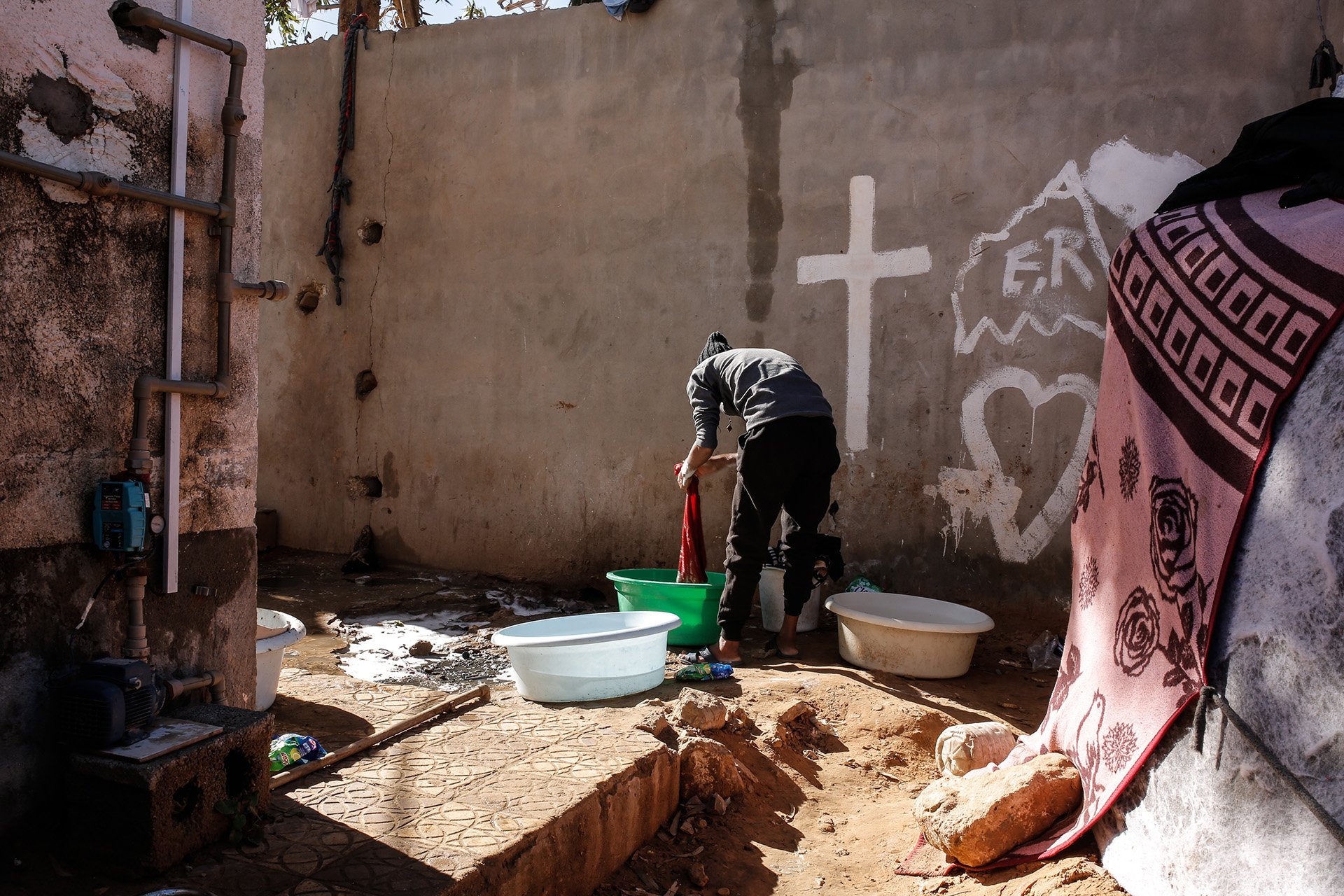 Refugees and asylum seekers who spoke to The New Humanitarian in Tripoli said they sometimes had to wait up to eight months for an appointment with UNHCR, and that it was difficult to register with the agency or access the limited amount of assistance offered. Many said they felt like they had been left on their own by the international community and were struggling to make ends meet. 
Assistance from NGOs – primarily funded by the same European governments pushing Libyan authorities to curb migration – is also not forthcoming. "There are many NGOs present; there are coordination meetings; there is a lot of talking. But then I don't see any efficient response implemented on the ground," one international aid worker, who asked to remain anonymous for security reasons, told The New Humanitarian. 
"It's like steam that just vaporises somewhere in the air," they said. "And it's still a question to me why it is like this because there are a lot of funds coming to implement projects."
The cycle
In response to the dismal conditions in Libyan detention centres in recent years, UNHCR and other international organisations have sought to establish alternatives, especially housing in urban areas. 
"It's very easy to convince donors that you can open a shelter for survivors of violence and sick migrants, minors, families, people who have been released from detention," a local aid worker in Libya, who asked to remain anonymous because they weren't authorised to speak to the media, told The New Humanitarian. 
The owners of apartments and houses in Tripoli also have an incentive to rent to international organisations because they pay in dollars, according to the EU meeting notes seen by The New Humanitarian. But the involvement of international actors often only provides a veneer of protection. 
Because irregular entry into Libya is criminalised, asylum seekers and migrants face the constant threat of being apprehended by Libyan authorities and returned to detention centres. The weakness of Libya's government institutions also means that the criminals and armed groups that control territory in many parts of the country can target and exploit asylum seekers and migrants with impunity. 
"If something happens in the shelter, like someone passes away due to a serious medical condition, you will be obliged to call the police, and they may arrest people. This has happened in the past," the local aid worker added.
Apartments and houses where asylum seekers and migrants live are also frequently targeted for robberies and violent crimes. Because they have no legal status, the victims are often afraid to go to the police or are met with indifference or hostility when they do. 
The Libya Platform, a coalition of local civil society organisations that works closely with asylum seekers and migrants, told The New Humanitarian that the support provided by UN agencies and international organisations is inadequate: A UN support hotline often goes unanswered, and for those who are able to access some services, they are rudimentary and do little to alleviate the dire situation many people are in. 
"We saw negligence by UNHCR, and lack of reactivity and skills of field partners to deal with human rights violation victims and vulnerable groups in general," said Tarik Lamloum, a Libyan activist who is part of the Libya Platform and regularly visits detention centres to deliver humanitarian assistance. 
"We are left with the only option: to cross the sea."
UNHCR told The New Humanitarian that its staff strive to provide comprehensive answers to all requests received via its support hotline and other forms of communication, adding that the number of personnel available to respond is limited. The agency did not respond to the other allegations.
For Diletta Agresta, a legal expert at the Association for Juridical Studies on Immigration (ASGI), an Italian NGO, the fact that UN agencies and international NGOs try to improve the situation for asylum seekers and migrants without conditions actually changing acts as a figleaf for EU migration policies that perpetuate the cycle of abuse in Libya.
"It's important to legally monitor the activities of humanitarian actors… that legitimise externalisation policies," Agresta said. 
Like other asylum seekers and migrants who had been in Zintan, Tumzi is now in Tripoli and lives with a constant feeling of fear and abandonment. "We are ignored by the international community. We are always waiting, but nothing [changes]," he said. "We are left with the only option: to cross the sea."
With local reporting support from an individual whose name is being withheld due to security concerns. 
Video by Sara Creta. The migrants featured preferred not to be identified.
sc/er/ag