A short walk over the bridge that connects the United States to Mexico, a group of 14 Guatemalans, the youngest a three-year-old girl, wait in the already hot early morning sun on the Mexican side of the San Ysidro crossing between Tijuana and San Diego.
The group, who had to pay off drug cartels for safety during the journey to Tijuana, slept rough on the roadside the past four nights. They are running low on money and need food and water. Fed up, losing hope, and scared, they are thinking about giving up and taking the long trip back to Guatemala – but that will only be possible if they receive money from a relative.
A Honduran couple with young children wait for their number to come up on the metering system at the El Chaparral processing centre in Tijuana. This moment can take weeks to arrive and only allows them into the United States to begin an asylum process that can itself take several weeks or months and often ends in failure and deportation. Their children slept on a cardboard box the night before.
The father breaks down in tears as he recounts how they fled the cartels fearing for their lives following the murder of a close relative. They decided their best option was to seek asylum in the United States, but he says he hasn't been able to find any advice or support. They are uncertain how the process works and unsure what it entails.
These stories reflect the worsening situation in northern Mexico, where new measures enforced by President Donald Trump's administration – migrants need to present themselves at one of the few designated ports of entry; only a limited number can apply each day; and application fees have now been ordered – have seen a build-up of thousands waiting to cross.
In San Diego, up to 80 asylum seekers are processed each day, but the waiting list in Tijuana is 4,800 people, according to the Associated Press. More people arrive daily – not just from Central America, but from as far away as Cameroon – a separatist insurgency is raging in western anglophone regions – and Cuba, along with migrants deported from the United States seeking to return.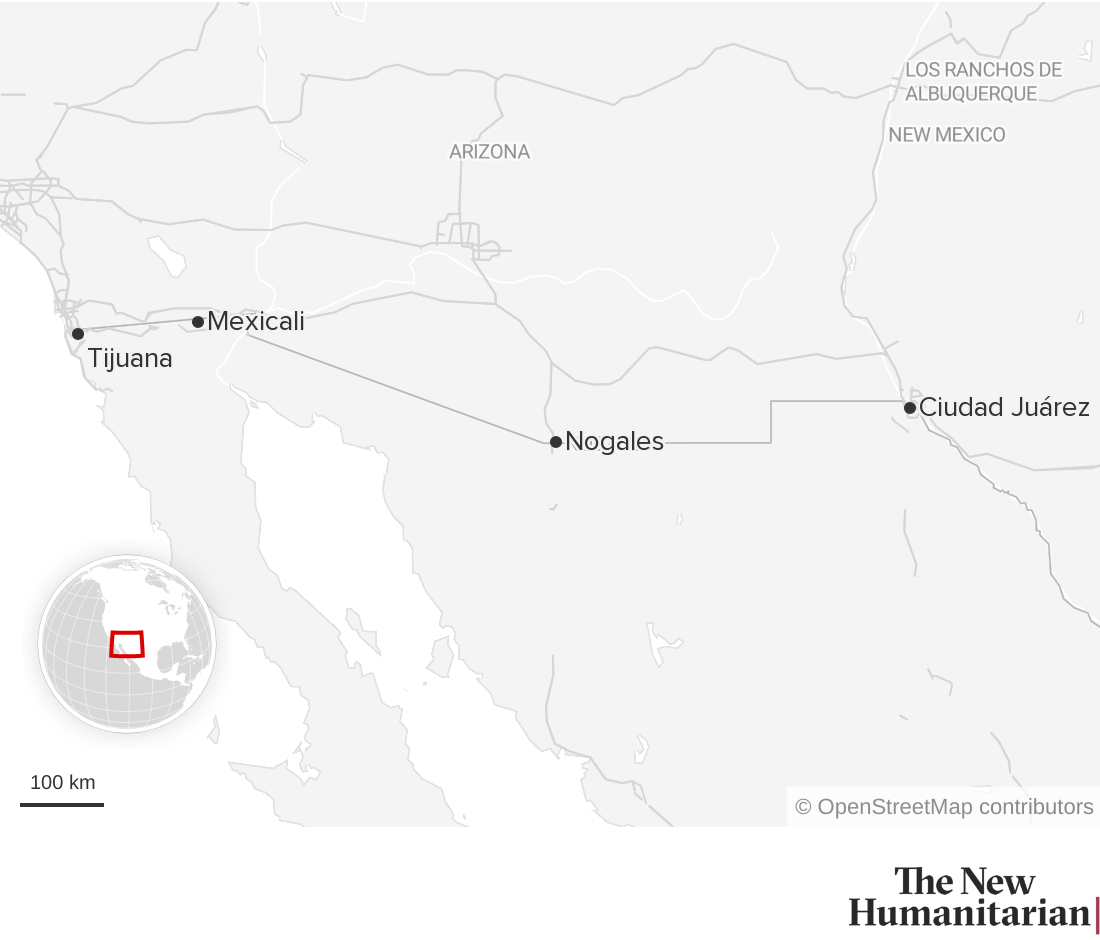 Tijuana and other border cities from Mexicali to Ciudad Juárez are increasingly under strain. A recent International Rescue Committee assessment stated that "shelters designed to host 100 people for a maximum of three days are now hosting 300 people for well over a month."
Father Pat Murphy, director of Tijuana's Casa del Migrante shelter, which houses 120 migrants and refugees, says many families have to rely on overstretched shelters run by overstretched volunteers and aren't "sure where their next meal will be coming from".
The scale of need on the border is growing and already far outweighs the efforts of a few NGOs and volunteers. "It is a humanitarian crisis, but we don't see any humanitarian response to it," says Father Murphy.
'Trust the Jaguar'
Medical services in Mexico are available for all, including migrants. There are 28 shelters in Tijuana – some of which are run by volunteers. Services include mental health support, food, help finding jobs, and information about the asylum process. Some migrants live in rented accomodation or hostels, but return to the shelters for meals.
But Father Murphy, who recently visited several shelters, says the reality is that services in Tijuana are overwhelmed. The UN's refugee agency, UNHCR, and a smattering of NGOs are attempting to fill the void, with the assistance of some Mexican government departments.
Médecins Sans Frontières provided emergency medical and mental healthcare in the aftermath of the first large "caravans" arriving last year. It is not currently operating in Tijuana, but still has services in Tenosique, Coatzacoalcos, Reynosa, Matamoros, Nuevo Laredo, Mexicali, and the capital, Mexico City.
The UN's migration agency, IOM, conducted a survey in Tijuana in January to understand emerging needs. More than two thirds of the Central American migrants surveyed were still looking for alternative ways to enter the United States, while 22 percent were searching for a job in Mexico and only four percent wanted to return to their country of origin.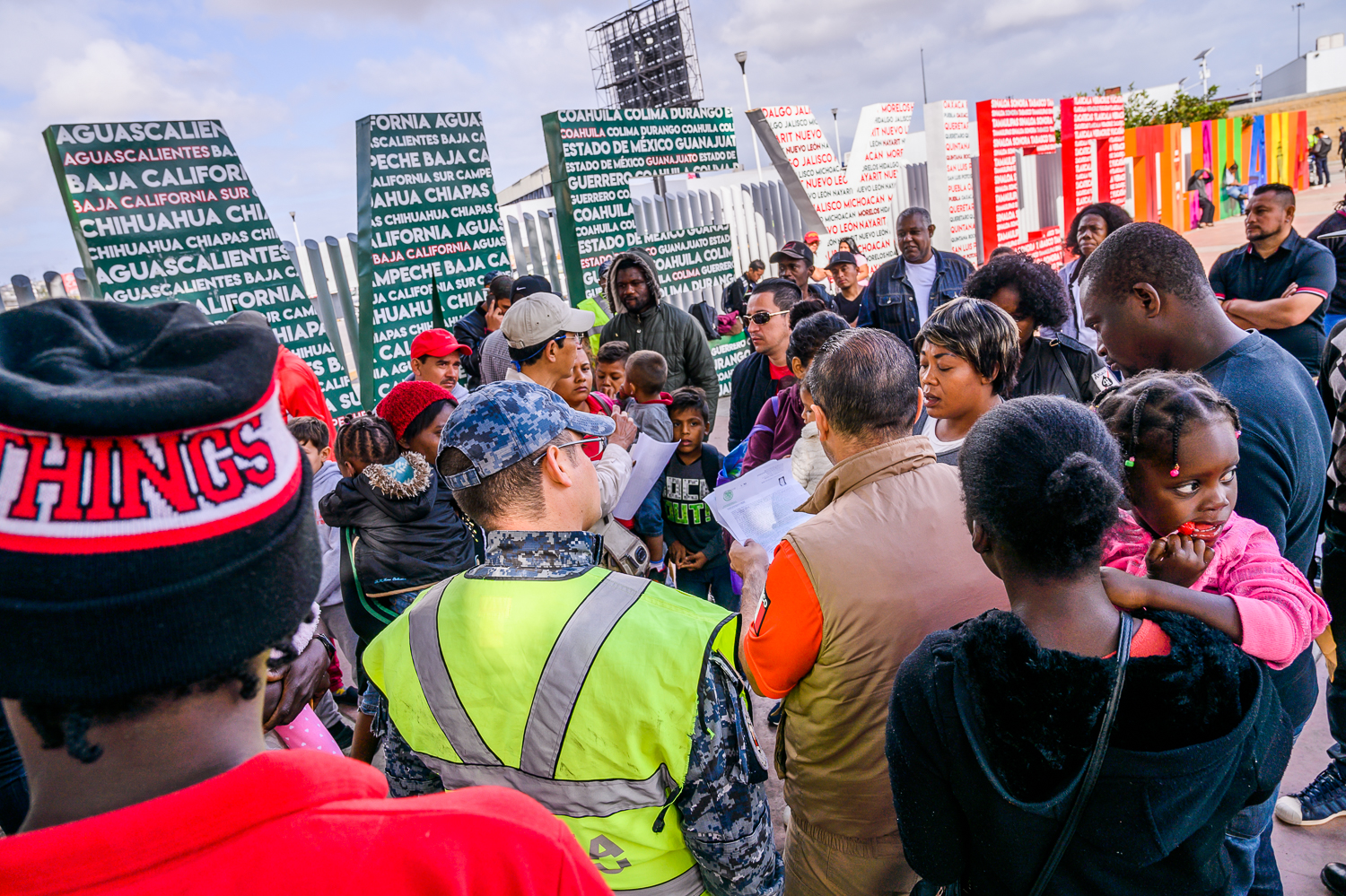 Incoming refugees and migrants in Tijuana told The New Humanitarian that one of the biggest gaps is the lack of information available about what to do and where to seek help after they arrive in the city.
Of particular concern are those who have been sexually assaulted or abused in other ways, often violently, during either their travel to the border or the events that forced them to flee their homes.
"To help ensure people who need international protection are adequately informed, we work with a network of NGO legal aid partners, COMAR (Mexico's refugee commission), and the National Migration Institute (INM)," said a UNHCR spokesperson.
To enable asylum seekers to obtain accurate information and communicate with one another, they have created a Facebook page and hotline under the name "Confiar en el Jaguar", or "Trust the Jaguar" in English.
But the problems don't stop with a lack of information.
For example, a Honduran who arrived in Tijuana late last year – who requested to speak anonymously due to fears over his personal security – told TNH about his legal troubles and the asylum process.
Scheduled to have a court hearing on his asylum application a few hours later across the border in San Diego, he had yet to find a lawyer to represent him. Not wanting to miss the potentially life-changing appointment, he attempted the San Ysidro crossing, only to be refused entry. After trying unsuccessfully to cross a number of times in the following days, his paperwork was confiscated, leaving him an irregular migrant at the back of the queue again.
Some Mexican-based legal organisations such as Al Otro Lado and Casa Cornelia work pro bono to help with claims, with others providing support from San Diego, but many asylum seekers say they feel under-represented, or fail to have their personal stories fully and accurately conveyed.
Frustrated by what they see as an unfair system and giving up hope of a fair hearing, many attempt to cross the border illegally by themselves or seek money from family members in the United States to pay for people-smugglers, called coyotes, to help them cross.
The number of Central American families apprehended trying to cross the US southern border was 58,474 in April – the highest since Customs and Border Protection began collating figures in 2012. The spike in illegal crossings has even seen armed US militia detaining immigrants across the border.
"The price to cross illegally – which includes food, transport, and somewhere to stay – is $12,000-$14,000 for one person to cross through the port of entry at San Ysidro," Victor Clark-Alfaro, director of the Binational Center for Human Rights in Tijuana, told TNH. If you are willing to try to cross further along the border, often via more dangerous and remote routes, the price is $6,000-10,000 per person.
A dangerous limbo
Waiting in Tijuana poses its own risks.
Tijuana is one of the most dangerous cities in the world: 2,502 people were killed here last year – a rate of 126 murders per 100,000 inhabitants.
In early December, two young Honduran asylum seekers were murdered in the city by drug-dealers. And Father Murphy recounts the recent story of an asylum seeker attacked in a Tijuana shelter with a hammer – the victim said his attackers were from the same drug cartel that caused him to flee his home in the first place.
In a country where experts estimate that 500,000 people work in some capacity within the drug trade, the pressure from the cartels and the lure of making some "easy" money can be difficult to resist for some asylum seekers. The other fear, particularly in Tijuana, is that vulnerable new arrivals will become part of a drug-taking epidemic that has seen anywhere between 10 and 20 percent of the city's 1.3 million population become addicts.
For some, the prospects of a lengthy wait are just too grim, so they undertake journeys that carry huge risks for them and their family members.
Father Murphy mentions one asylum seeker "who wanted to leave his child on the [Mexican side of the] border" to better his chances of crossing into the United States. Eventually, he gave his child to another migrant he had only met that day and who was seeking to cross the border elsewhere. Father Murphy didn't know their eventual fate.
On 20 May, a 16-year-old Guatemalan boy died at a border patrol station after entering the US without his parents the week before. He is the fifth Guatemalan minor to die at the border since December.
Under pressure from President Trump to crack down on refugees and migrants illegally crossing into the United States, the Mexican government recently reversed its welcoming policy and began intercepting new "caravans" prior to them reaching the US border.
But despite all the delays and the dangers in northern Mexico, the number of arrivals is only expected to rise, as poverty, displacement, and gang-related violence in Central America show no sign of abating.
(TOP PHOTO: People enter the queue to cross the Mexico/US border at the El Chapparal border crossing in Tijuana, Mexico. )
jb/ag