1 February 2021 started like any other day for Sayadaw U Yaw Gyi, a Buddhist monk and monastic teacher living in Myanmar's Irrawaddy region. He woke up at 4am, went out to collect alms, and returned to his monastery at 5am. Only then did he check Facebook and learn that the military had staged a coup. The internet and phone line were cut off soon after. By 8am, the coup was confirmed by a state TV broadcast announcing the military had seized power. "When I heard the news, my mind was not on teaching anymore," he said. 
Like many people swept up in Myanmar's pro-democracy movement, the 32-year-old was not interested in politics before the coup. But days later, he joined people around the country in what became a nightly ritual of banging pots and pans to symbolically drive out evil. Within a week, U Yaw began leading protests in Kyangin, a town on the Irrawaddy river.  
This is no easy thing. The junta has responded to any resistance to its power with deadly force. In the 21 months since the coup, the military has killed more than 2,370 people (including five monks) and arrested almost 16,000 people (including 61 monks) in its crackdowns on the pro-democracy movement, according to the Assistance Association of Political Prisoners, a rights group that has been compiling data on the protests. But U Yaw still believes in the power of nonviolent protest to motivate the people. "[I want] to make people think, 'Even these monks continue protesting, why aren't we?'" he said.
In death valley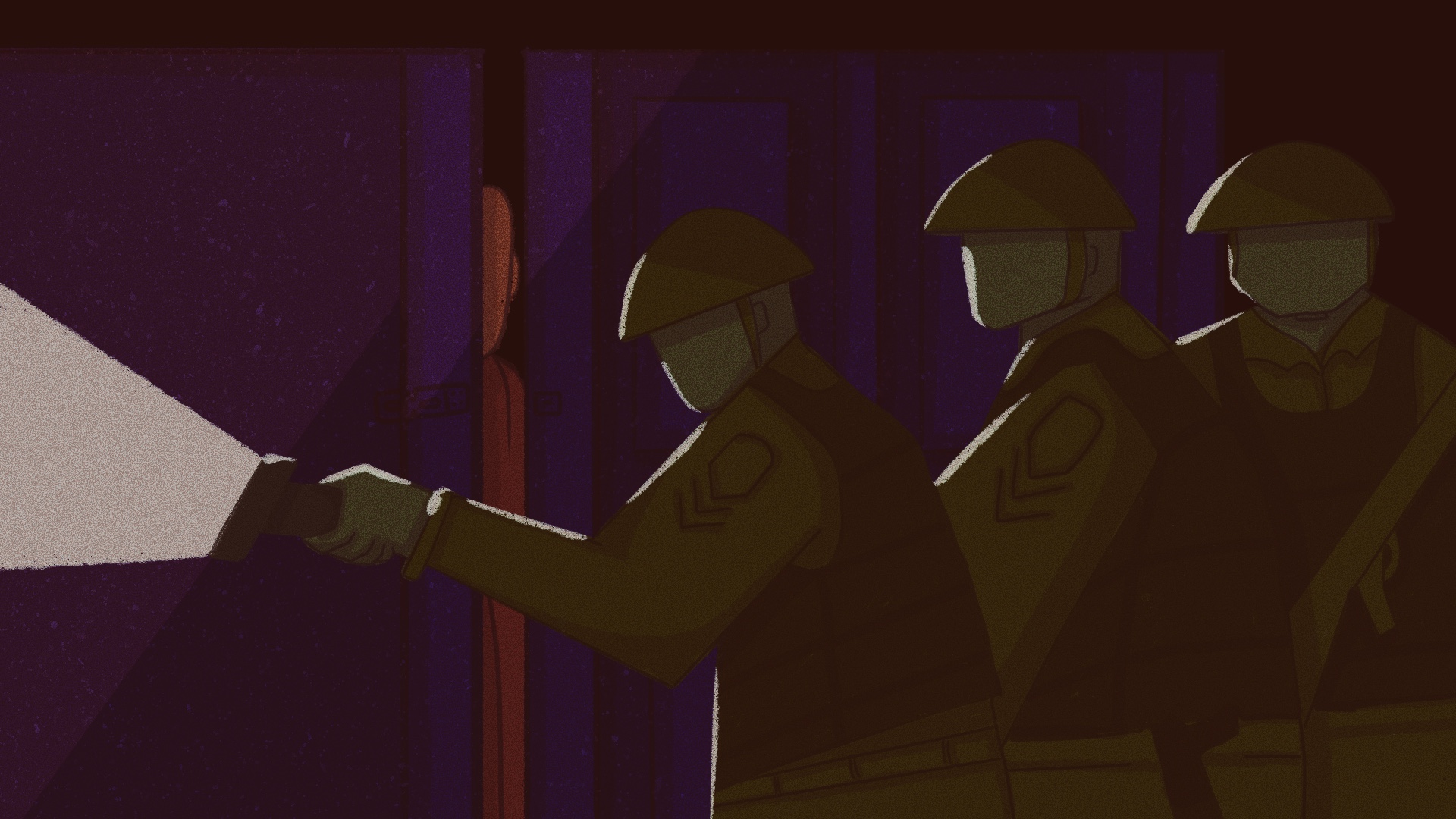 U Yaw described numerous close calls with military forces and police since last March, when he was charged under Section 505A of Myanmar's Penal Code. The law, which criminalises "causing fear" or "spreading false news" or "incitement", was used against nearly 4,000 people in the year after the coup alone, according to the Free Expression Myanmar rights group. 
But the military didn't only go after him through legal channels. As it scaled up its crackdowns in March 2021, some 60 soldiers and police raided his monastery at night. He hid in the toilet and overheard soldiers saying they would "clear him [out]" by shooting him to death if they caught him. "I curled up in the small open corner for about an hour," U Yaw told The New Humanitarian. "I was reciting Buddhist prayers, but I recited them wrong many times because I was scared."
Life on the run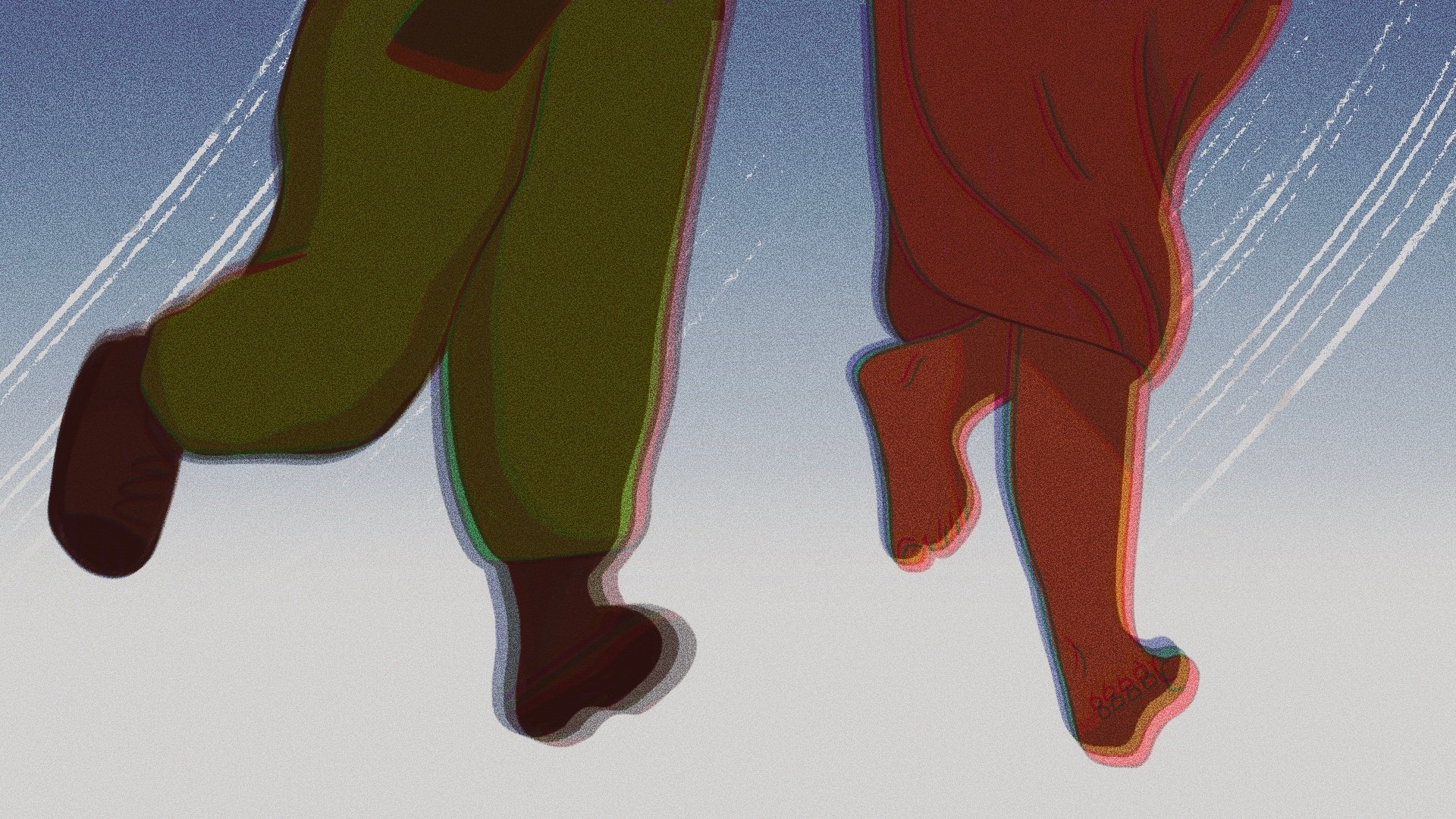 In April 2021, U Yaw moved to Mandalay and joined the Mandalay Sangha Union, which has been active in the nonviolent protest movement despite facing numerous crackdowns, some of them violent. On several occasions, U Yaw has witnessed military forces accelerate vehicles into crowds of protesters, including monks, sometimes hitting them.
In such cases, he has to run for his life and take cover wherever he can – sometimes in the homes of people who have opened their doors at risk to their own lives. "I still have to wear a Buddhist monk robe even when I protest. Because of its bright colour, it is so easy to spot me in the crowd," he said. "Because of kind people like that, I could escape from life-threatening danger." 
Under heavy surveillance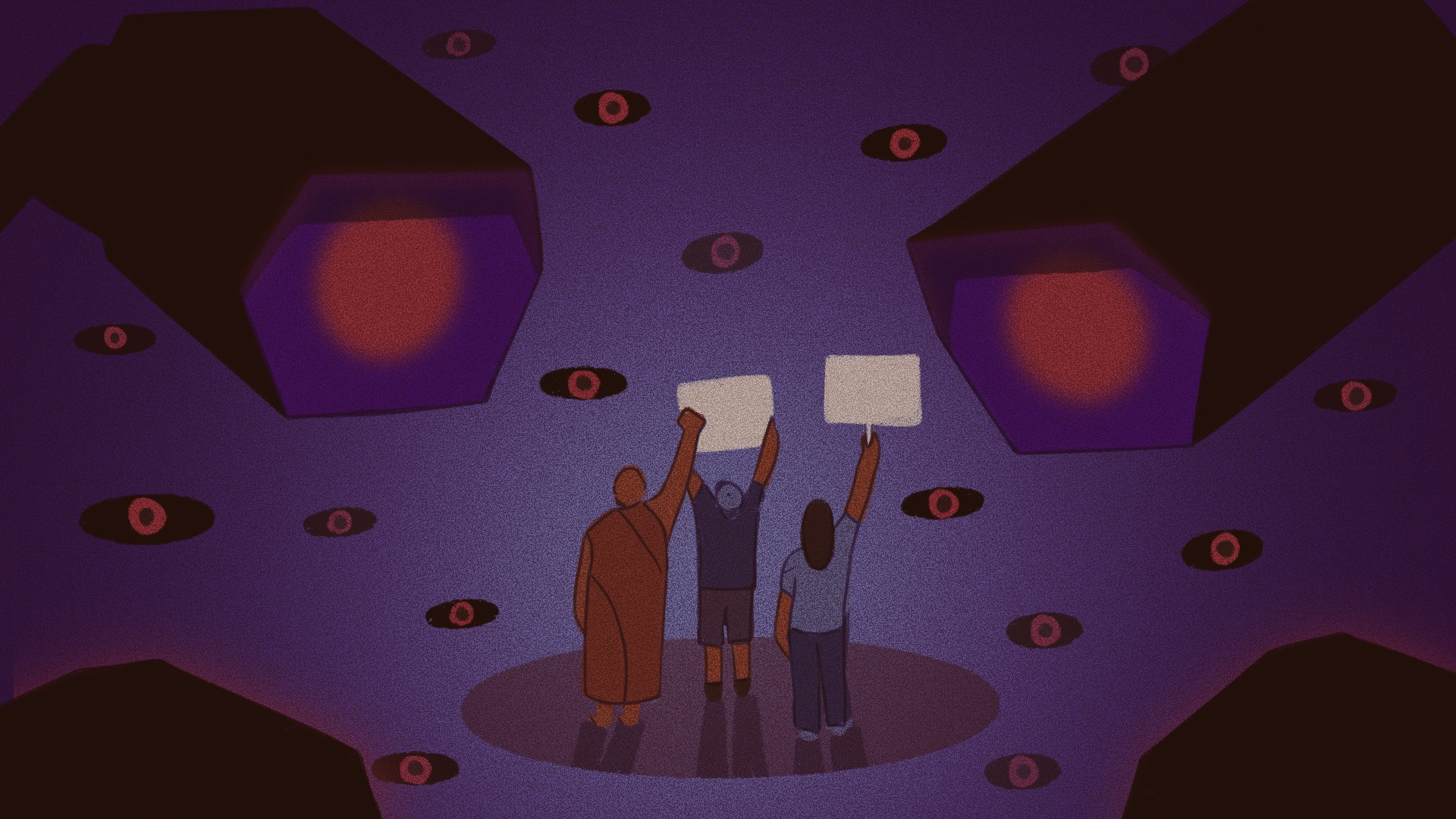 The military's lethal crackdowns on peaceful demonstrators and use of intense surveillance to monitor anti-coup movements has led to a sharp decrease of protests since April 2021, and the situation is only getting worse. "Currently, in Mandalay, it is dangerous to strike… CCTV cameras are everywhere," said U Yaw. "We mostly protest in the wet markets, but [the military] planted plainclothes personnel around there too."
Power of solidarity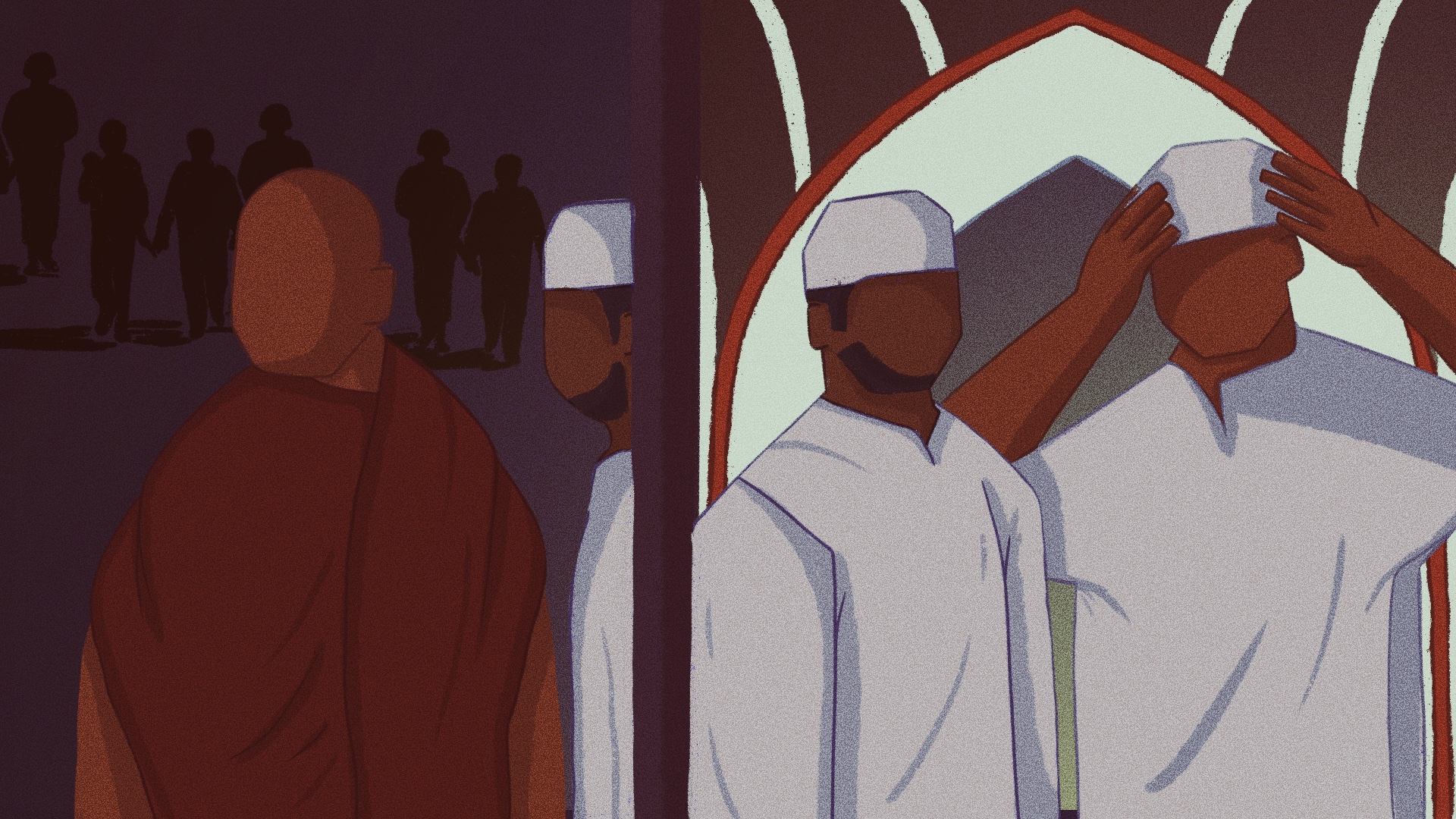 Monks have historically held a revered social status in predominantly-Buddhist Myanmar. They have also played a prominent role in the country's struggle for democracy, most notably in 1988, when the country erupted into protests, and in 2007, when thousands of monks refused to accept alms from the junta and led demonstrations that became known as the "Saffron Revolution". The military violently suppressed both uprisings, and numerous monks were among the thousands of people jailed or killed. 
But the past decade has also seen a schism among Buddhist monks, with large segments swept up in an ultranationalist movement promoting Islam as a threat to Myanmar's Buddhist identity. Since the coup, some monks have given religious blessings to the regime and even participated in pro-junta militias. That said, and despite this division, people from different backgrounds have joined in powerful solidarity since the coup. 
In May 2021, U Yaw had to run for his life when the junta forces accelerated their vehicles into a crowd of protesters, hitting two monks. The monk and some fellow protesters took shelter in a mosque. "They gave us their clothes, including kufi hats, so that we could escape from the crackdown," he said. "I will always remember that."
A narrow escape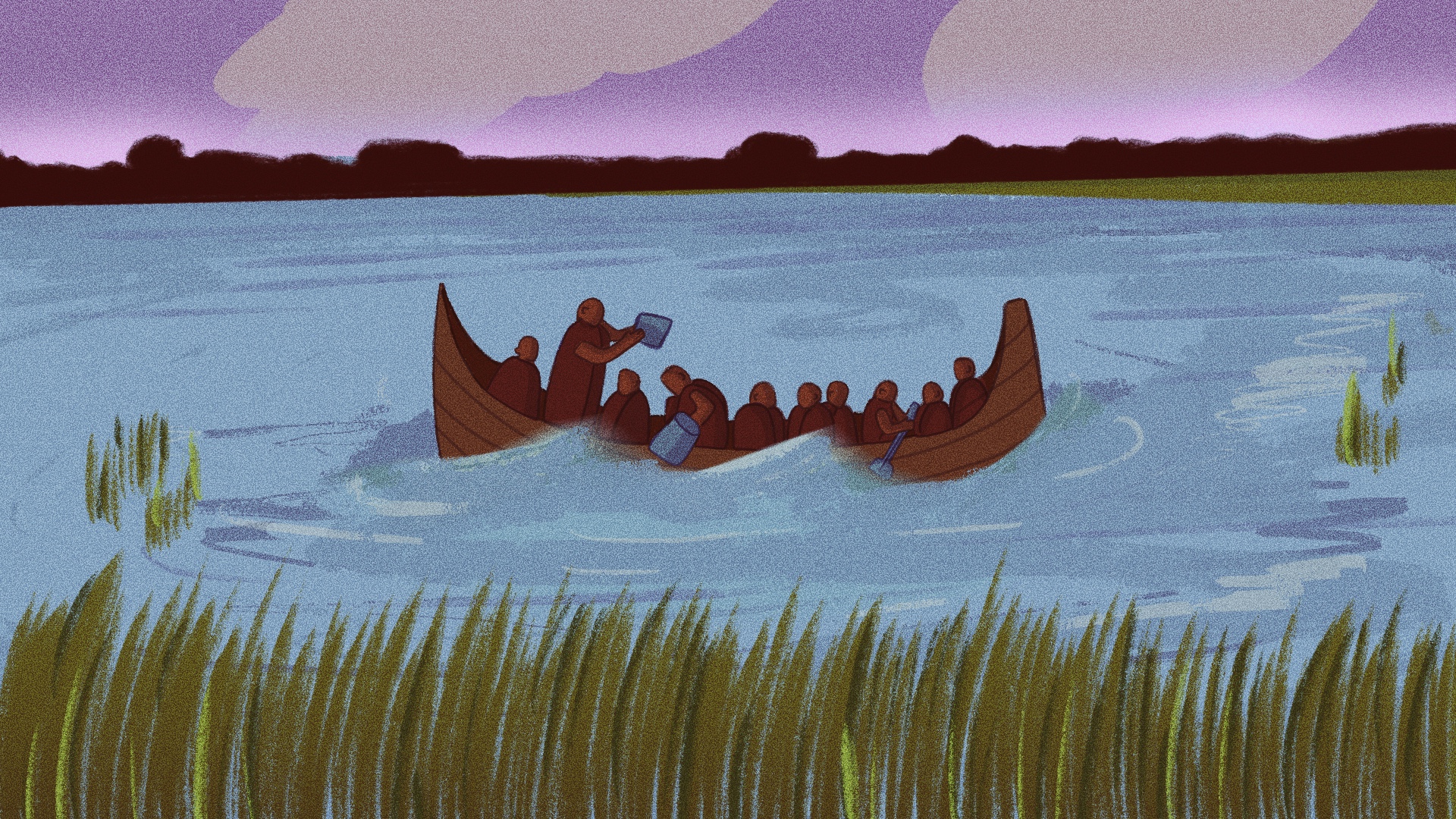 U Yaw again narrowly escaped junta forces during a May 2021 protest in Inn Wa, an ancient city on the outskirts of Mandalay. To throw soldiers off their trail, the protest group pretended to be pilgrims, but as soon as they started chanting protest slogans, soldiers opened fire, sending the monks running. 
First, they hid in a banana field. "Some monks lost their shoes while they were running. One monk even urinated because he was so scared," said U Yaw. "We heard soldiers screaming to 'kill all those monks'. We were hiding in the banana plantations and they were shooting continuously. They were shouting, 'Drop all of your weapons'. And I was thinking, 'What weapon should we drop?'" 
With soldiers approaching, the monks made a dash for the banks of the Irrawaddy river. Not daring to make a sound, they waved their robes to summon a boat to ferry them across. "We would rather die drowning in the Irrawaddy River than getting arrested," said U Yaw. They crammed 10 monks into one boat, bailing out water with a small mug to keep it from sinking. They safely made it across and U Yaw soon resumed protesting. 
Everything is a target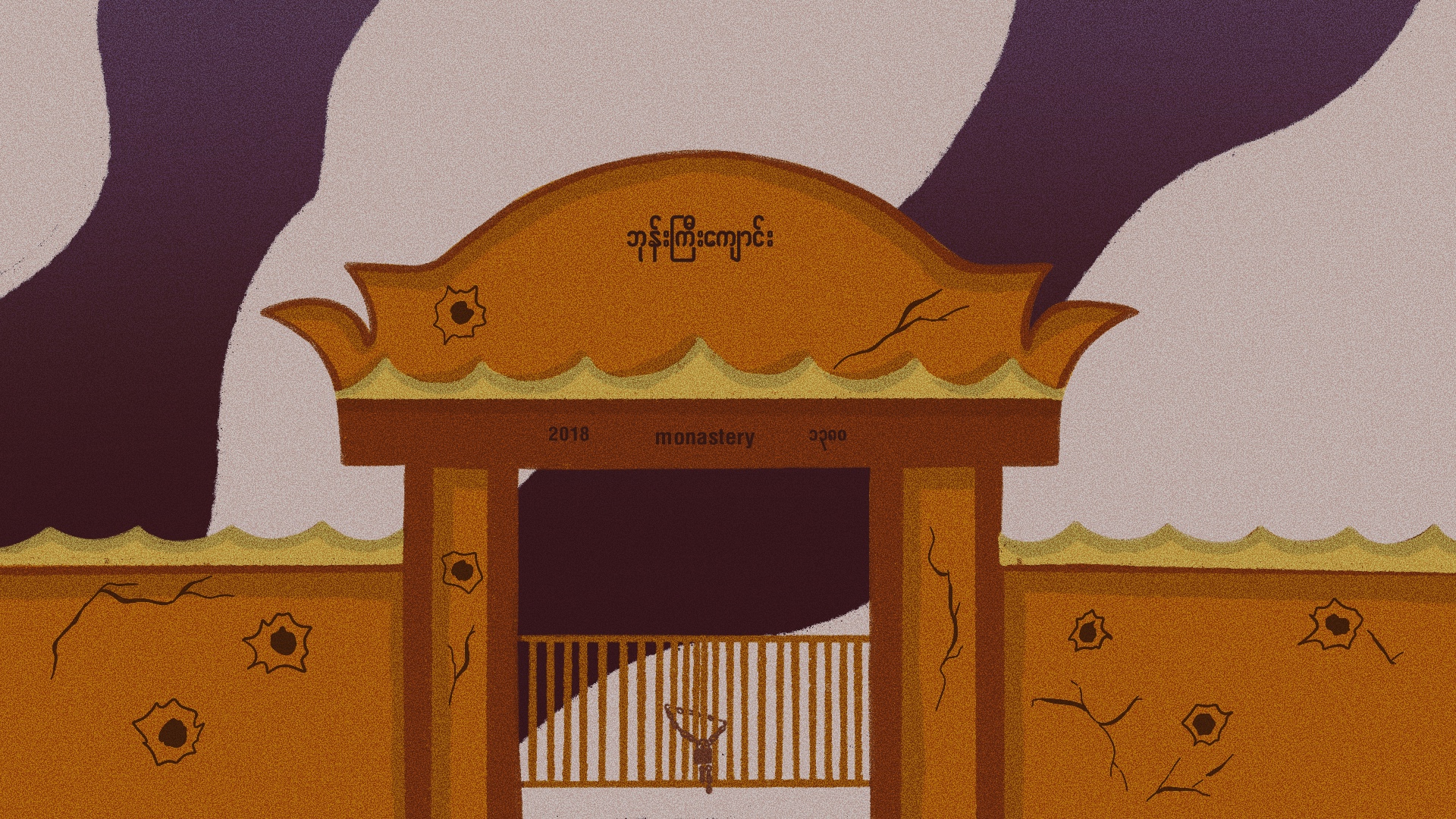 While the military has a history of destroying churches and mosques, it has also targeted monasteries since the coup, accusing them of sheltering those associated with the anti-coup movement or who have been displaced by military attacks. U Yaw has had to flee several monasteries due to military raids.
On 28 September 2021, one such raid interrupted vassa, a three-month period of intensive meditation for Theravada Buddhism practitioners. When a large convoy of soldiers arrived at U Yaw's monastery, he had to jump over its perimeter and cross a waist-deep pond to avoid being arrested. "Half of my body was covered in mud. I ran past a railway track. People there were looking at me, but I escaped," he said. Since then, soldiers have been actively looking for U Yaw. When they couldn't find him, they sealed the monastery in February 2022 and forced all its monks to evacuate. "This monastery was sealed because of me – because I had been allowed to stay there," U Yaw said. 
Hoping for a better Myanmar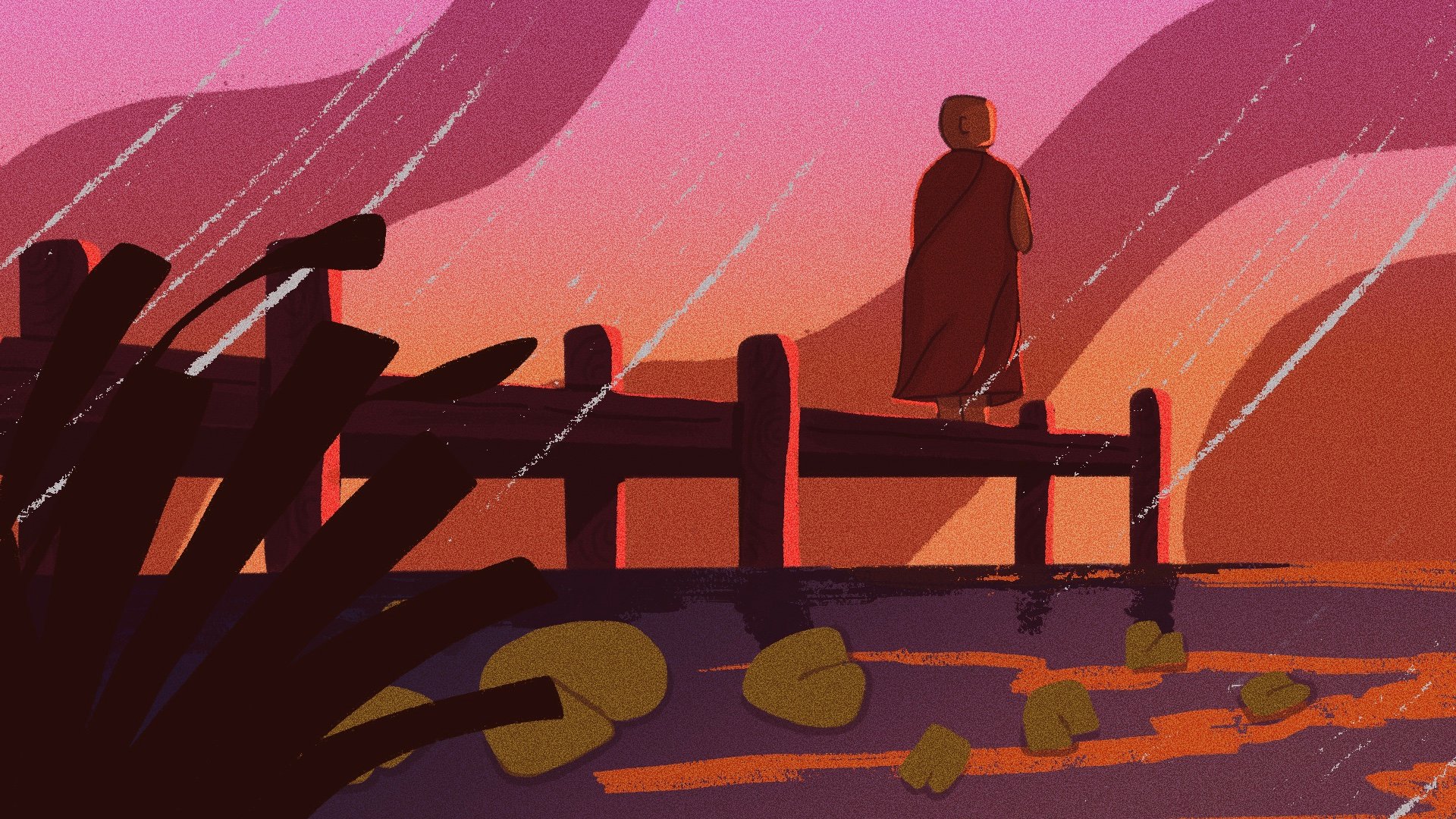 Despite the immense danger and high surveillance, U Yaw  is still staging guerrilla "flash mob" protests along with his fellow monks as well as laypeople. Due to the military's consistent use of lethal force on the nonviolent protest movement, flash mob protests in which smaller groups run quickly through the streets before dispersing have become popular in Myanmar since April 2021, but even these have been met with deadly crackdowns. 
Still, after 20 months of continuous protesting, U Yaw looks forward to the day when he can resume his monastic life. "When we win this revolution, I am not going to be involved in any political movement. I will meditate and teach," he said.
Despite more and more of his fellow protesters being arrested, injured, or even killed by junta forces, U Yaw remains determined to continue resisting nonviolently until peace and democracy are achieved: "I will protest until we win."
Nu Nu Lusan reported from Kuala Lumpur. JC, who prefers to work anonymously for security reasons, created the illustrations in CAEN, France.
Edited by Emily Fishbein in Bangkok, Thailand.