Reform-minded President Gustavo Petro is pressing ahead with ambitious plans to forge peace with Colombia's armed groups, but how successful are his policies and what difference are they making for the millions of affected people living in conflict zones?
For Margarita Mondragon, a social activist in northwest Colombia, violence among armed groups in the southern Bolívar region where she lives has long been a part of everyday life.
She recalled how a gunfight recently broke out between a rebel group and paramilitaries in the middle of a residential block, "catching residents in the crossfire". 
"We live among the guerrillas, and we live among the paracos," Mondragon told The New Humanitarian, using the slang term for paramilitary forces. "And we continue to be ignored by the government, who view our suffering as a sort of never-ending story happening in the unimportant margins of society."
Despite a historic peace deal between the government and the Revolutionary Armed Forces of Colombia (FARC) ending more than a half-century of civil war in 2016, conflict has been surging since in many rural areas of the country. 
New armed groups have moved into the vacuum left behind when FARC fighters laid down their weapons and are now vying for territorial control with other older criminal organisations, with the lucrative production and smuggling of cocaine continuing to drive the violence.
"We continue to be ignored by the government, who view our suffering as a sort of never-ending story happening in the unimportant margins of society."
Last month, Petro's government announced ceasefires with four of the five largest armed groups in Colombia, arguing that this will allow for much-needed assistance to reach civilians in conflict zones. But none of the groups signed official written agreements.
Human rights and humanitarian organisations have been cautiously supportive of the ceasefire strategy, while questioning how these government-sanctioned truces will function in practice and whether they will actually improve conditions on the ground for civilians. 
"These ceasefires are only with the state," Kyle Johnson, co-founder of the Conflict Responses Foundation (CORE), which studies armed conflict and peacebuilding in Colombia, told The New Humanitarian. "Infighting between these armed groups continues."
While he accepted that the informal truces were – broadly speaking – a positive development in the peace process, Johnson said their immediate effect "is unlikely to meaningfully reduce violence in affected regions".
What's at stake for civilians?
The UN estimates that 7.7 million Colombians are in need of some type of immediate humanitarian assistance, including hundreds of thousands of people who have suffered due to rising levels of conflict in recent years, in particular displacement and confinement.
"The levels of violence that communities experience from diverse armed groups is unimaginable," UN High Commissioner for Human Rights Volker Türk said in late January after visiting on a fact-finding mission. "We must all support efforts to put an end to this."
In 2021, more than 192,000 people were forcibly displaced due directly to fighting between armed groups or because of attacks by armed groups on civilian populations, according to the UN's emergency aid coordination body, OCHA. This compares to 128,000 people in 2017, the year the FARC peace accord was implemented.
Killings of activists and social leaders reached an all-time high in 2022, with 215 killed according to Colombia's Ombudsman's Office, up from 145 in 2021. 
"These communities have critical humanitarian needs, including a lack of basic physical security, nutritional insecurity, physical and mental healthcare, and housing," Carol Torres, a sociologist and analyst at OCHA, told The New Humanitarian.
The needs of residents in conflict areas go far beyond just those who have been forcibly displaced. More than 100,000 people were "forcibly confined" by armed groups in 2022, according to OCHA, meaning they were unable to leave their homes due to conflict or had their mobility restricted. Confinement also impedes the transport of goods and restricts aid access, exacerbating humanitarian needs. 
"The levels of violence that communities experience from diverse armed groups is unimaginable."
Many of these regions are also effectively stateless as they've been neglected for decades – across administrations – by the national government in Bogotá. This means they often lack basic infrastructure for transportation, power, and potable water.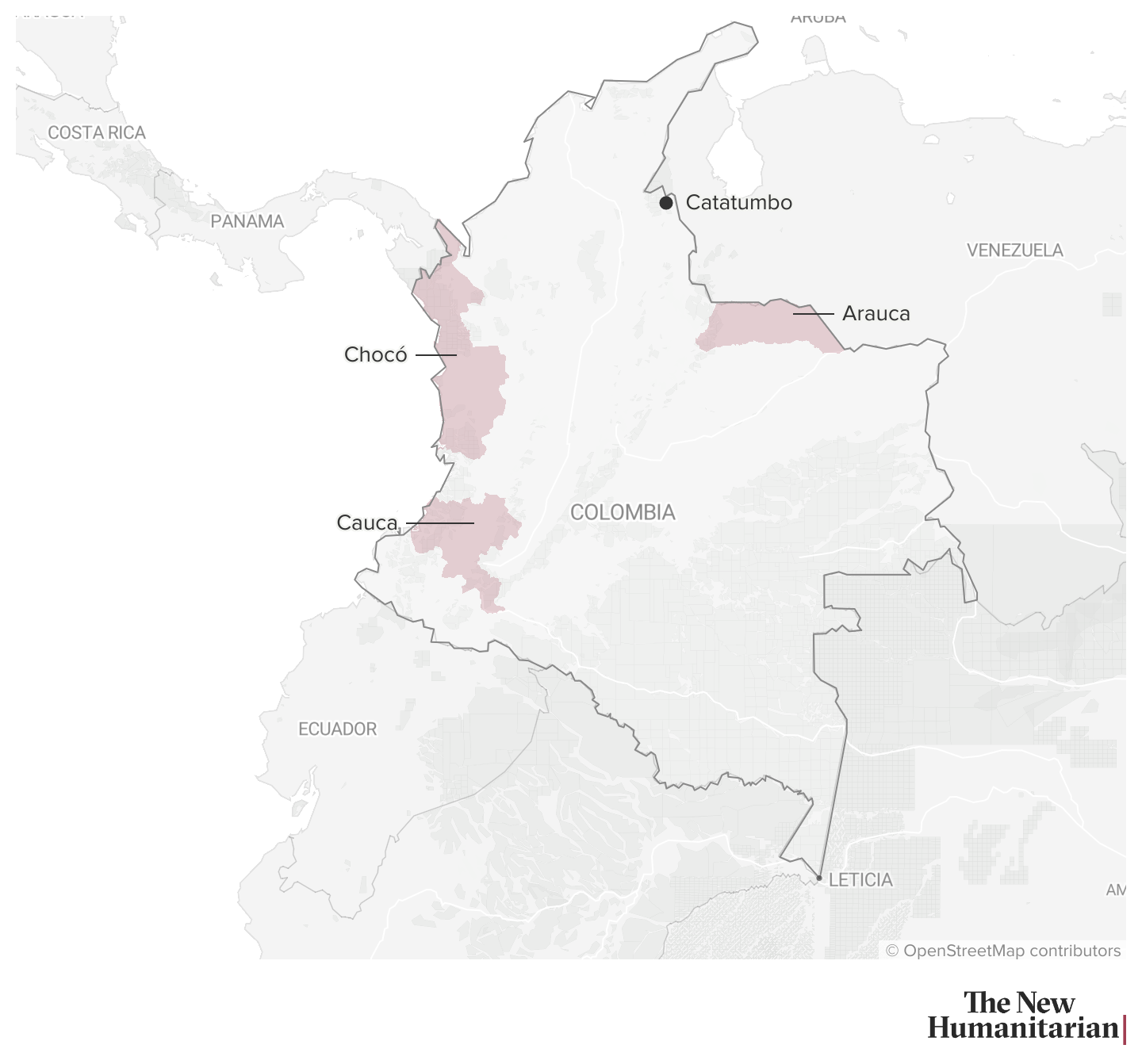 Concrete data on the accessibility of humanitarian organisations to regions in conflict is difficult to come by, but both Médecins Sans Frontières (MSF) and the Norwegian Refugee Council (NRC) told The New Humanitarian that increased violence, as well as transportation restrictions imposed by armed groups, complicated their ability to conduct missions in 2022.
Encounters with explosive devices such as improvised bombs or mines also derailed humanitarian missions on more than 50 occasions last year, according to internal documents provided by OCHA.
Areas being disputed by armed groups, like large parts of the Arauca, Cauca, and Chocó departments, tended to be more dangerous than those firmly controlled by one group. 
Who are the ceasefires with, and are they holding?
Petro, a former leftist guerrilla, won presidential elections last June partly on promises to move away from decades of failed military solutions towards what he calls "Total Peace" through direct peace negotiations with criminal armed groups.
To that end, the government announced ceasefires on New Year's Eve with the five largest criminal groups in the country: two dissident FARC factions who don't recognise the 2016 peace accord (the Eastern Command and La Segunda Marquetalia); two criminal organisations with origins in the paramilitary forces who sided with the government during the civil war (the Clan del Golfo, or AGC, and the Self-Defense Conquistadors of the Sierra Nevada, or ACSN); and, finally, the National Liberation Army (ELN).
However, the government's claim regarding the ELN seemed to be one-sided as the guerrillas – the largest remaining armed group in the country since the FARC disbanded – quickly denied any truce, saying "no such agreement exists".
The Colombian government began a second round of talks with the ELN in Mexico City earlier this week, on 13 February, while the other four groups named by Petro have all stated that they will abide by the New Year's Eve ceasefire agreements.
Some experts, while supportive of Petro's peace process overall, have suggested that this informal armistice could affect the ability of the government to negotiate further concessions. 
"The danger is that rather than negotiating, armed groups use this opportunity to dig in… and that could easily make future negotiations more difficult for the government," Elizabeth Dickinson, senior analyst in Colombia for the International Crisis Group, told The New Humanitarian.
She also said that FARC dissident groups are still carrying out operations against Colombian military personnel in Cauca despite their leaderships having supposedly committed to ceasefires.
"Conflict is very much ongoing," said Johnson, of CORE. "Establishing real protocols, and clear enforcement mechanisms, in writing, is critical to changing that dynamic."
Are the truces improving aid access?
In the wake of the ceasefires, in mid-January, Petro's government established so-called humanitarian caravans by government agencies into parts of the Cauca and Valle de Cauca region in western Colombia controlled by the ELN, with the group's blessing.
Colombia's Peace Commission said the objective was "to undertake an initial diagnostic of the region and establish conditions under which… communities may escape from confinement or, for those who have been displaced, return to their territories with peace and dignity."
But some experts have questioned whether these caravans will be viewed as impartial by the other groups actively fighting the ELN in the region – although as of 15 February there had been no reports of resulting incidents or retaliatory attacks.
"The plan is incredibly ambitious and obviously a new strategy is necessary," said Juan Pappier, acting deputy director of the Americas for Human Rights Watch. "But what protection measures will be taken to prevent other armed groups, like the Clan del Golfo, from retaliating against communities that meet with this 'humanitarian caravan' of the government and ELN?"
NGO and UN missions to coordinate and bring aid into conflict areas could be complicated and made riskier by any perception that they favour one armed group over another.
"We welcome all peace efforts in Colombia," said Torres, the OCHA analyst. "But it is important that we define exactly what 'humanitarian' missions mean. It is critical that we avoid a situation where that term becomes politicised."
"Armed groups as well as communities know that we don't work for the government, or rival armed groups, and that is what allows us to do our jobs," explained Luis Eguiluz, a spokesperson for MSF.
OCHA, meanwhile, is in the process of establishing a constantly updated database on aid access across Colombia. The agency hopes to have the project, which will also track all direct and indirect attacks on humanitarian missions, completed this year.
"Historically, data on this phenomenon has been anecdotal, with each NGO or government ministry keeping their own data," said Torres. "We hope that a unified database can help us understand better what is really happening and identify trends to make missions more successful."
"[NGOs] like [MSF] and [NRC] are the ones with the highest risk tolerance," she added. "They often go where the state, or the UN, will not."
What do civilians in affected areas think?
In addition to having seen no let-up in conflict in the more than six years since the peace deal with the FARC, many Colombians in the worst-affected rural areas have also grown tired of waiting for the government to follow through on pledges of new investment and infrastructure.
Andrés Silva Rojas, who advocates for sustainable farming practices among coca growers in northeastern Catatumbo – one of the largest coca-producing regions in the world – said his community has little faith that the government can or will live up to its promises.
"After the peace deal [in 2016], a lot of farmers took real risks supporting peace and signed up for crop substitution programmes, with the promises that the state would invest in our communities," Rojas, who still backs Petro's peace efforts, told The New Humanitarian.
"Payments for those crops never arrived, and neither did basic infrastructure," he said. "If the government wants to show progress in peacebuilding, they could start by building the roads they promised us six years ago."
Edited by Cristian Salazar.