Like its Caribbean neighbours, Puerto Rico is situated in the pathway of an alphabetical carousel of annual hurricanes that leaves it increasingly vulnerable to the effects of climate change.
But unlike several of them – for instance, Barbadian Prime Minister Mia Mottley has become a leading advocate for climate justice, launching blistering attacks on rich nations and offering finance solutions – it has taken few actions to address the crisis.
In spite of being a US territory, and as world leaders address COP27 in Egypt to find paths forward for the ever-warming planet, the island provides a cautionary tale of how fragmented climate disaster planning deepens dependence and vulnerabilities. 
Those in rural areas, in particular, see little proof that any planning is being done by the US government. In fact, many in the territory – an observer member of the vocal Alliance of Small Island States (AOSIS) negotiating group at the COP27 climate talks – say that relationship is a hindrance to action.
After Hurricane Fiona struck in September this year, The New Humanitarian visited to find out what progress had been made since the far mightier Hurricane Maria hit in September 2017, causing as many as 8,000 deaths, according to estimates. 
Fiona, the mildest Category 1 hurricane – compared to Maria's Category 5 status – still left at least 33 people dead and many residents worried about their future and struggling with hardships in its wake. The entire island was without power for weeks, and several residents said it felt like it was right back to where it was five years ago.
"We are always like the rearview mirror": Survivor Nilsa Ramos Torres
"I said to myself it couldn't be as strong as Maria," Nilsa Ramos Torres told The New Humanitarian. "But when it started to blow and the roof began to shake, I thought, 'we are going to die.' The side door flew off, then we lost the roof and our bed flew away." 
She said her husband had refused to move from their house in the town of Cabo Rojo, on the southwest coast, confident they could sit it out. 
Unable to leave their home, Ramos Torres said a friend eventually brought dry clothes and food after her perishables had to be discarded due to the power outage. It took over three weeks for electricity to be erratically re-established to some homes in Cabo Rojo.
For some, the only option has been to leave. A recent study estimated that over 200,000 of the roughly 3.1 million population migrated after Maria – many to the mainland United States. 
Fiona's heavy rains, which continued to inundate certain areas through late October, impacted communities in western regions that the US government failed to recognise for federal aid.
Little of the $3 billion in disaster mitigation funding and additional infrastructure money allocated by the Federal Emergency Management Agency (FEMA) following Maria has been disbursed.
Community aid
All around Puerto Rico, community networks – headed by local leaders and district-level NGOs created after Maria – stepped in to respond to needs after Fiona, often ahead of any government action.
On an island where temperatures rarely drop below 32 degrees Celsius during the day or below 25 Celsius at night, a lack of power deepens emergencies. 
The island's poverty rates are the highest in the United States, three times what they are in the poorest southern states on the mainland. After Fiona, many homes were unable to afford generators or the rising cost of fuel to power them, while hospitals scurried to operate their own generators for critical patients.
High above Cabo Rojo, Jasmin Seda and her bedridden husband, a terminal cancer patient, waited as a local NGO came to check on her. On 18 September, they managed to escape from their home with the help of their son, moments before the entire structure blew away when Fiona struck. Having survived Maria, which tore part of her roof off, she said authorities only care about families in need like hers during election campaigns. 
"If you expect aid from the government, you have to be ready to wait days, weeks, months without getting anything, unless there is a political interest," Seda said.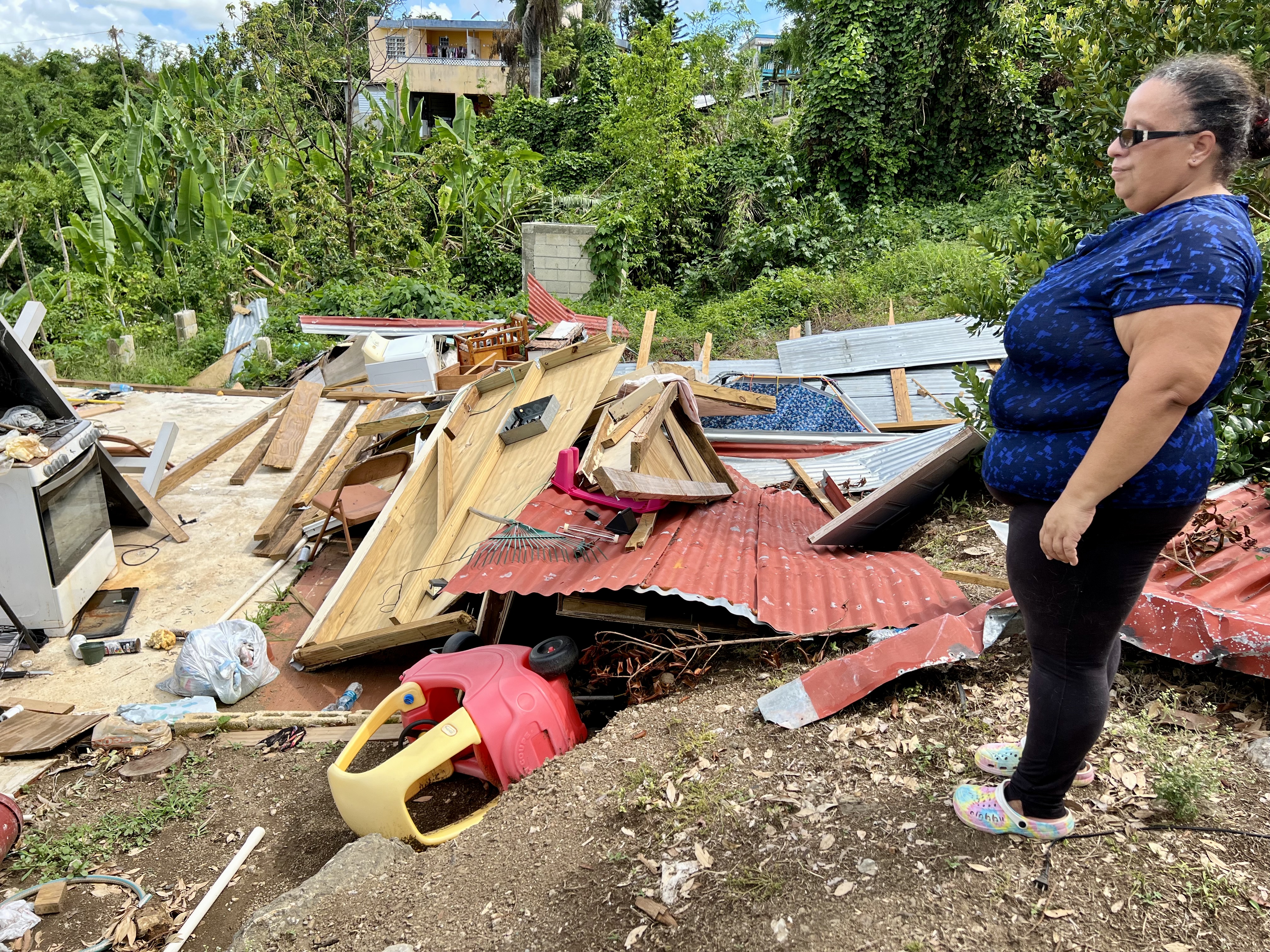 Those who truly stepped in to help the poor have been local organisations, she added. To her, the island's political leaders have been tone deaf since the latest storm.
On 19 September, Governor Pedro Pierluisi provoked consternation when he said there was no need for humanitarian assistance – before "clarifying" he had meant to say that aid needed to be coordinated to avoid congestion in the port of the capital, San Juan.
"Can you imagine that a day after Fiona, the governor of Puerto Rico is telling the rest of the world: 'don't send aid, we are prepared'? What do you expect?" Seda said. "We cannot rely on the government."
Seda said assistance, including an oxygen tank for her husband and food, came primarily from local aid groups like the Llanos Tuna Community Association and Donando Bendiciones, as well as individual donors.
Church aid groups such as Caritas and the Salvation Army, US charities, the Red Cross, and Mercy Corps also responded to Fiona.
'We created a group, organically' 
Carlos Reyes Álvarez and his wife, Doris Miranda Rodríguez, became community leaders in Paso Palmas in central Puerto Rico after the devastating 2017 hurricane.  
"We observed a huge number of necessities after Maria. After 10 days, the roads were still unpassable," Reyes Álvarez recalled. Together with a group of people, they started clearing passages and bringing in food and water while electricity remained cut for nearly one year. "We created a group, organically, without any formal status." 
Reyes Álvarez, a builder, volunteered to help people reconstruct their homes and replace roofs. He and others in the community began to install cables to re-establish power, before the authorities told them to stop. 
"The government didn't want us to do our work, saying we had to wait for FEMA," he said. "But they didn't help. It was chaos."
The aid network Reyes Álvarez assembled – which included charitable organisations, doctors, builders, and other local volunteers who contributed to Maria response efforts – rebooted after Fiona hit. Groups again organised themselves to clear roads blocked by downed trees and mudslides. They distributed water and food, and connected people to voluntary medical care.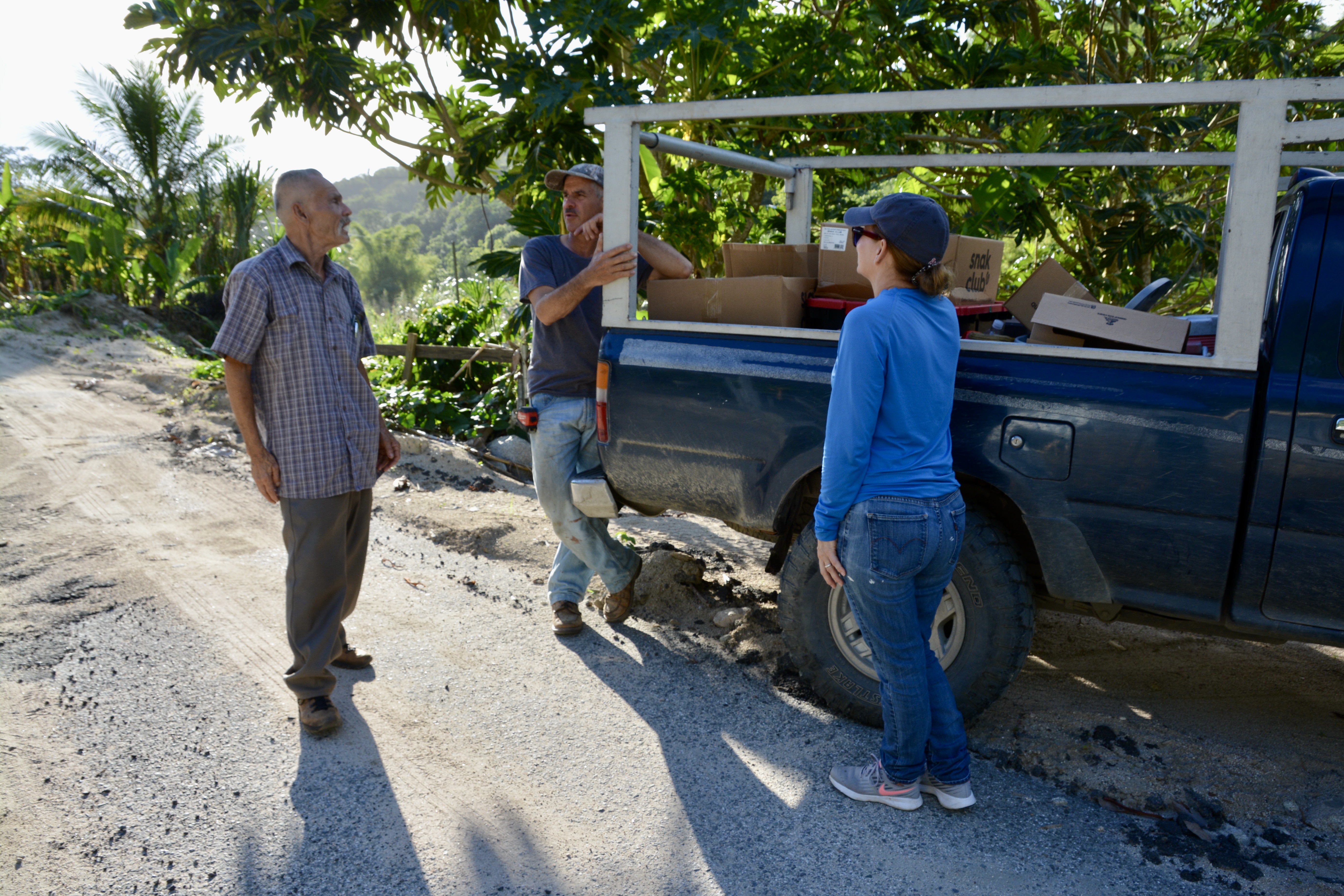 On a recent day, the couple drove to an aid distribution centre set up by Alma Misionera en Acción, a local Catholic group, in nearby Utuado.
After loading up their pickup truck, they drove to areas of their community that had been cut off when Fiona's floods washed away a bridge, distributing food, including to elderly residents who had formerly migrated to the US mainland for work.  
Like many other Puerto Ricans, the recipients of the aid expressed their frustration at the relief efforts and blamed rampant government corruption.
In an email to The New Humanitarian, FEMA defended its response but failed to answer specific questions about what concrete actions the US government had taken since Maria to prepare the island for future, similar disasters. 
Jeremy Edwards, FEMA's press secretary, said the agency "remains committed to helping survivors recover from Hurricane Fiona". He said the federal agency was operating through more than 30 disaster recovery centres, and had visited more than 13,600 homes, interacting with at least 18,000 survivors. 
'We don't make the decisions'
Access to increasingly reliable weather data and an ability to predict the impact of climate events can minimise their impact. But a recent UN report warned that half of countries globally lack multi-hazard early warning systems to protect them from disasters. For example, only a third of Small Island Developing States (SIDS) – including many Caribbean nations– had such systems in place.  
Puerto Rico, however, benefits from being a part of the National Oceanic and Atmospheric Administration (NOAA), the US agency responsible for weather reporting.
But Animesh Kumar of the UN's Office of Disaster Risk Reduction (UNDRR) said recent storms in the region had diverted from expected paths. "This is something that we are seeing more," he said. "If the hazards start mutating due to climate change… it is very difficult – it challenges the early warning systems."  
The UN's emergency aid coordination body, OCHA, recommends anticipatory actions to improve responses and make them more cost-effective: advance response plans that include set decision-making processes and guaranteed financing ahead of disasters.
READ MORE: Early days for anticipatory action
In other parts of the world, there has been a rising awareness of the need to act ahead of crises that can be predicted. In 2021, the UN convened a global conference on anticipatory action, to further cement the need for dedicated funding for such measures.
Over the past two years, a number of pilot programmes have been implemented in Africa and Asia. In Bangladesh, for instance, OCHA helped set up an early response framework for severe flooding during the monsoon period: Scaled-up funding and other measures would kick into action once certain triggers, based on hydrological forecasts, were reached. Other anticipatory action programmes have been developed to counter the impact of droughts in Ethiopia, Somalia, Niger, and Burkina Faso; dry spells in Malawi; and flooding in Nepal.
Abebe Tadege Tsehayu, from the Climate Prediction and Application Center (ICPAC) in East Africa, said another key issue is communicating early action strategies – such as moving livestock, importing food, or drilling water holes ahead of droughts – to key stakeholders, as well as finding funding mechanisms for such actions.
"The communication aspect is critical," he told The New Humanitarian. "Whatever you develop in terms of advisories – in terms of early warning – needs to be communicated to users and decision-makers, so that they take action."
Federico Cintrón Moscoso, director of El Puente's Latino Climate Action Network, an NGO that advocates for better preparedness, said the US government's failure to formulate and implement an effective and timely emergency plan since Maria meant "people end up fending for themselves".
"It can't be up to the communities directly impacted by the emergencies, and the nonprofit organisations that carry the burden of responding, to make the structural changes needed for the long-term adaptation of the island," Cintrón Moscoso added.
Earlier this year, El Puente sued the island's government for not fulfilling its duty to approve a climate mitigation and adaptation plan by October 2021.
Cintrón Moscoso blamed overwhelming debt that the island has been unable to pay off, estimated at over $70 billion, as well as bureaucracy within federal agencies, for complicating emergency planning and recovery.
"What we have is climate colonialism, because we don't make the decisions on what to reconstruct and rebuild," he said. "Those decisions are made by the federal government, and it has been like that for 100 years."
Puerto Ricans, who are American citizens, remain disenfranchised at the national level due to their island's status as an unincorporated territory, which Spain ceded to the US in 1898 after the Spanish-American War. 
"We cannot wait for federal entities to define emergency management systems or emergency management response and our reconstruction process." 
In July, Puerto Rico's Emergency Management and Disaster Administration Agency (NMEAD), drew up an emergency plan for health services, including guidance for working with volunteers.
An interruption of medical care due to infrastructural failures following Maria had been blamed for the disaster's high death toll. But similar issues prevailed after Fiona amid ongoing disparities in the island's health system. NMEAD did not respond to requests to comment. 
Deepak Lambda-Nieves of Center for a New Economy, a San Juan-based think tank, has called for an island-led task force, involving a planning effort that would include government, experts, grassroots communities, and residents to leverage federal funding that could better manage disaster planning.
"We cannot wait for federal entities to define emergency management systems or emergency management response and our reconstruction process," he said at a panel on decolonising recovery efforts organised in late September by the Center for Puerto Rican Studies at Hunter University in New York.
Lambda-Nieves said lessons can be learned from other countries affected by climate events – namely to coordinate international assistance with local communities and local governance structures to facilitate aid distribution. 
He also blamed US officials for being unable to consider other ways to operate than traditional top-down systems: "They cannot imagine that there is another way forward that doesn't involve the existing federal agencies."
Edited by Pradnya Joshi.