With inflation soaring above 64 percent, Sri Lankans have been reeling for months from an economic crisis that is jeopardising their health, education, and basic living standards, driving many into hunger and poverty.
The skyrocketing costs of living have impacted everyone, but some marginalised communities and groups are particularly hard hit; among them women who face the double burden of trying to earn an income while also performing unpaid care work at home, for children or elderly relatives. 
Sri Lanka's sudden collapse stemmed from myriad factors, including: years of economic mismanagement; the pandemic's double blow to tourism and remittances; and decades of forced reliance on foreign loans.
As foreign reserves hit a record low earlier this year, inflation soared, sending the costs of food, medicine, and fuel through the roof and tipping the country into a crisis marked by joblessness and rising hunger.
Read more → How Sri Lanka went from topping Lonely Planet's list to almost 30% hunger
Lakmali Hemachandra, a labour lawyer and member of the Women's Liberation Movement, told The New Humanitarian the main impact on workers is the depreciation of wages due to the high inflation. "It has reached a situation where they cannot even afford the basic necessities of life – food, transport, and medicine," she said.
Local NGOs such as the Dabindu Collective – an all-women group that focuses on assisting women labourers – offer some assistance, along with a small ray of hope. But lasting change is likely only to come through systemic action, which is why protesters have been focused on changing the government, even as they are strongly repressed.
Photojournalist Shefali Rafiq travelled around the island nation in August to meet street sweepers, tea pickers, and garment workers, to find out how they – and hundreds of thousands of women like them – are faring in a range of low-income industries. 
'Look into my eyes and you will see what struggle means'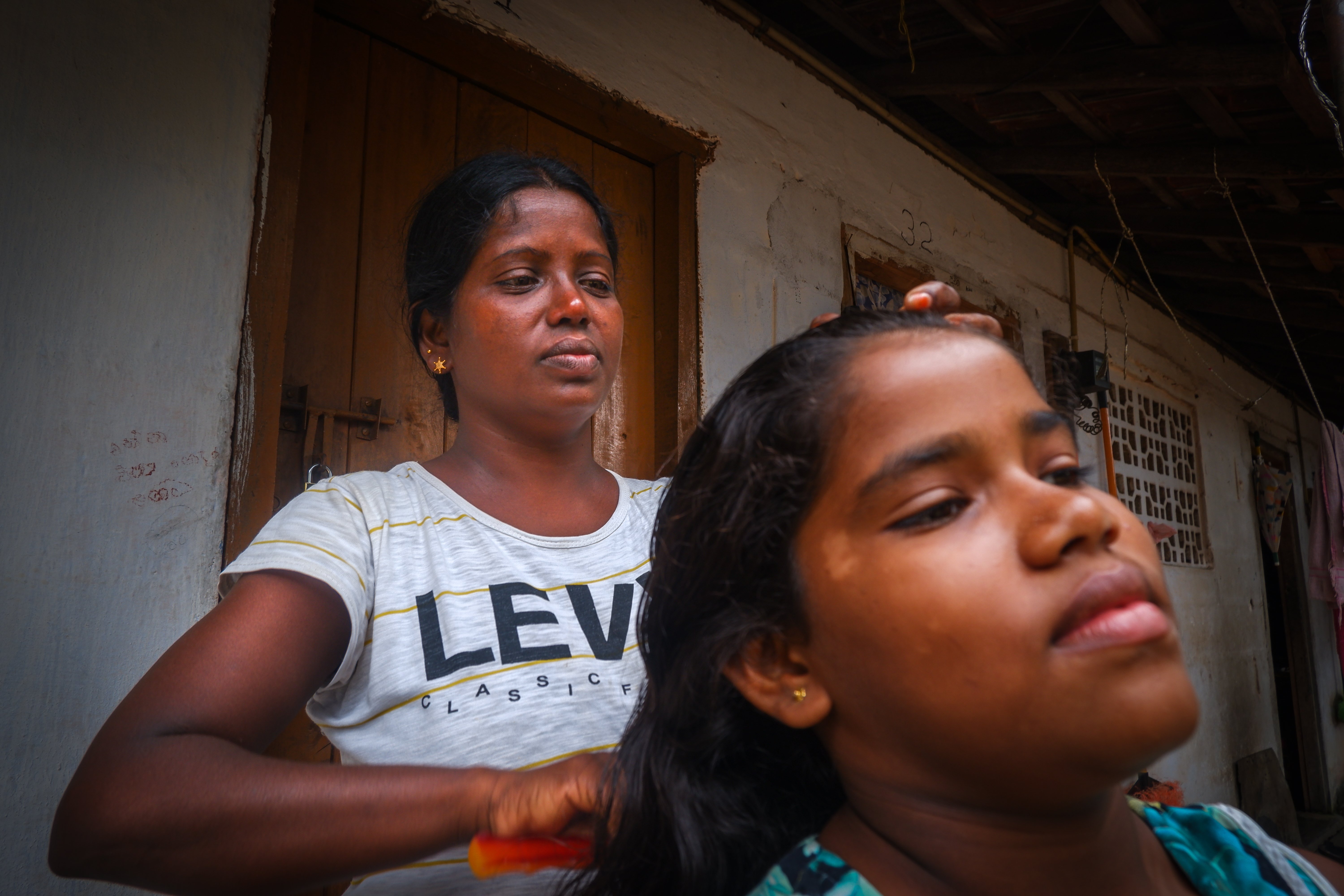 Pushpamani, a 40-year-old mother of two, has suffered a string of blows in quick succession.
First, she was fired from a garment factory in 2020 when COVID-19 hit. Then, at the height of the economic crisis in early July this year, she lost another job at a different factory when it was forced to shut down.
"With difficulty, I had managed to find this new job so that I could feed my children, but it seems like there is nothing left for us – poor people – in this country," said Pushpa, who goes by a single name.
In 2018, Pushpa's husband left her for another woman. "For some time, he would send money, but then COVID hit and that money stopped. I was left to fend for myself and my family alone," she explained.
"I don't know what the crisis means to other people, but for us poor ones, it means having to sleep without a grain in our belly."
The divorcee now lives in a boarding house along with her two children, 11-year-old Achini Varusha and a four-year-old, Sandalu Sasa. 
Pushpa said she was living only for her children now. "Otherwise, the difficulties that I have in my life, no one can survive. Look into my eyes and you will see what struggle means," she added, sobbing, as her daughter looked on. 
Pushpa used to ignite the gas stove for cooking her meals but now uses a clay stove because of the scarcity of fuel. Rather than buy expensive fuel, she prefers to get food for her children. The only assistance comes from a few local NGOs that have been providing some support to women who have lost their jobs. 
"Do the rich people even know there is something wrong going on in this country?" she asked. "I don't know what the crisis means to other people, but for us poor ones, it means having to sleep without a grain in our belly."
'I don't get to hug him like a mother would want to'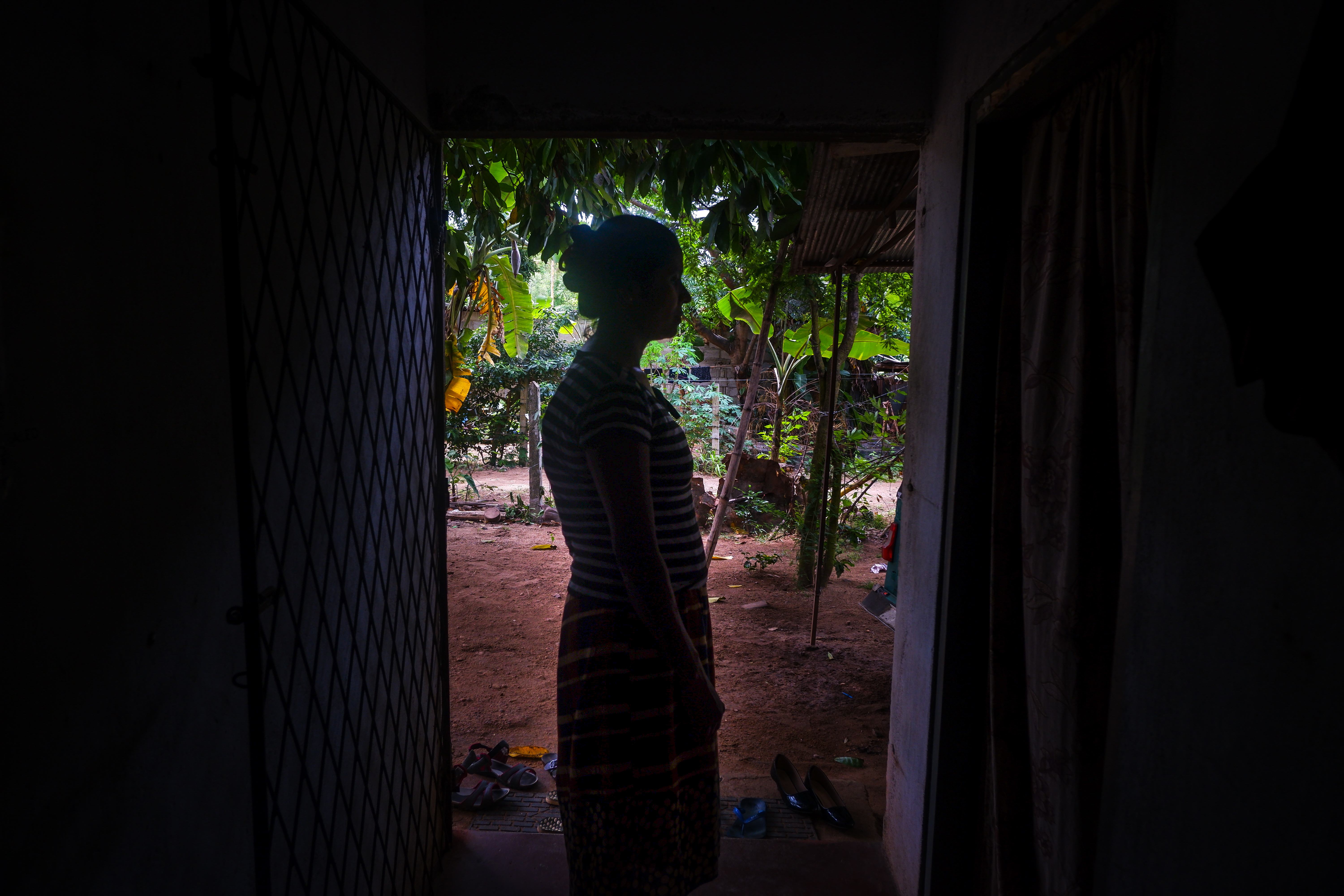 Many women are forced to eke out a living far from their home towns and villages. Often, they are divorced or single parents and therefore the sole breadwinner, leaving them the dual responsibility of looking after themselves and their children.
M.S. Manil, 49, is another of the some 400,000 Sri Lankans who work in the garment industry, many having faced years of labour abuse and economic hardship. 
A garment worker for two decades, Manil has long been accustomed to surviving on low wages. But this economic crisis, she said, has been like "living a nightmare".
"Even though my salary was low [before], somehow I could manage everything. But now it is extremely difficult," she told The New Humanitarian. "The basic day-to-day items have become so costly that at times we just have to skip getting them."
On a sunny Sunday afternoon in August, Manil sat on the lawn outside her rented room in a boarding house in Katunayake, around 35 kilometres northeast of Colombo. Sundays used to mean visits to her 26-year-old son, who lives with his aunt in Badulla district, a five-hour drive east. But that seems like a distant dream now.
Such is the impact of soaring high prices on her life that she has had to choose between having a meal or seeing her child. 
"I don't have money to travel by bus," Manil said. "Now, I can't do that. So I talk to him over the phone. But it doesn't feel the same, as I don't get to hug him like a mother would want to."
"I hope he doesn't fall into drugs," she added. "Throughout the day, I fear for his safety as he is so far from me."
'I don't know how I can pay the loan'
When 35-year-old Nalayini Parandamana returned home from work, she would often stop to buy some snacks for her three children. Not any more. The rising prices now mean she eats less herself in order to feed her children.
"If my hunger can stop my children from sleeping on an empty stomach, I will do it as long as I can," she told The New Humanitarian.
Parandamana, who lives in a village near the town of Hatton, a four-hour drive east of Colombo, has worked in a tea plantation for the past 17 years. Wages were already extremely low before, she explained, but this crisis has "broken my backbone".
"If my hunger can stop my children from sleeping on an empty stomach, I will do it as long as I can,"
She and her husband, a construction worker, took out a loan years ago to fund their children's education. But they can't repay what they owe each month, and the thought of being unable to pay back the loan is giving her sleepless nights.
Because the loan was taken from her company, her only recourse is to work more hours and cut back on more meals. 
"I earn a meagre amount, of 20,000 rupees ($54.75) [a month], which isn't even enough to feed my family," a visibly nervous Nalayini said. "I don't know how I can pay [back] the loan."
All Parandamana wants is for her children to get a proper education so they don't find themselves in a similar predicament to their parents. "I don't know what the situation is going to be like in the future, but it seems like they might end up like us," she added.
'We don't see the money being passed on'
Tea plantation workers' salaries have always been very low, but at least they used to be able to work extra hours if they wanted to earn some overtime, according to Hemachandra of the Women's Liberation Movement.
However, many factories are now operating for fewer hours as they can't access enough fuel or electricity to keep the machinery ticking over. This just shuts off another potential lifeline for many women and their families. 
"Although tea exporters made a lot of money due to the increase in the [cost of] tea, we don't see it getting [passed on] to wages," Hemachandra added.
'I would have led those protests'
On a hot summer afternoon, The New Humanitarian met 39-year-old M. Kumareshwari sweeping a Colombo street. For this, she earns a daily wage of 1,000-1,200 rupees ($3.25). Before the crisis, it was possible to get by on this. Now, it doesn't come close. 
The company for which Kumareshwari works won't allow them to attend or stage any demonstrations for higher pay. "I would have led those protests," she said. 
A former tea factory worker, Kumareshwari lost her job when the factory shut down during the pandemic.
With no other choice, she has had to survive on a job that is looked down upon by many. "I don't care what people have to say about my work," she said. "All I know is that this [job] provides a meal to me and my ailing parents."
Edited by Abby Seiff.