Five Tamil asylum seekers who attempted suicide on the British-held Indian Ocean island of Diego Garcia have been sent to Rwanda for medical treatment, The New Humanitarian has learned. 
The news follows a recent backlash against the British government's immigration deterrence policies and a scandal that involved 200 unaccompanied minors who went missing after being in the care of UK immigration authorities.
All five asylum seekers are being treated at the Rwanda Military Hospital in the Rwandan capital, Kigali. They are undergoing psychotherapy as well as treatment for their wounds and for other illnesses they developed during 18 months of confinement on Diego Garcia. 
Their move to Rwanda follows the previous medical transfer of three other asylum seekers from Diego Garcia in November. They have since been returned, but the transfers will fuel fears that the UK is moving forward with plans to use Rwanda as a "third country" option for an offshore migration processing deal set up by then-Prime Minister Boris Johnson with the Rwandan government last April.
"If these [attempted suicide] allegations are true, the British authorities should consider all options for the immediate welfare of asylum seekers on their territory," Emilie McDonnell, UK advocacy and communications coordinator at Human Rights Watch, told The New Humanitarian. "This could include facilitating their safe passage to the UK for urgent medical care and allowing them to claim asylum on British soil," she added.
"It is like losing our lives, losing our self-respect, and being locked in a prison without knowing the outside world."
Many of the 68 asylum seekers** on Diego Garcia say they were tortured and sexually abused by Sri Lankan security forces for alleged links to the Liberation Tigers of Tamil Eelam (LTTE) – a separatist group that fought for independence during a 26-year-civil war against the Sinhalese-dominated Sri Lankan government. 
Hamshika*, 22, told The New Humanitarian that she broke apart a pencil sharpener and swallowed the blade on 1 March. She said she did it because days earlier she had been told by a UK government official that she would be sent back to Sri Lanka.
On the same day, one of her fellow asylum seekers broke a sewing needle in half and swallowed both pieces, Hamshika said, adding that three more men on the island attempted suicide on 13 March in similar ways. 
Hamshika and the other asylum seeker who attempted suicide on 1 March say they were sexually assaulted by security services and police in Sri Lanka and India, respectively.
"They were scared, they were threatened, and they decided to end their lives because they believe they are going to be removed," Geeth Kulasegaram, a senior legal adviser at London-based Jein Solicitors, told The New Humanitarian. He represents three of the five asylum seekers, including Hamshika.
The five were among the first 89 asylum seekers to arrive on Diego Garcia, in October 2021. They were fleeing Sri Lanka and India, attempting to reach Canada, when their boat broke down in nearby waters. British forces rescued them and placed them in a fenced encampment on the island. Some members of the group were born to Sri Lankan parents in refugee camps in India, where they have been denied citizenship. 
Diego Garcia is a 27-square-kilometre atoll within the British Indian Ocean Territory (BIOT) – a colonial holding cobbled together from former parts of British colonies in Mauritius and the Seychelles. The island's native Chagossian population were evicted in the 1960s and 1970s to make way for a joint British-American military base.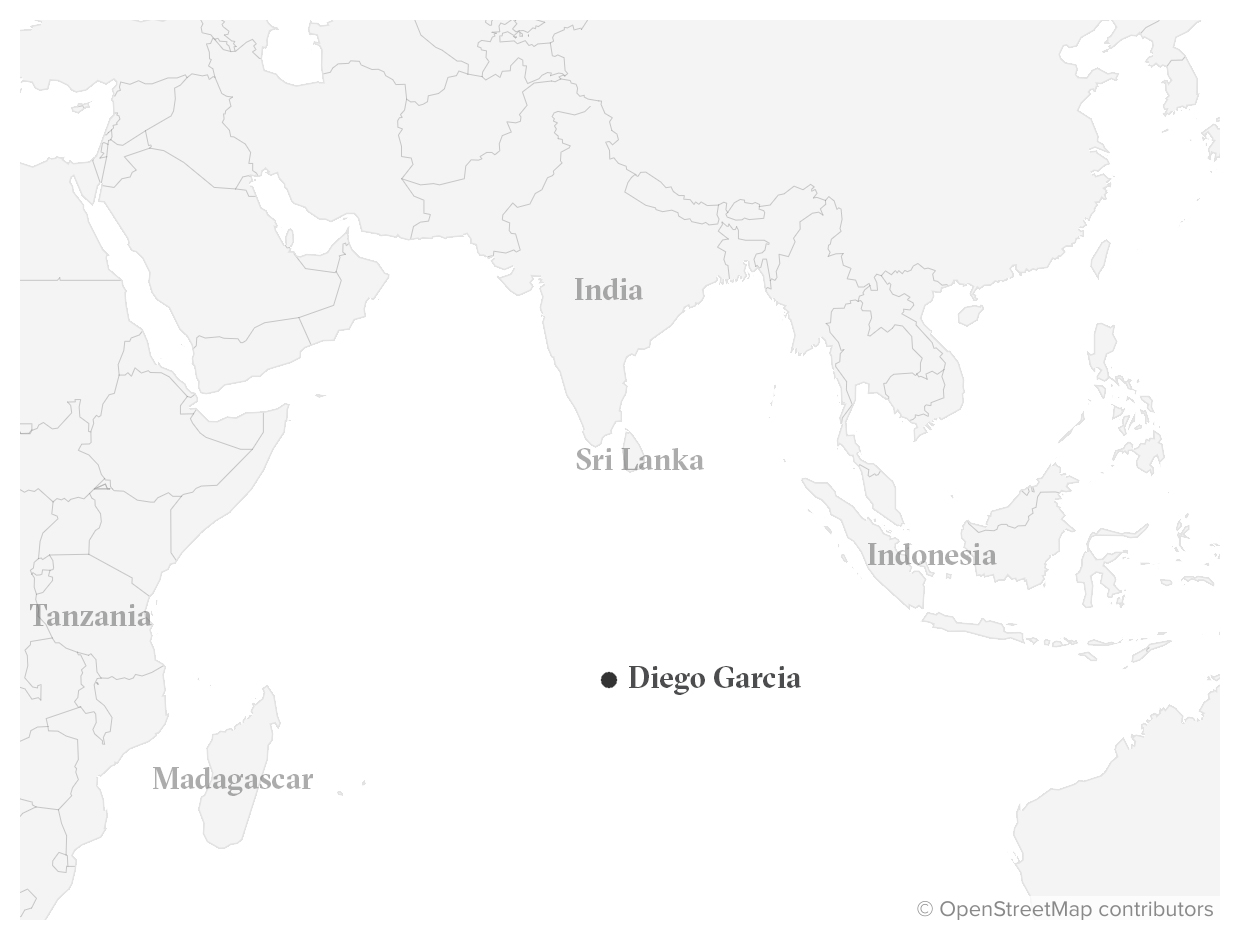 The UK government considers the archipelago to exist within a legal loophole whereby certain international agreements, such as the 1951 Refugee Convention, do not apply. The convention enshrines the principle of non-refoulement, which forbids sending asylum seekers to unsafe countries. 
The Diego Garcia camp's population peaked with 173 asylum seekers last year. There are now 68**. After signing papers saying they were going back to Sri Lanka, dozens left by boat in January 2023 with permission from the BIOT authorities but claimed asylum on the French island of Réunion instead. Others have accepted payments from the British government for "voluntary return" to Sri Lanka. 
Last September, BIOT commissioner Paul Candler informed the asylum seekers via video call that he would decide who could be safely returned to Sri Lanka, according to an audio recording of the call supplied by a relative of one of the asylum seekers and reviewed by The New Humanitarian.
"If my decision is that you cannot be safely returned to Sri Lanka, the policy of the UK government is that you will not be taken to the UK. The law of the British Indian Ocean Territory is being changed to allow us to take you to a safe third country instead," Candler told them.
Kulasegaram, who has been in touch with the UK Government Legal Department and the BIOT authorities, said the policy that none of the asylum seekers on Diego Garcia will be brought to the UK remains in place.
The BIOT Administration refused to answer questions about the policy or the recent suicide attempts and suggested directing questions to the the UK's Foreign, Commonwealth and Development Office (FCDO).
Contacted by The New Humanitarian, the FCDO refused to answer questions about the suicide attempts but confirmed that five people had consented to medical treatment in Rwanda.
"The welfare and safety of migrants on BIOT is our top priority," a spokesperson said via email. "We are providing them with food, telecoms and dedicated 24-hours-a-day medical support, and are working tirelessly to find a long-term solution to their current situation." 
To date, none of the asylum seekers have had their international protection claims upheld, which would mean the British authorities consider it unsafe to send them back to Sri Lanka. Lawyers, however, say it's unclear how many claims have been denied, since the island falls outside the UK asylum system. 
"They should be given a fair opportunity to substantiate their cases and present them in front of a judge, where they can have a representative to attend court and argue for them. But in BIOT, nothing of this sort is going to happen. We can only make submissions by email," Kulasegaram told The New Humanitarian in a phone interview.
Out of 56 asylum seekers to be interviewed by the BIOT authorities over their asylum claims, 37 have had their claims denied, Hamshika said.
Most of the asylum seekers whose cases were rejected have stayed on the island to appeal their decisions with the help of various UK-based law firms working to secure their rights under the Refugee Convention. According to Kulasegaram, the lawyers have struggled to advocate for their clients because of the shortage of information shared by the BIOT authorities.
Hamshika said conditions in the camp have become unbearable, but the thought of being sent back to Sri Lanka is worse. She mentioned the lack of food, clothes, and poor sanitation, as well as the spread of diseases in a small centre enclosed by barbed wire. She said the 17 children in the facility were suffering a lot. 
"It is like losing our lives, losing our self-respect, and being locked in a prison without knowing the outside world," she told The New Humanitarian via WhatsApp from the Kigali hospital. "I swallowed the blade to commit suicide thinking that it was right to die."
*Surname omitted at the source's request for fear of reprisals by the Sri Lankan government.
**(This article misstated the number of asylum seekers on Diego Garcia at the time of publication. It was 68, not 94. This corrected version was published on 3 April 2023.)
If you are in crisis, click here to find a helpline near you (via the International Association for Suicide Prevention).
Edited by Paisley Dodds.