I've been covering conflict in Ukraine for more than eight years. I was in the country when Russia launched its full-scale invasion on 24 February last year and have visited several times since. Still, I was shocked by what I saw during my latest reporting trip in January.
Before the war, Ukraine was a developed country with beautiful, historic cities and good infrastructure. One year of fighting and bombardment has set it back decades.
Over recent trips, I have become used to sleeping in bomb shelters and hearing explosions. But I wasn't prepared for the constant cold and the lack of electricity, lighting, and mobile phone connection I encountered in late January – even in the west of the country, which hasn't seen on-the-ground combat.
All the civilians I interviewed were saying how afraid they were of an imminent Russian offensive. A volunteer in a centre housing displaced people near the Polish border told me that many of those staying there were bracing for a nuclear attack. After all the horrible things they had experienced, they were anticipating yet worse to come.The desperation I saw was hard to process.
'There wasn't the same outpouring of support'
I began reporting on Ukraine in 2014, when Russian-backed separatists launched an insurrection in the eastern Donbas region. People displaced by the fighting sought refuge in cities across the country, including Uzhhorod in the far west bordering Slovakia, where I am from.
When I heard that hundreds of war refugees were living less than two hours away from my hometown of Kosice, I decided to travel to Uzhhorod to document their stories. At the time, I could not have imagined that I would spend the following eight years writing about people whose lives continue to be turned upside down by a Russian war in Ukraine.
When I arrived in Uzhhorod, it was a few months after the fighting in Donbas started. I interviewed dozens of families who had nowhere to live. They were staying in a cheap, Soviet-era hotel that had been forced to accommodate them by local authorities. It was the only thing saving them from homelessness. Whole families were sharing single hotel rooms with no access to kitchens or washing machines. Artur, a displaced person I met then – and who I'm still in contact with today – told me the only assistance they received was the equivalent of around 5 euros per year from the city council.
In 2014 and 2015, the fighting in eastern Ukraine seemed far away from the rest of Europe. There wasn't the same outpouring of support or push to provide aid to victims of the conflict that we've seen in the past year. When I interviewed Artur again last month, he said the memory of how limited the humanitarian response had been back then made him feel awful, but he was glad to see that today's displaced receive better support than he did.
'Few media outlets were interested'
In the years that followed, the war in the Donbas continued at a low simmer, becoming a so-called 'frozen conflict' – one that was all but forgotten by international media. I still returned to Ukraine almost every year. As a freelance reporter, few media outlets were interested in publishing my stories when the front lines were calm, even though sporadic fighting took place for years and people were still losing their lives.
Thousands of people in need lived on both sides of the 'line of contact' that divided areas of the Donbas controlled by the Ukrainian government and the Russian-backed separatists, suffering a silent crisis. Many were elderly people who had been unable to flee or who didn't want to leave the only homes they had ever known.
After Russia invaded last year, when I tried to reach out to people I'd been in touch with over the years, I was told that entire villages have been destroyed and no one on the front line could have survived unless they were evacuated.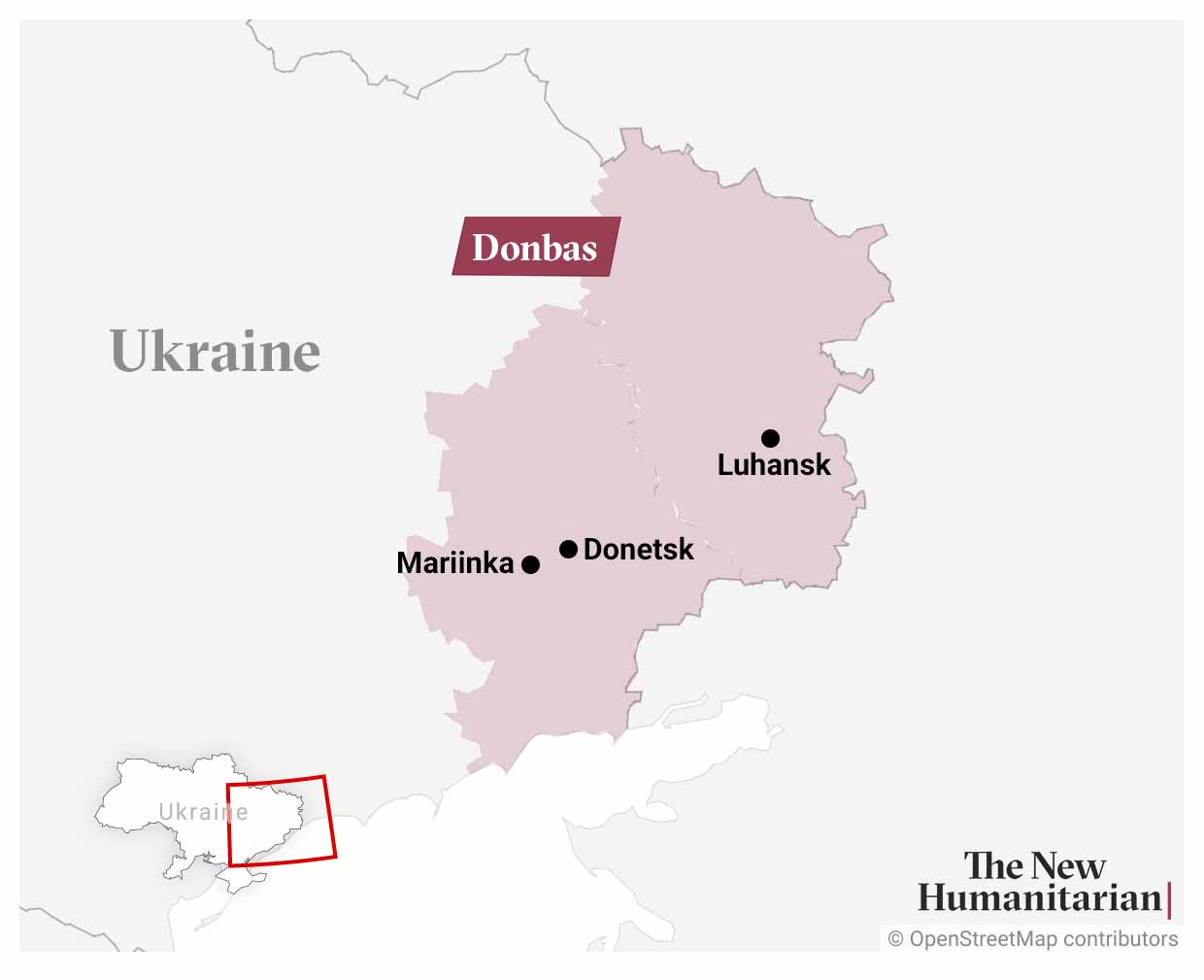 A local humanitarian worker I interviewed a couple of months after last year's invasion told me that even if – by some miracle – a few survivors remained in frontline villages in the Donbas like Opytne, Pisky, or Vodiane, they would likely have died of thirst and hunger. These villages were hard to reach before the full-scale invasion, and now infrastructure in the towns has been destroyed and the area is almost entirely inaccessible to aid groups.
'One of the first victims of the new war'
I keep on thinking about babushka (grandmother) Lidiia, an 85-year-old woman who lived alone in Mariinka, a town along the 'line of contact' that has been largely reduced to rubble and is still an epicentre of fighting.
Lidiia lived with her cat Matilda and loved talking about kittens and making jokes. Other people in the town called her "the cheerful Lidiia". I always enjoyed interviewing her. She never lost her sense of humour and resilience. She admitted that she felt lonely in the warzone and would squeeze her cats when the shelling was too loud. When I visited, she would call me "my little doll", and give me a hug.
The last time I visited Lidiia was in early February 2022, a couple of weeks before the full-scale invasion. The fighting around Mariinka was already intensifying, but Lidiia refused to move out of her house. "I want to die in my bed," she said.
A volunteer from a local church told me Lidiia had nothing to eat and needed some food. I accompanied the volunteer as he brought her some bread and a fried chicken. We walked silently toward her house, right on the front line, in between signs reading, "Stop! Landmines" and, "Stop, snipers are working".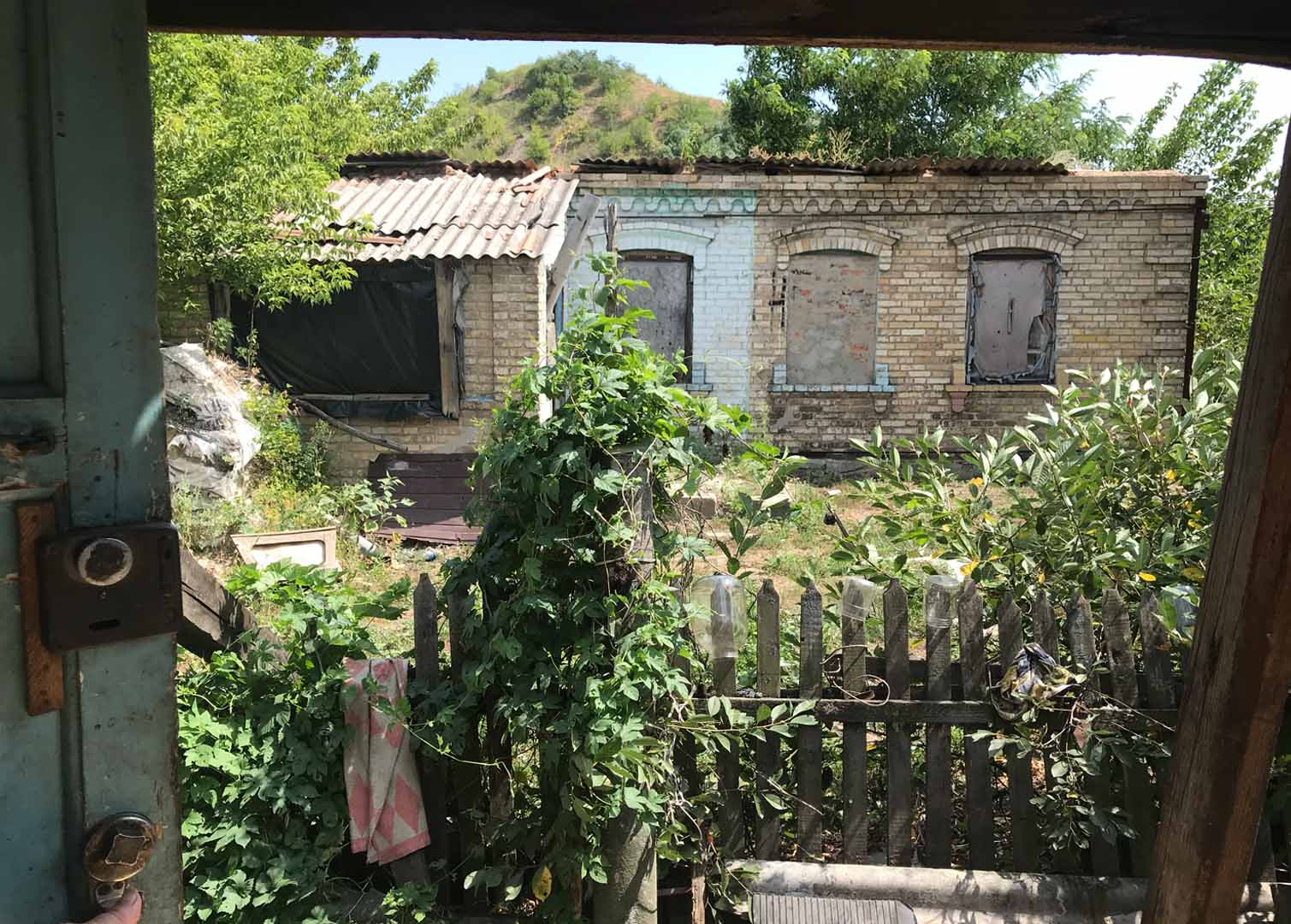 Despite the danger, volunteers from Mariinka would bring Lidiia food and medication almost every day. But that day, Lidiia wouldn't let anyone enter her house. Her anxiety was already running high due to the mounting conflict, and she was afraid of being robbed.
Only a month later, I learned that she had been found dead amid the ruins of her house, which was destroyed in March. She was one of the first victims of the new war. She likely died in her own bed.
'It looked like Kyiv was going to fall'
On the eve of the Russian invasion last year, people still didn't want to believe a full-scale war was possible. I was in Kyiv sitting in a restaurant with a friend who had been displaced from the earlier conflict in the Donbas, eating pancakes with caramel. "Nothing can ever happen here," she told me.
The next day, she fled Kyiv as Russian soldiers poured across Ukraine's borders and missiles rained down – fleeing war in her country for the second time.
On the morning of 24 February, I arrived in the eastern Ukrainian city of Kharkiv just in time to see the country plunge into chaos. In the city centre, there was a strange pre-war quiet – a calm before the storm – although heavy fighting on the outskirts of the city had already killed a 14-year-old child.
Some families were buying large amounts of food and water, while others were panicking and attempting to flee. When I checked into my hotel room, a cleaning lady told me, "You will see atrocities beyond anything you can imagine", and told me to prepare for the worst.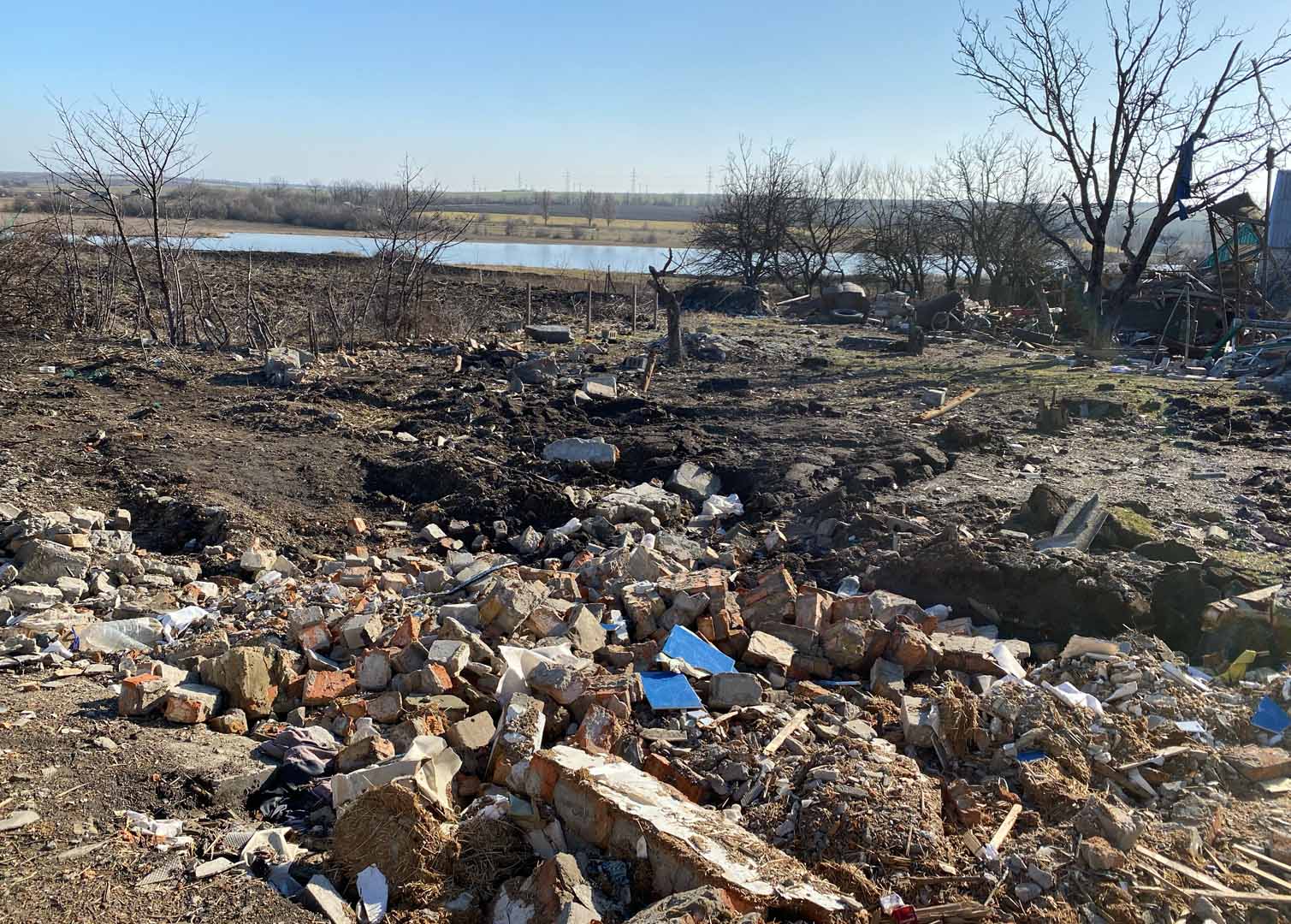 I slept on the floor as far away from the window as I could, bracing for a violent attack that might come in the night. I awoke the next day to fighting unfolding around the city and hid in an underground car park near my hotel surrounded by mothers and toddlers screaming for help. It looked like Kyiv was going to fall and a Russian puppet government would be installed. Many of us in the shelter thought we would never make it out alive.
I did make it out. But during multiple reporting trips over the course of the past year, I've seen the lives of many Ukrainians turn into hell. I've heard from people living close to the front lines whose stories I've been documenting for years. Some begged me for help while I interviewed them over the phone. Others have been reported missing or dead.
Vera, a 76-year-old woman from the city of Chasiv Yar in eastern Ukraine, lived without electricity throughout the summer and autumn, and witnessed heavy fighting. "I'm freezing and starving," she told me, crying, by telephone this winter. She hadn't been able to collect her pension and couldn't buy food. "I have nothing to live for," she said.
'Small points of light against the black backdrop of war'
In 2014, the fighting only affected people living close to the line of contact. Today, it impacts all Ukrainians.
Last month, I met countless people displaced by the Russian aggression, some of whom had been victims of war crimes. A year after the invasion, power cuts are frequent, even far from the front lines. People all over the country are suffering from hunger, poverty, and the cold. Countless families have been divided as millions of refugees have escaped the country. Numerous women and girls live in a state of anxiety, worrying about their loved ones who are in the army – or who may soon get drafted.
But amidst all this suffering, destruction, and deprivation, I have also seen small gestures of humanity – people showing courage, kindness, and resilience. They form small points of light against the black backdrop of war.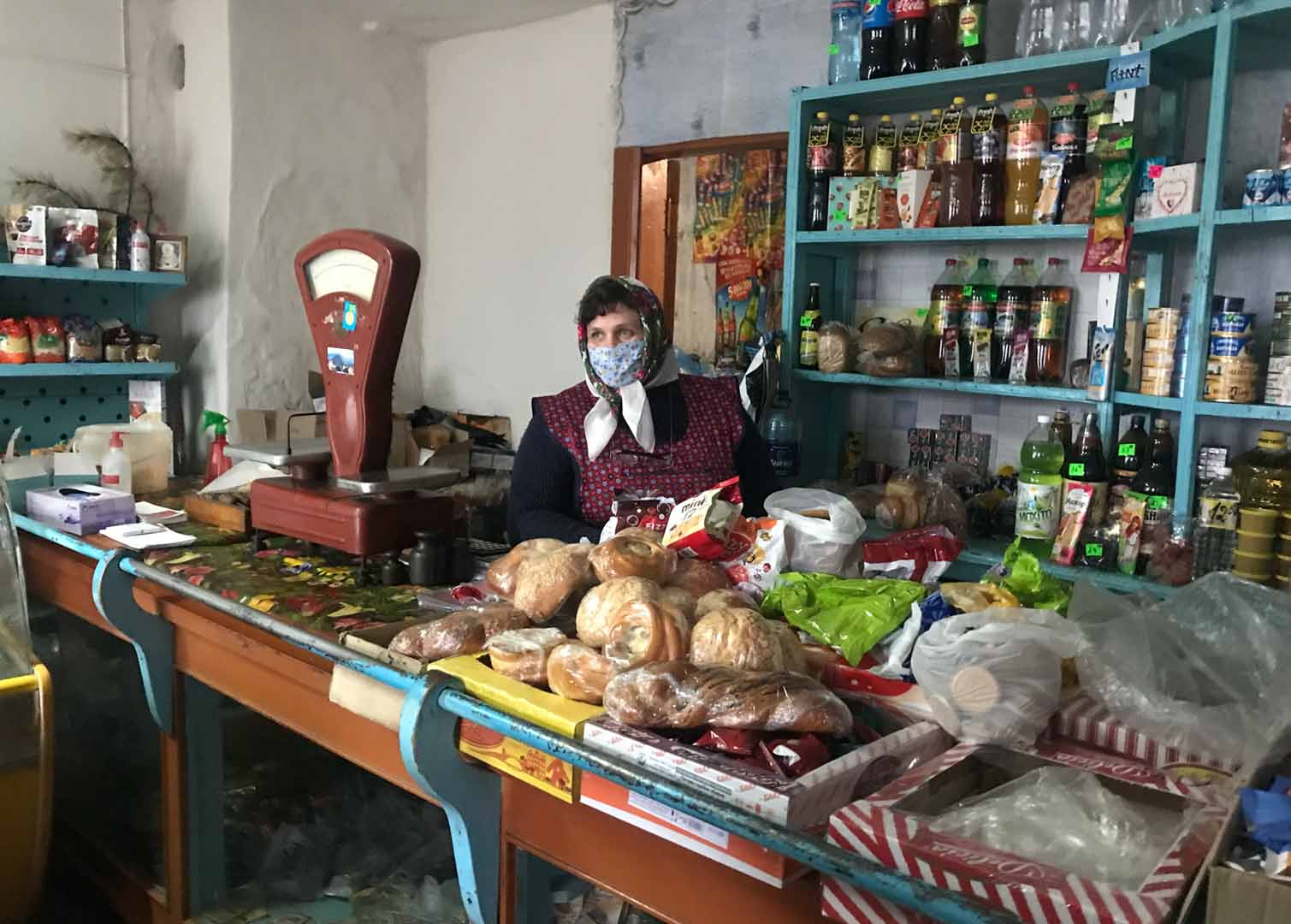 People are eager to help each other, and this time the international community is paying attention. International NGOs are providing considerably more support than they did back in 2014, and local volunteers and organisations are distributing aid even in the most affected regions. Most importantly, the whole world is watching.
Despite the fear of Russia's new offensive – not to mention the constant struggle of living in war-damaged houses with power cuts and under night-time bombardment – almost all the Ukrainians I met expressed an almost incomprehensible sense of optimism. "Everything will be okay," they said.
Edited by Eric Reidy.